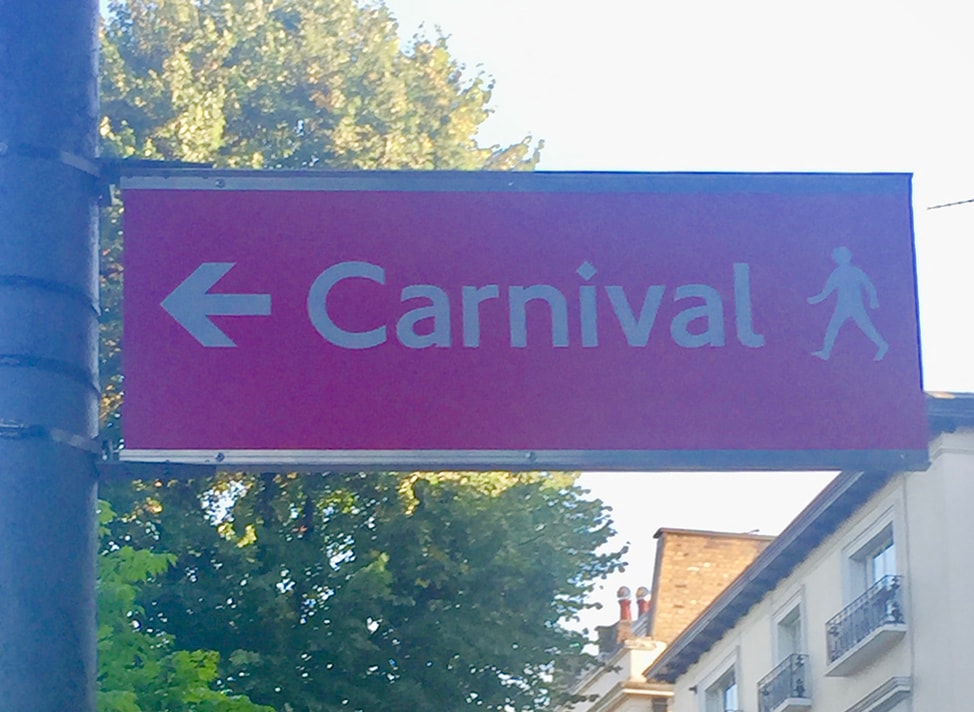 In my years of travel, I have attended my share of big street festivals.  Three visits to Mardi Gras in New Orleans, three Oktoberfests in Munich, and two Carnaval celebrations in Brazil, are ones that quickly come to mind. Yet I had never been to a Caribbean based carnival.  That was about to change, even though this festival took place thousands of miles from any Caribbean island. I was heading to Notting Hill Carnival in the heart of West London.  And while there were no palm trees or warm tropical beaches anywhere to be found, there was enough Soca music, jerk chicken and feathered costumes to transport me to Jamaica, Trinidad or Barbados.
When I booked my trip to London, I purposely extended my trip to be in town for Notting Hill Carnival. And as a bonus, I was staying at a flat in Notting Hill.  I would be close enough to walk to all of the action, while avoiding the closed subway stations and redirected bus routes necessary to control the crowds that pour into the area. As the second largest carnival celebration in the world (after Rio de Janeiro) welcoming close to 2 million partiers, this truly is a festival to be witnessed!
My original assumption was that I would wander down to the main festival route at any point during the two-day celebration and check out some of the bands and floats that made up the parade. While that is definitely an option for experiencing carnival, lucky for me I spoke to to some fellow travelers ahead of time who were more "in the know".  They gave me the low down on how I could participate in the parade and other activities that happen as part of carnival, instead of just watching from the sidelines.
As a newbie to the Caribbean Carnival traditions, I found there was a whole new language I had to learn. This may sound silly to those who have grown up in the Caribbean culture, but for the rest of us, it is a little confusing until you start to decipher the different terms.
For example, if you are going to 'J'ouvert', that means you're hitting up the opening events – some of which happen as early a 5:00 or 6:00 am.  'Playing Mas' (where Mas is short for masquerade) means that you're dressing up with beautiful costumes of feathers, jewels and bright colors (and perhaps little else depending on how comfortable you are showing off your body in front of literally thousands of people).  'Chippin' refers to the kind of shuffling, hip-shaking dance move you do as you follow the parade route.  Just knowing these three terms got me feeling like I had a bit more of a clue about what was going on during carnival.
While the Notting Hill Carnival officially takes place on the Sunday and Monday of the bank holiday weekend, there were parties and performances happening starting the Thursday before. Not long after I arrived in London I started to see posters about Pre-Carnival parties at local clubs, with some even taking place on boats along the Thames.
Carnival Sunday
As this was my first foray into Notting Hill Carnival, I decided to participate in the Sunday Parade and then just hang out and be a spectator on Monday.  Participating in the parade meant buying a ticket to join one of the bands.  The band is really a huge two-level flat bed truck that serves as a fully mobile dance club. Think of it as a giant and very loud pied piper leading its crowd through the streets of Notting Hill with thumping rhythms.
The top level of the truck is where the DJ's and hype-men sat. They kept the party going with nonstop music while continually calling out to the crowds.  The speakers, which covered the entire two levels of the truck, made sure that everyone heard, as well as felt, the music. The bottom level of the truck is where they served alcohol and food along the parade route. With your ticket (mine came to just over $100), you get brunch and lunch plus unlimited alcoholic and non-alcoholic drinks, a t-shirt, drink cup, a drawstring bag to carry your things and COLORS!
Apparently Sunday of Carnival is the day of colors. It reminded me of pictures I've seen of Holi festivals in India or the 5K color runs you see advertised in the U.S. At various times along the parade route, you are given water based paint or bags of brightly colored powdered pigment that you get to douse your friends and fellow partiers with.
Come prepared as there is no way to avoid the festive mess that will ensue.  I saw many women show up with shower caps and plastic bags on their heads to avoid getting paint in their hair. Wear clothes you don't mind getting permanently dyed and just be ready for the onslaught. It is fun and everyone participates, and even though it can get a bit tedious after awhile, just remember you're out there to celebrate and have a good time.  No one is trying to look pristine and clean at the end of the day!  As proof, here are my before and after picture:
Participating in the parade is a whole day event if you stick it out until the end.  I left my flat around 9:30 am to meet my friends and I didn't get back until around 7:30 pm.  The parade route itself takes about six hours to complete and you are dancing, laughing and drinking the entire way. We did stop for about 30 minutes to eat a lunch of hot roti, but other than that you are on the move.
My mistake was that I bought a new pair of cheap sneakers for the event, knowing they would probably get ruined. When I tried the shoes on at the store they felt just fine, but by the time I got back home, my toes were killing me!  For the first time in my life, I have bruised toes and I'm just lucky I didn't lose my toenails!
Rumor has it that Sunday is "family day" and a bit tamer than the no holds barred Monday celebrations, but I have to say I didn't see a huge difference between the two.  I saw just as many families with kids on Sunday as on Monday, and also just as much public drinking, making out, bumping and grinding dancing and general frivolity.  So families, bring your kids, just keep a very close eye on them with all the crowds and prepare yourself to answer a few questions like "Mommy, what is that man doing to that lady?" (Hint: the answer is dancing).
Carnival Monday
While just as much fun and craziness, Carnival Sunday felt like a bit of a dress rehearsal for Carnival Monday, mostly because of the outfits. While Sunday you were in your skimpiest casual clothes, on Monday  you were in your skimpiest fancy clothes.  Both women and men shelled out a small fortune to dress in the feathered and jeweled costumes selected by each band.  One girl I asked said her costume cost $500. Some of them were quite beautiful, though I know for me it would have been a one time wear.  Rarely in my day-to-day life do I find occasion to don a rhinestone encrusted bikini, headdress and feathered wings. Or maybe I need to rethink my day-to-day life…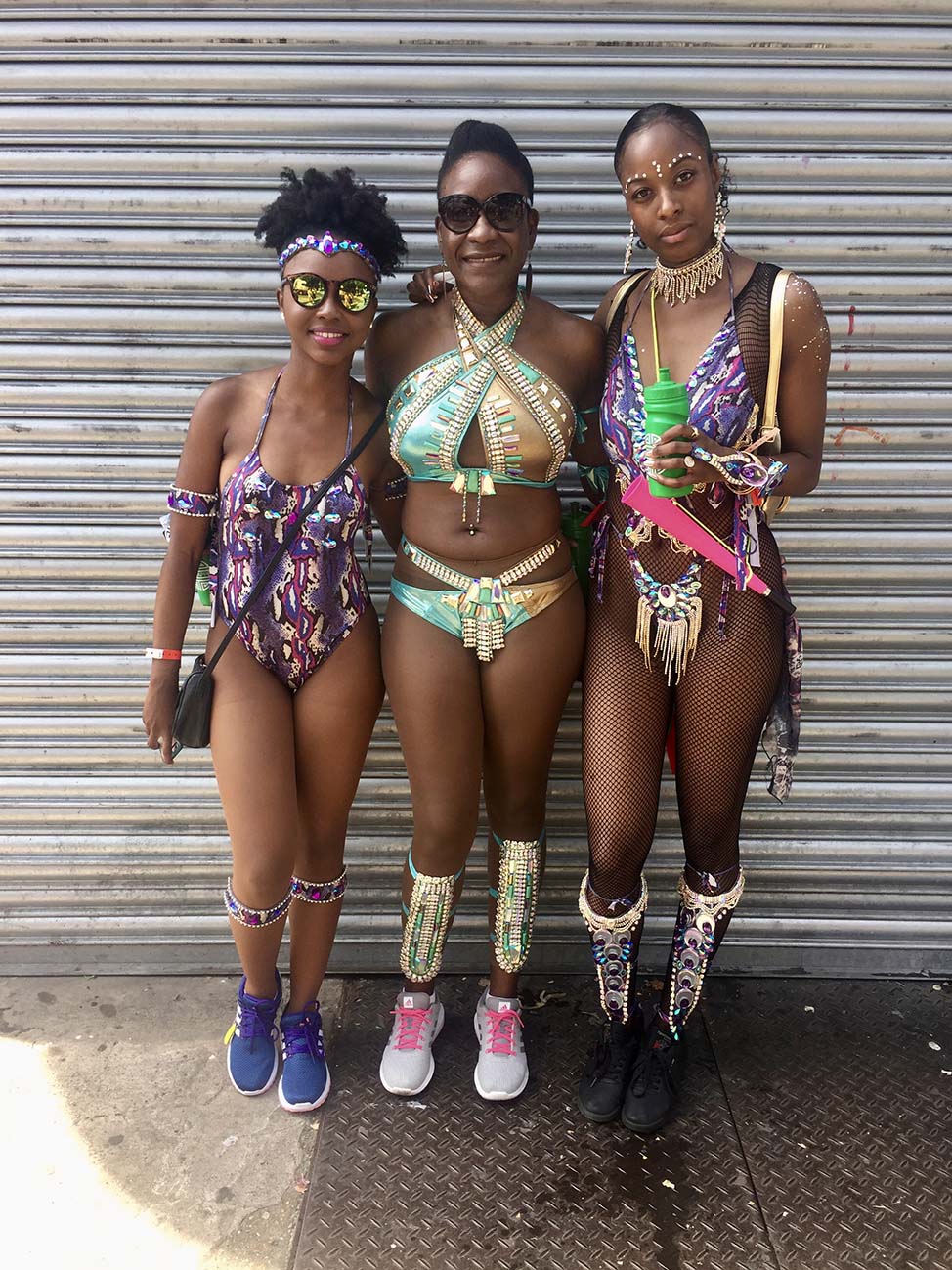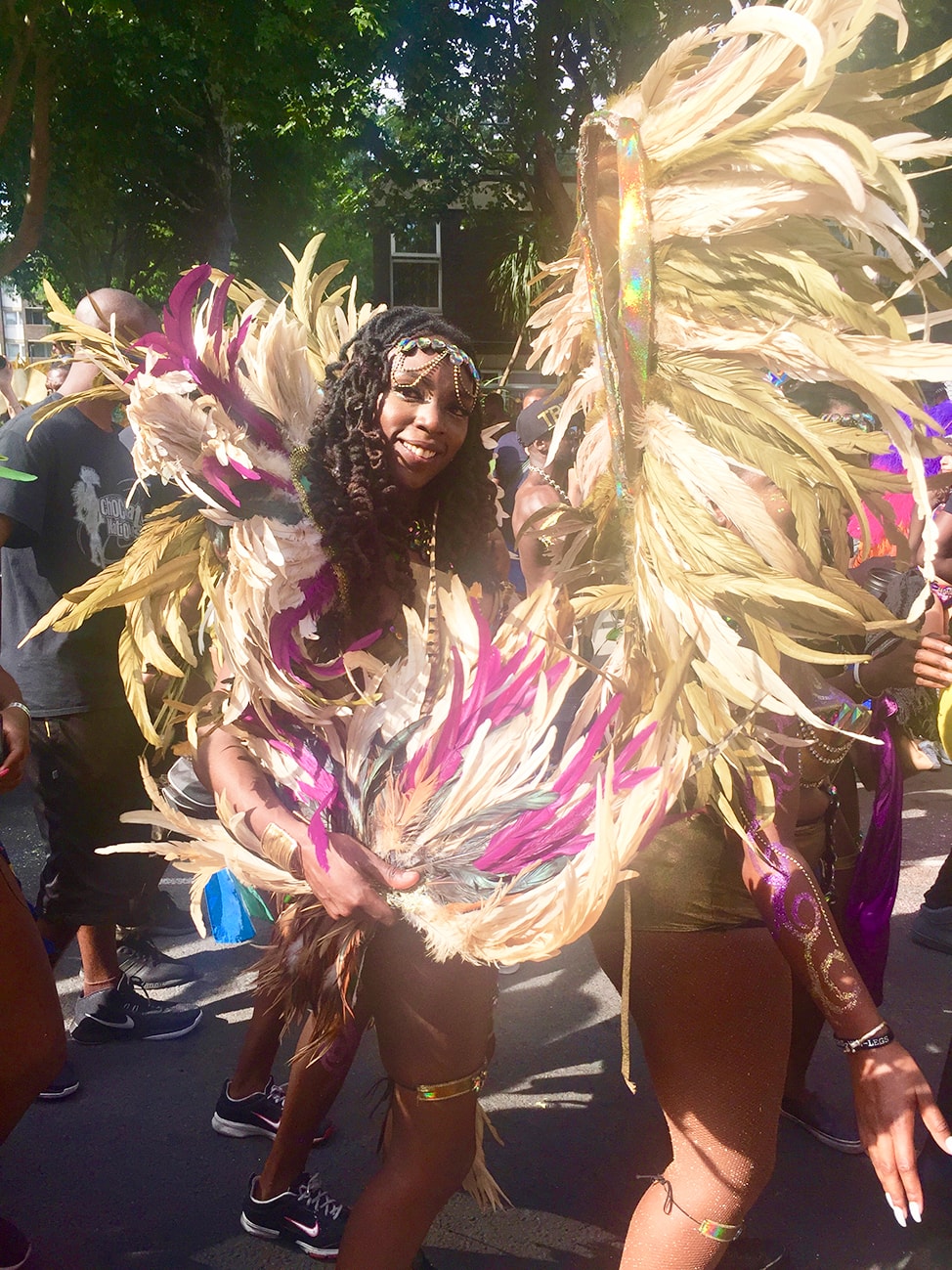 So instead of participating in the parade on Monday, I hung out with another friend and participated a spectator. We walked along a good portion of the parade route, enjoying the different music as we passed each band.  At one point, we even jumped in the parade to play capoeira with a group that was performing with Brazilian drummers.
When we got tired and hungry, we popped into a local park that was set up with vendors selling all sorts of Caribbean food and drinks. There's nothing like sitting in the grass on a sunny London day, listening to dance music, sipping on a rum punch and people watching.  Bliss!
After awhile, we decided to wander off the parade route and see what else was going on.  That's when we realized that the parade was just one part of the celebration. As you wandered around the neighborhood streets, what was normally just a quiet residential cul-de-sac filled with million pound homes, now was in full-on festival mode.
Sound systems, basically a static version of the parade trucks, were set up on a stage with DJ's and again, enormous speakers. One sound stage played 90's Hip Hop, the next high energy garage music, and the next had a live reggae band. The street in front of the stage quickly filled with partiers of every age, nationality and skin color as they danced the whole day away. Lining the streets around the sound systems, were vendors selling all types of food and drink as well as shirts, flags for all the different Caribbean countries, bandannas, bags, and whatever else you need (or think you need) to keep the party going.
Reflection
Along will all of the celebrating and festivities, there was also a time for reflection. Just two months earlier, tragedy befell the Grenfell Tower apartments. A fire that engulfed the entire building took the lives of over 80 people and destroyed homes, displacing the survivors.  This tragedy happened just blocks from the carnival area, and you could even see the charred remains of the building from part of the parade route.
While there was some talk of canceling the carnival this year, the authorities instead decided to honor those affected.  As each band passed the route where you could see the tower, they silenced their music as a sign of respect. Also, the entire festival came to a halt for a minute of silence and reflection on Sunday at 3:00 PM. All along the route you saw signs of support and remembrance for the lives that were affected by that horrible fire.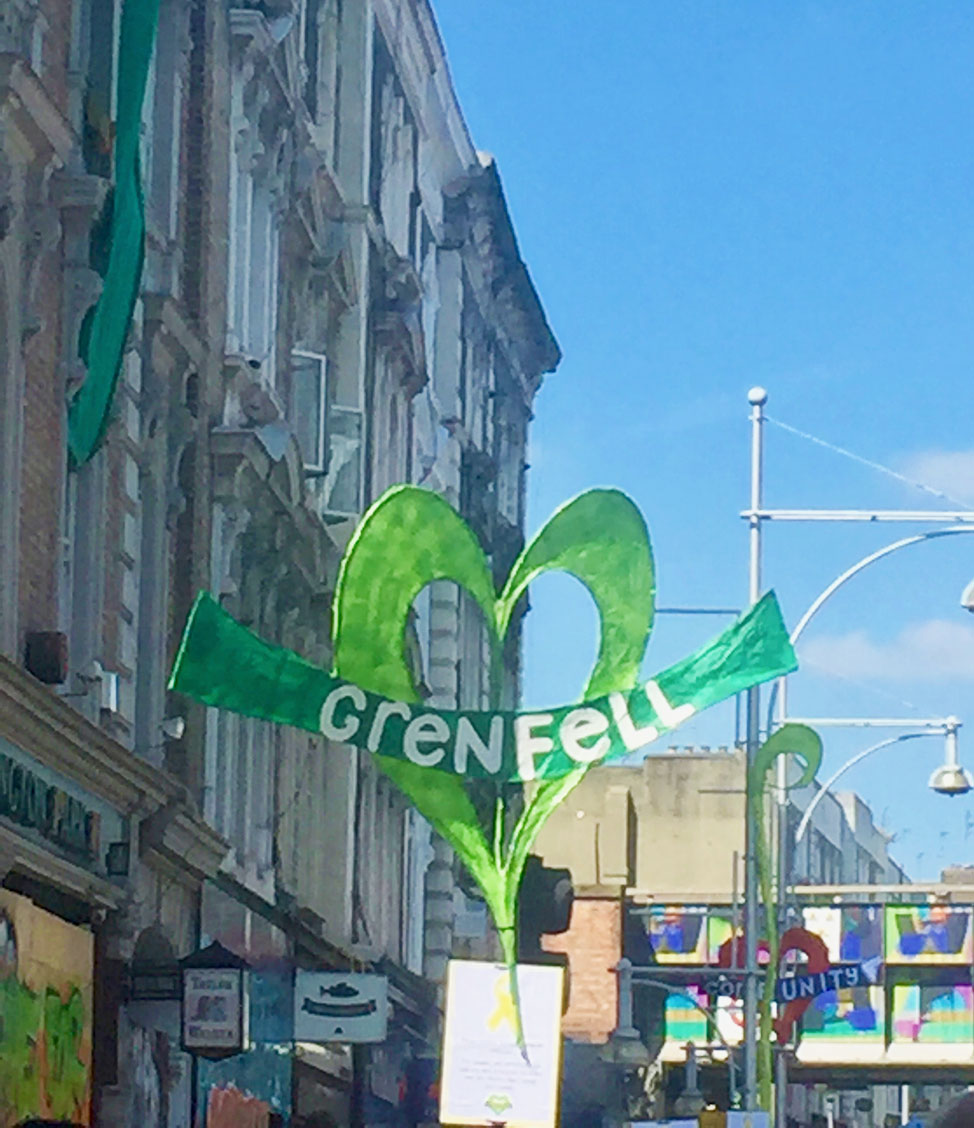 Newbie Tips for Notting Hill Carnival
1. If you're joining the parade on Sunday, DO NOT wear your best clothes. They will be permanently stained by the paints and colored powders.  But if you're a spectator along the route, they do their best not to include you in the riot of paint throwing.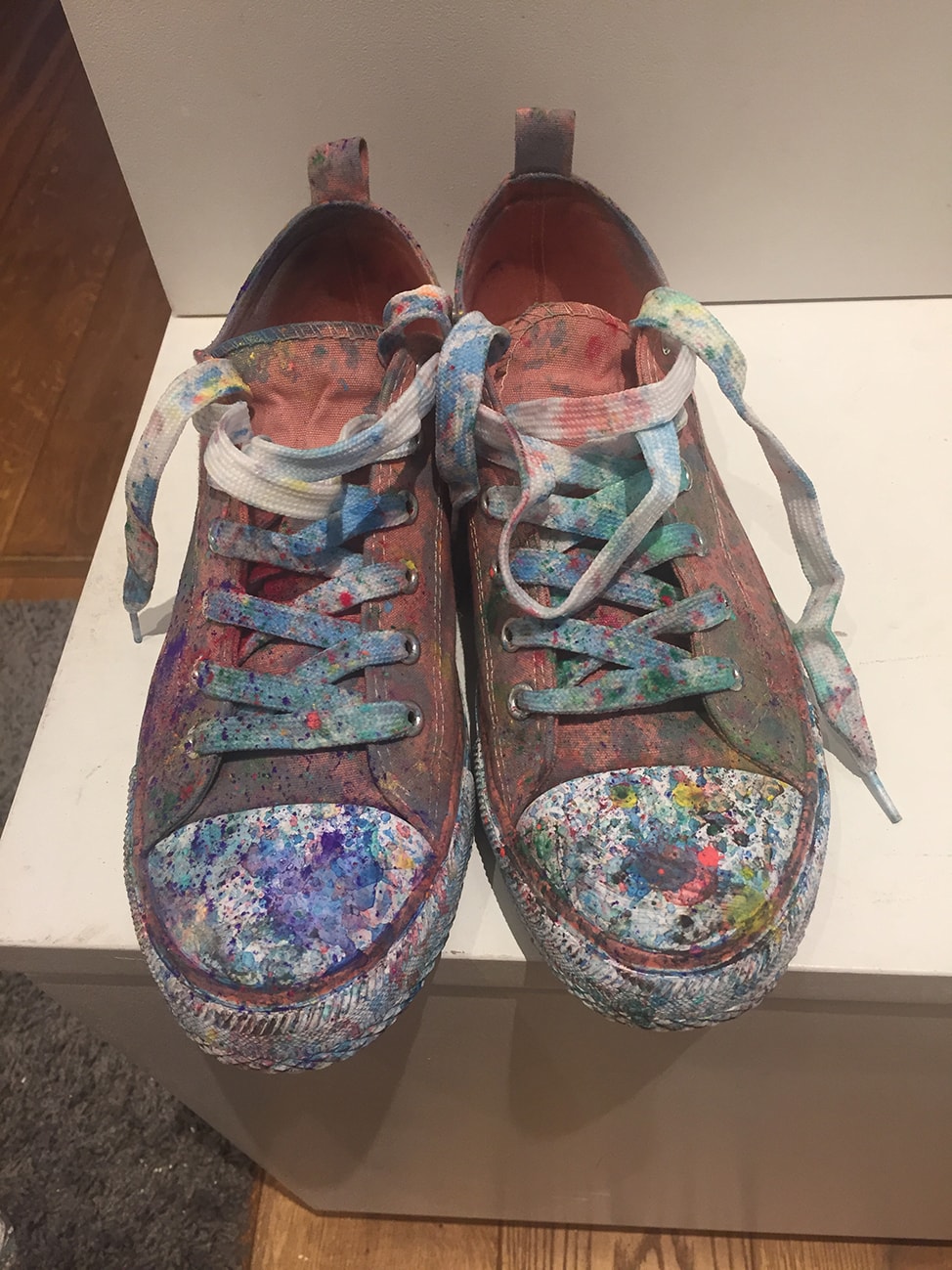 2. For parade participants on Sunday, cover any exposed skin with a mixture of olive oil and coconut oil.  This will help remove the paint later on in the day when you finally make it to a shower.
3. If you parade with a band, know that there may be an undisclosed penalty for last minute sign ups.  I paid full price for the ticket, but when I picked up my gear, I only received a plain t-shirt, instead of the screen printed shirt everyone else got. I also didn't receive the drawstring goodie-bag with branded paraphernalia including the all important lidded travel mug. The ticket price includes all drinks, but without the travel mug branded with the band's logo, getting served can be difficult. Eventually they took mercy on me and gave me a paper cup, but those are harder to negotiate as you're dancing down the street, trying to keep paint and colored powder from landing in your rum punch.
I feel like I should not have paid the same ticket price to only get half of the promised items. However this was one of those times when I decided to just enjoy the experience rather than fight about it. Even with a plain t-shirt ( hastily tailored with scissors) and missing a drink cup, I still had a blast.
4. Bring some 1 pound coins with you.  Many enterprising businesses, noting the limited amount of port-o-potties, allow you to use their bathrooms. But their generosity comes with a cost of  2-3 Pounds.  You do not want to be turned away because they do not have change for your 10 Pound note.
5. There are many police along the route, but they are there to keep you safe, not to keep you from having fun. Be nice, give them a smile, a hello and maybe even a thank you for working hard while you party in the streets.
6. If you do not like crowds, this event is not for you. Everyone was in a celebratory mood and I don't remember seeing any fights or arguments. Still you will get pushed and bumped into…that's just how large, partially inebriated crowds work. Don't fret…Smile and keep moving.
7. For more info on Notting Hill Carnival, check out London's Time Out website. As the date of carnival gets closer, they have tons of great articles and guides to get you ready for the big event.
By the time Carnival weekend was over, I felt happy, but exhausted and ready to fall into bed.  If I'm honest, I was kind of ready for it all to be over. The crowds and garbage were both starting to smell and I was ready for a little peace and quite.  Sitting in my Notting Hill flat with my sore feet up on the couch, I asked myself "would you do it again". The answer was an immediate "hell yeah"!