The Cappadocia region has become a popular "second stop" for travelers and tourists visiting Turkey. After a few days in that vibrant, bustling city of Istanbul, a get away to the cities of Goreme, Urgup and Uchisar in the Cappadocia region are often on people's itinerary. This area is known mainly for its outdoor activities as you explore caves, stunning rock formations and underground cities. Although there is no shortage of information online for traveling in this area, I thought I'd add a few pieces of advice having just returned from 2.5 days there.
1) The Open Air Museum is great but….
One of the main site visitors head to in Cappadocia is the Open Air Museum. Its an area filled with cave dwellings, cave churches and stunning rock formations that you can stroll through. It costs about TL 15 ($8.50) to get in, plus an additional ticket for the cave church that is slightly outside of the main area. The sights here are of course beautiful, but you will more likely than not be stuck waiting in crowded groups to get in to see some of the church wall paintings and its nearly impossible to get a photograph without a tour group traipsing through the picture.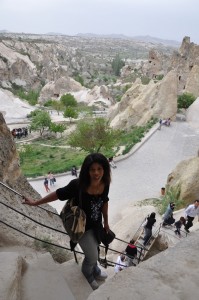 Amazing Views from the Open Air Museum
I'm not saying skip the Open Air Museum…OK, well maybe I am. After I left the museum and walked back towards the town of Goreme (about a 15 – 20 minute walk) I noticed equally beautiful caves and valleys just on the opposite side of the road. And you can wander through these until your heart's content without paying a dime. In fact when I was there, I walked around for a solid 45 minutes before I saw another person. So my advice, skip the museum and head straight across the road to see similar sights. From here you can walk to the famous Rose Valley to see even more beautiful landscapes.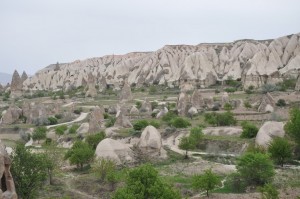 Just down the road and across the street from the Open Air Museum is a vast landscape to discover at your own pace
2) If you can't afford a hot air balloon ride…
One activity that seems to be on everyone's itinerary is the dawn hot air balloon ride. Every hotel, hostel and travel agent in town will have a sign up about booking a trip. No doubt these trips are glorious, but they are also not cheap. The average rate was around $160 per person. While this is not astronomical, its also not within every traveler's budget. In the end, I decided to skip the balloon for this trip as I've not been the best about budgeting in other areas. If you do decide to skip the hot air balloon ride, you can still get a little taste of the action from the ground. I woke up one morning around 6:00 am to watch the balloons launch and thought the site was pretty magical even from the ground. Its totally silent at that time in the morning except for the sound of the torches going off to lift the balloon into the sky. It is quite a sight to see these giant balloons coming up through the rock formations!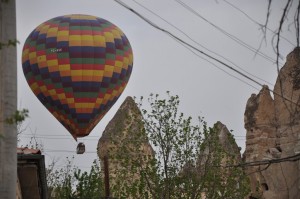 If you can't catch the view from above, the view from below is pretty good too!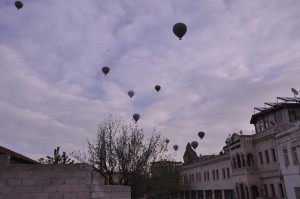 I counted about 30 balloons, but I've heard there are closer to 100 every morning.
3) Consider horseback riding through the valleys…
Although not as popular as the Hot Air Balloon rides, taking a horse back ride through the different valleys is a great way to get a close up view of Cappadocia. You can book a ride for 1 hour, 2 hours, 4 hours or a full day. I chose a 2-hour ride and really enjoyed it. There were just four of us on the ride (myself the guide and two people from NYC) so it didn't feel like a long caravan plodding through the terrain. Also important to me, the horses seemed well cared for and they had plenty of land to roam around. [Note: If you're looking for a great equestrian challenge its probably best to book with other experienced riders as the pace usually goes along with the slowest horse.]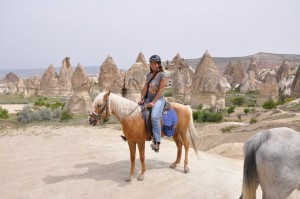 With my horse I called "sugar".
4) Look outside of Goreme…
Compared to Istanbul, Goreme is still a laid back town where little goes on after 11:00 pm. But of all the cities in the Cappadocia region, Goreme is the busiest. I spoke with one local who told me there are over 200 hotels/hostels in that city alone. If you are looking to get even a little further away from it all, check out Urgup and Uchisar as well. They are not much further away, but from what I was told by a friend staying there, things are even more relaxed and you don't have quite the tourist hustle you might experience in Goreme. [Note: if you're searching sites like TripAdvisor or Expedia for accomodtions, don't search using "Cappadocia". Search on the actual cities like Goreme or Urgup.]
5) Two new businesses to check out [Updated May 29, 2014]…
I came across two new businesses in Goreme that I'd happily recommend to visitors. One is a restaurant called Lalezar. The owner, Yascer (I think that's how it is spelled) has a hotel in Goreme, but he just opened his new restauarant a few months ago. The food was delicious, the atmosphere was pleasant and lively and the owner was very welcoming. There's a large indoor area, but if the weather is nice, grab a seat on the balcony.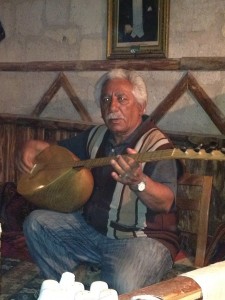 Beautiful live music at Lalezar restaurant.
The second business is called Shooting Star and it is a jewelry business owned by a lovely young woman from France. You can find the shop on the road that leads from Goreme to the Open Air Museum. She sells beautiful jewelry made from gemstones, colorful leather and really interesting pieces of meteorites. I only allowed myself to buy a pair of leather earrings, but I wish I had gone back to get one of the really unique necklaces made from meteorites. Oh well…guess that gives me an excuse to go back!
I believe there's a website coming soon, but in the meantime the address for the shop is: gafferli mahallesi muze caddesi No: 48, Goreme TURKEY. Go visit her shop – especially after sundown when she lights the shop up with candles and invites good conversation. Very nice energy there.
Thank you to shop owner, Leonie, for her comment below letting me know that she's opened a new storefront called Rose's Art Center
(

now you can find it a bit out of the city center, next to Shoestring Cave Hotel, 5 minutes from the main mosque) and a new Facebook page (
https://www.facebook.com/Roses.Art.Studio).
6) Blue, Red, Green…or none?…
There are three main day tours that run out of Goreme and take you to some of the sites further afield. They are color coded the Blue tour, the Red tour or the Green tour, though I'm not quite sure what the colors are related to. I ended up taking the Green Tour based on the recommendation from my hostel. After the full day tour, I was really torn as to wether I would recommend it or not. The tour costs TL 90 (or $50) for a hotel pick up/drop off, lunch, entrance to three sights and a guide. Our tour van was full with about 25 people.
The "Good": you get a lift to some interesting sights like the large underground city of Derinkuyu. the Ilhara Valley and Selime monestary and for someone who's traveling a lone like me, you get to meet some other interesting travelers from all over the world (we had Brazilian, Australian, Americans, Japanese and Chinese nationals on our tour). Also the lunch they included in the package was quite nice: good food and beautiful setting as you sit next to a peaceful stream just outside the valley you hike through.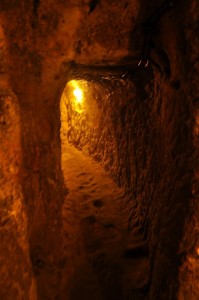 Visiting the Underground city on the Cappadocia Green Tour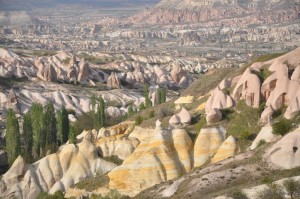 Beautiful variations of rock color in Pigeon Valley
The "Not so Good": Well, its a tour and based on my recent post you know how I feel about most tours. You will be hopping on and off a bus in a big group, waiting in line (and sometimes jockeying for space) with other big tour groups and you will often feel like you were being herded around. This is just the nature of these kind of tours. I also felt like our tour guide was a little lacking in that his English was hard to understand at times and if you asked him too many questions he got a little "off script" and had to reset and start again. Also, there were the obligatory stops at a candy store and jewelry store where they gave you a little demonstration with the ultimate goal of letting you spend your money on their products. I was a little annoyed that we only had about 5 minutes to see the gorgeous Pigeon Valley, only to be rushed to two stores where suddenly we had 30 minutes to cool our heels. Hmmm…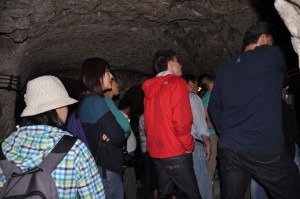 Stuck in the crowds…and they weren't even from MY tour group.
Recommendation: If you don't mind driving, I'd probably recommend renting a car or a scooter to see these further away sights on your own. But if you'd rather avoid that hassle, this Green Tour was a decent way to do it.
If you have any other questions about visiting Cappadocia, or recommendations from your visits there, please do leave me a comment below. By all means, please include Cappadocia in any itinerary you have for a trip to Turkey – its a unique and magical land that is well worth the trip.