Subtitle: "What I didn't know could fill a blog post".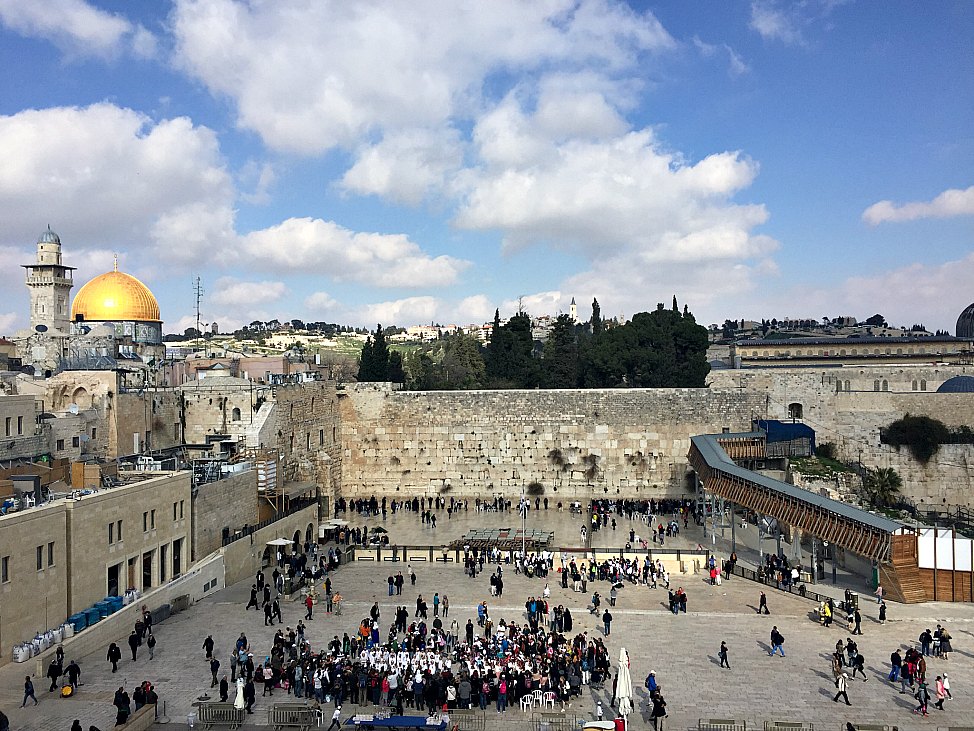 Just getting back from 2 and half weeks in Israel, Palestine and Jordan and though I have 1000 different thoughts floating around in my head, its hard to know where to begin writing.  The trip was nothing short of amazing. That's not to say that everything went according to plan, that I loved every person that I met and that I smiled from sun up to sun down every day.  This was not a vacation on prozac. But it did open my eyes to a lot of subjects that I had only known about on a very basic level.  I saw places I'd only ever heard about in Sunday School, met people who before had only been stereotypes on paper and saw natural and ancient wonders that literally took my breath away.
So where do I begin?  Do I talk about the food? The people? The cities and sites I visited?  Hmm…let's start a little more general. Here's a list of 10 things I learned while traveling in this region.
1 Shabbat:  Coming from a western perspective, one thing that you learn when traveling to the Middle East is that the weekend is not a universal concept.  While in Western cultures, people live for Friday at 5:00 PM when work wraps up and most folks have Saturday and Sunday off. In Israel, the weekend starts on Friday (usually about the time the sun goes down) so Friday and Saturday are the weekend and everyone heads back to work on Sunday. Depending on what city you're in, Saturday, Shabbat (or the Sabbath) may mean that your basic businesses and public transportation are closed but many restaurants and bars are still open (Tel Aviv), or it may mean that the city pretty much rolls up the streets and you are out of luck until things start running again on Sunday (Jerusalem).  Traditionally, Saturday night is commemorated with a special Shabbat dinner including prayers, the lighting of candles, specific foods and wine.
2 Geography: While I have a love for maps of the world and can stare at them for hours, I have to admit that I was woefully unaware of the lay out of major cities in Israel and Palestine. I knew that Jerusalem is in Israel as is the city of Bethlehem.  I could easily travel between the two to see many of the holiest locations from the Bible. Oops! I was wrong there. While Jerusalem is in Israel, Bethlehem, just a short distance away, is located in the West Bank in Palestine.  Going from one city to another would require a border crossing so pack your passport. To be honest, as an American citizen traveling between these two cities was fairly uneventful.  Taking a bus into Palestine, we barely noticed that we crossed a border at all. On the way back into Israel, you do have to go through a checkpoint in a rather large facility (it reminded me of crossing from San Diego to Tijuana) but they barely glanced at my passport.   There seemed to be a much more extensive review, though, for those with Palestinian passports.
3 Security: OK – I was actually aware of the intense security practices in Israel before I went, but experiencing it first hand really makes you aware of its impact.  First indication came on the flight into the country. That was the first time I heard the pilot say that 30 minutes before landing all passengers MUST be in their seats and cannot get up for any reason due to security regulations.
Luckily the questioning upon arrival at the airport was not too harsh. I was asked more questions than usual (Father's Name? Grandfather's name?  Would they have known if I made up the answer?) but all in all it went smoothly.  Leaving Israel  was a totally different situation though. That ordeal deserves its own blog post. Stay tuned.
4 Teens with Guns: I had heard that all Israeli citizens were required to do a two year stint in the military forces, but it was still shocking to see teenagers walking around the city in fatigues and machine guns.  As service is usually done after graduating from high school and before entering college, I am assuming that most of the kids were between 18 and 20, though I swear a lot looked closer to 14 or 15. WITH MACHINE GUNS!  I've been a teenager and I know the emotional state of affairs may not be the most stable during those years.  One bad break up or one university rejection letter could lead to a horrible end. Imagine my relief when I found out that these guns were not actually loaded. Oh, thank God!  Still, I did have to do a double take each time I saw a kid with a cell phone in one hand a gun in the other.  Apparently, during the entire time they are in the service these teenagers cannot let their guns out of their site, even to take a shower.  That definitely beats the old "take care of this hard boiled egg for a week" that we typically have in American schools.
5 Dead Sea Russians: When I arrived at the city of Ein Bokek it would have been easy to think I'd accidentally landed at a resort on the Black Sea rather than the Dead Sea.  Where in most places in Israel, it was easy to find English speakers, suddenly Russian seemed to be the main lingua franca – even more commonly heard that Hebrew.  After a few hours, I began saying Spasiba more often than Toda.
6 The Old City: When visiting Jerusalem, if you want to go see the biblical sights, you head towards the Old City which I learned is split up into four quarters: Christian, Jewish, Armenian and Muslim. What really surprised me, though, is that of the four quarters, even though we're in Israel, the Jewish Section is actually third in terms of size and population. The Muslim section is the largest, followed by the Christian, Jewish and finally the Armenian sections.
7. The Western Wall: I had thought that the Western Wall was the last remaining wall  of a specific temple or synagogue, but in fact it is a retaining wall that is the closest structure to the former site of the holy Temple. The site of the former Temple itself can be found on the Temple Mount, a place where Jews are not permitted to pray. So while the Western Wall itself is not the holiest site for Jews, its location makes it the holiest site where they are permitted to pray.  I also learned that the term Wailing Wall is often considered derogatory, and Western Wall is the preferred way to call this area.
8. The Baha'i Faith in Israel: I did not know a great deal about the Baha'i faith, but the little I did know I always associated with the country of Iran. It wasn't until I arrived in Haifa in the north of Israel, that I realized this city plays a major part in the religion's history and is a pilgrimage site for its followers. While in Haifa, make sure to visit the beautiful Baha'i gardens which are open for all to visit.  But unlike regular gardens, do not show up in shorts or revealing clothes. This is a religious site and they are strict about the dress code.  You may be denied entry if your knees and shoulders are not covered.
9.  All Hummus is not Created Equal: I quickly found out that Israeli's take their hummus very seriously.  I was told countless times that I had not had proper hummus unless I ate it in Israel (I'm fairly sure Israel's neighbors to the north would challenge that belief) and even within the country, there's fierce competition to as to where to find the best.  I did my part as a dutiful tourist to try as many plates of hummus as I could. Its a tough job, and though I tried, I could not pick a favorite…they were all so damn good.  My research must continue.
10. There's Salt in the Dead Sea: OK…I'm not quite that dim. I know there is an extreme amount of salt in the Dead Sea and that is what allows you to float effortlessly (and makes it quite ungraceful to come back to a standing position). But still I was pretty surprised to find actual hail-like balls of salt on the seabed.  Really cool to pick up and look at, but definitely not comfortable to walk on.
I could go on, but I'll save something for my other blog posts about Israel, Palestine and Jordan.  Watch this space. And to make sure you do not miss any updates, please sign up for the There's So Much to See Mailing List in the box just below (No spam!….just great travel stories).