Driving from my home on the west side of LA to a friend's place in Eagle Rock the other day, I noticed how the downtown skyline is changing.  New hotels and apartment buildings going up and cranes spotting the horizon in all directions.  Downtown Los Angeles has been growing and gentrifying for years, but it seems like there's a new wave of building going up recently.  And there's no better way to get a bird's eye view of downtown, East LA, West LA and the beaches than from the observation decks of the US Bank building.
OUE* Skyspace Los Angeles opened in June of 2016 and at less than a year old, it welcomes guests from near and far to come up to the 70th and 69th floors of the US Bank building to get a 360 degree view of the city of angles.  Even with a rainier than usual winter in L.A., I lucked up with a crisp, blue-skied, sunny day to check out what the Skyspace experience had to offer.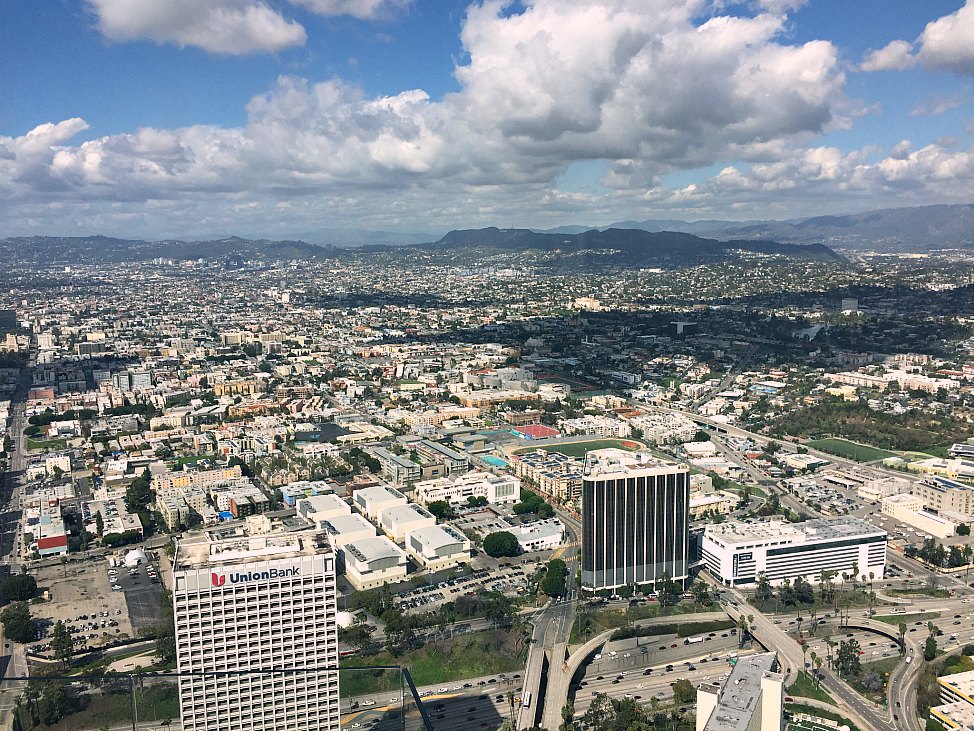 When I visited on a Wednesday afternoon, there were very few people there and you could have bought your ticket and entered right away. However, just to be safe, I'd recommend buying tickets on line ahead of time. The basic entry price of $25.00 (knock a few bucks off if you're a senior citizen or under the age of 13) will get you timed entry to the two observation floors and guarantee you won't have to come back at another time in case of a crowd.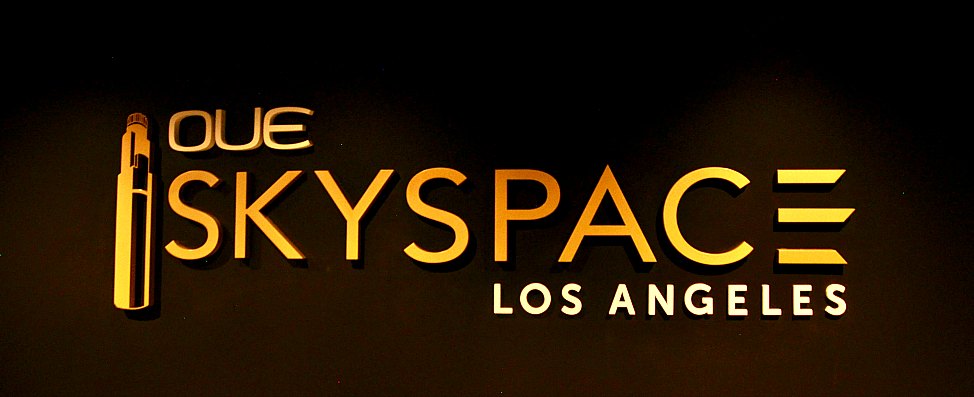 Now you could stop with your $25.00 ticket, but then you wouldn't get to check out the signature experience…the Skyslide.  A plexiglass chute on the outside of the building that whisks you between the upper and lower observation deck. Yep – a slide nearly 1000 feet in the air on the outside of the building.  And the one question that everyone asks, and even I was wondering…is it worth it?  Should you spend an extra $8.00 to ride the slide?  In short, yes. And here's why.
Let's be honest the ride itself is super quick – blink twice and you might miss it.  You are in a tube rather than a true slide so there's no danger of possibly falling out (if you're an adrenaline junkie).  And perhaps I am more vain than most people, but when they told me there is an automatic photo taken midway through the slide, I found myself smiling at the camera lights rather than the scenery around me.  So, while you can visualize that extra $8.00 whizzing by you in the about 3.5 second it takes to ride the slide, there's still a reason to pay for it.  Because you still just have  to check it out.  Don't think of it as $8.00 for a slide, but rather $8.00 for an experience you're not likely to get anywhere else.  If you are going to take the time to go downtown and visit Skyspace, my advice is just pay for the slide.
The day I visited, there were not too many other people there – probably not more than 25-30 during the 1 hour that I stayed.  I was told that the busiest days are Friday through Monday, and on those days you could wait up to 20 minutes for your turn on the slide.  I had only two people ahead of me in line and it wasn't long before I was positioning myself on the black mat and shimmying my way to the edge of the slide.
One thing I did find disappointing was that they will not let you film your slide.  For safety reasons, you may not hold anything in your hands during the ride. That is so you can hold onto the rubber mat that you sit on during the ride.  In light of this, your best options to capture the ride are:
Use a GoPro which you can strap to your body
Somehow "Macgyver" your phone into your shirt so it stays put while you ride
Bring a friend (or convince a stranger) to hang out at the bottom of the slide to capture your arrival
Buy the automated photo they snap of you on your ride down. (At the time of my visit, the photos cost $24.99 for one photo or two photos for $30.00 + $10.00 for each additional photo).
So what is the overall experience at Skyspace like?  From the moment you enter the ticket area on the ground floor and go through a security check of you and your bags, the experience is that of futuristic elegance.  Everything is sleek and colored in black and gold.  An elevator takes you up to the 70th where you walk out into an Epcot type of experience. Dark hallways with illuminated photographs and light exhibits. Make sure to stand on the lighted feet along the way so you can see yourself in a cool pixilated silhouette.
Follow the hallway to the end and you arrive at the top floor of the viewing area. Now the black and gold is replaced with white, light and floor to ceiling windows and your focus is drawn to the view outside.  There is little to take your eyes off the view on the 70th floor. There are a few high top tables and a snack bar, but other than that, the word that came to my mind was sparse.  I ended up asking one of the OUE Skyspace employees if they were between setting up or taking down an exhibit since it looked so bare. He ended up confirming that the 70th floor was kept like that to give all of the focus to the view, but that the 69th floor was set up with some couches, chairs and tables to act as more of a lounge space.
Both floors have a snack bar and I have to say the prices are not as bad as I would have expected given you are 70 stories up with no other options for a bottle of water or package of Oreo cookies. That being said, there are a few restaurant options on the ground floor of the building and within the surrounding few blocks. On my way out, I noticed a lovely looking Cafe Pinot across the street from the Skyspace exit that I'll have to make time to try on a future trip downtown.
Outside on the observation decks there are some large white couches where you can sit and enjoy the view. High plexiglass walls keep you from getting dangerously close to dangling over the edge.  Telescopic viewing cameras are set up along the edges of the platform so you can zoom in and see the surrounding neighborhood. I was able to see the Hollywood sign, Echo Park Lake, Dodger Stadium and all the way out to the beaches. And for someone who is forever getting lost in downtown L.A., it was nice to see how different landmarks line up with each other ("Ah, that's where Disney Concert Hall is in relation to City Hall").  I also had no idea how many helicopter landing pads there are in downtown Los Angeles.  I may be a bit off, but I think there are more places to land your helicopter than there are to park your car.
Speaking of parking your car, you are advised to use the Westlawn Parking Garage on Flower Street which is just two blocks from the entrance of Skyspace.  You can prepay for your parking online when you buy your ticket, but there's really no need to do so as it won't save you any money. Make sure to bring your ticket with you so you can get it validated as you exit the building. This will bring your cost down to $8.00 for two hours of parking rather than $3.50 for every 10 minutes.  At a leisurely pace, but without having much of  wait, I spent about 1 hour and 15 minutes at Skyspace, so 2 hours for parking should be plenty, unless you decide to stay in the area for a bite to eat before or afterwards.
So should you go to Skyspace? Yes!  Do your best to pick a clear day (which isn't all that hard in Los Angeles) and you won't be disappointed.  If it is your first time, splurge on the slide – even if it only means you can downplay the short ride to your friends later.  But if you find yourself going back there to take your visiting Aunt Mildred, skip the slide – no need to re-experience the "thrill".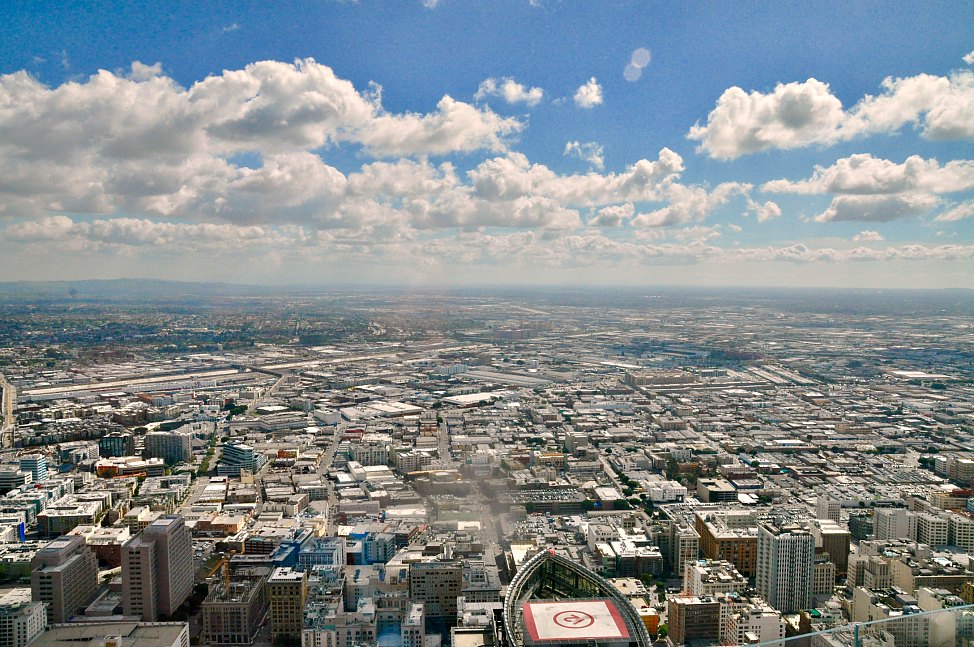 *In case you're curious, OUE stands for Overseas Union Enterprise – the group that purchased 72 stories of the US Bank Building in 2013 and opened the top floors to this tourist attraction.