Before I get started with this latest post, I have to say one thing about where I'm posting from. Normally I'm sitting at my kitchen table and if I'm lucky I'm posting from a café or a hotel in a foreign country, but this is the first post I've done from the air. Not just written on a plane off line and posted at a later date. I'm actually on a trans continental, trans Atlantic flight from LAX to LHR. Somehow I've managed to tear myself away from the vast array of in-flight movies which normally I watch back to back until the second they kick me off of the plane. Sleep and productivity be damned! But this time I decided to take advantage of the in flight WiFi ($16.99 well spent) and the opportunity to not be distracted by work or phone calls or rodas or invites to hang out with friends. I'm posting from Seat 24G on United Flight 934 on my way to London, one of my favorite cities in the world.
But, now back to business and that business is Formula 1.
Before October 2013, I knew little to nothing about race cars and Formula 1 except that there was an annual race in Monaco, that Lewis Hamilton was a very attractive Formual 1 driver and that the cars went pretty damn fast. Beyond that, I had very little inkling about F1. But then in October 2013, I ended up at a travel blogger's conference in Dublin and sat in a seminar next to a very friendly woman who turns out also lives in Los Angeles (when she's not living in the south of France) and who loves all things sports, which included Formula 1. The two of us struck up a conversation, made plans to meet up when we both got back to LA and when she mentioned that she spent time studying in Monaco, I asked if she'd ever been to the Formula 1 race there. I swear her eyes lit up, her smile got a little larger and she began to tell me of her love for Formula 1. Races around the world, luxurious lifestyles, fast, expensive cars and fun parties…what's not to love? That little travel voice in my head whispered, "Oh, you're going, Nailah" before I even know what happened.
A month or two later, my new friend and I are having a cocktail and debating over what city we should travel to so I could check out my first race. With 19 races to choose from on the 2014 calendar we quickly ruled out Austin, TX (too domestic) and Monaco (she's already been a few times). But what about Abu Dhabi? Sao Paulo? Tokyo? Sydney? All very good options, but for some reason, the little voice in my head that told me "Oh, you're going" now was whispering "Singapore". It was a new country for both of us, as well as being one of the few cities where the racecourse took to the city streets (rather than a race track) and the only night race (thank you, God, considering how hot it was during the day). Plus there were plenty of things to see outside of just the races while we were visiting…and I'd been dying to check out Chaingi Airport, rated the top airport in the world (more on that in another post).
So, Singapore it was and in September, I found myself on a flight headed west out of LA to Tokyo then on to Singapore for my first Formula 1 race.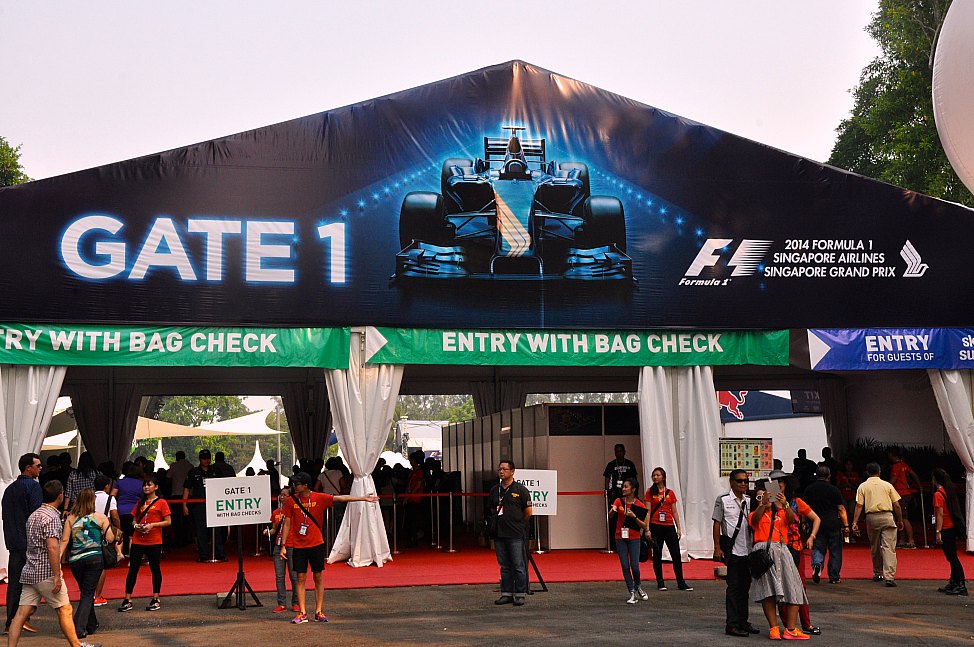 Knowing little about the F1 circuit but having a friend who was very much into it, I turned the reigns (and my credit card) over to her to organize our race events. She did a fabulous job. We ended up getting Premier Walkabout tickets to the events, which means we can walk through all 4 zones of the racetrack (instead of just 1) with reserved, standing bleachers for when we wanted to post up and watch the fabulous cars whoosh by.
Now one thing about the 2014 races that was new to the other years was the noise … or lack there of. Ordinances new for 2014 meant quieter engines. While most seasoned F1 attendees showed up with heavy duty headphones or industrial grade ear plugs to protect their hearing, most of them ended up just hanging around their necks. Even I, with relatively sensitive ears, didn't have to don the free earplugs they handed out at the entrance gates. Don't get me wrong, you could still hear and feel the race car engines as the revved up and streaked past the stands, but it was definitely bearable. I think the fireworks at the end of the final race affected me more than the actual race cars.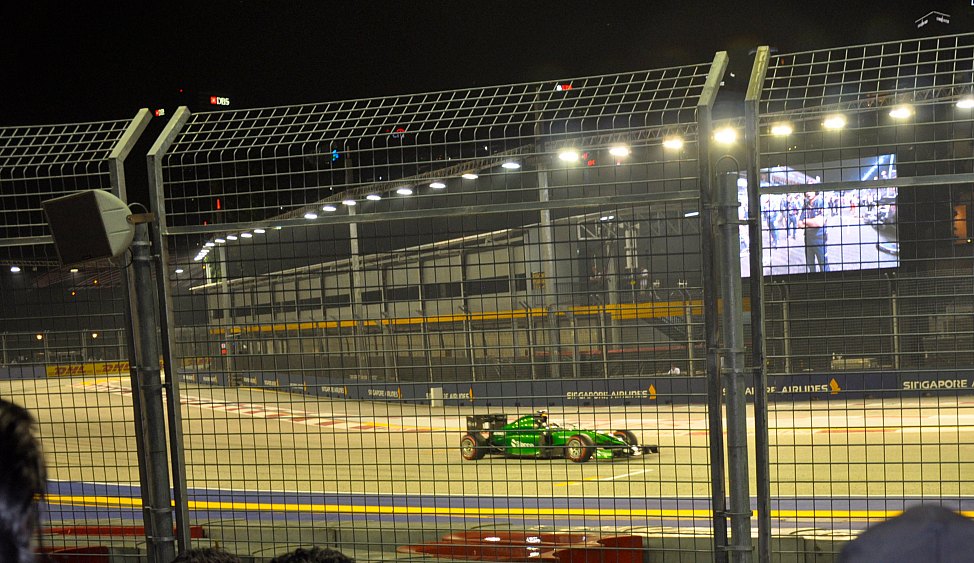 But back to the race itself. The event lasted 3 days, Friday, Saturday and Sunday with the first two days being preliminary races and Sunday being the final race day. We had tickets to all three days, and I definitely enjoyed going to all of them. The first day it was the excitement of the "new". I had very little idea of what to expect and my mind raced with each new experience. By days two and three, I had a bit better idea of what to expect, but then there was the fun of checking out the event venue (like a smaller, but equally energy charged Olympic Village).
Aside from the race track (which I got to actually walk on after the second day of racing ended), there's a whole park with food and drink, vendors, performance artists, and headline acts like John Legend and J. Lo that come with the cost of admission. We booked our tickets on line as soon as they went on sale in late March to make sure they didn't sell out.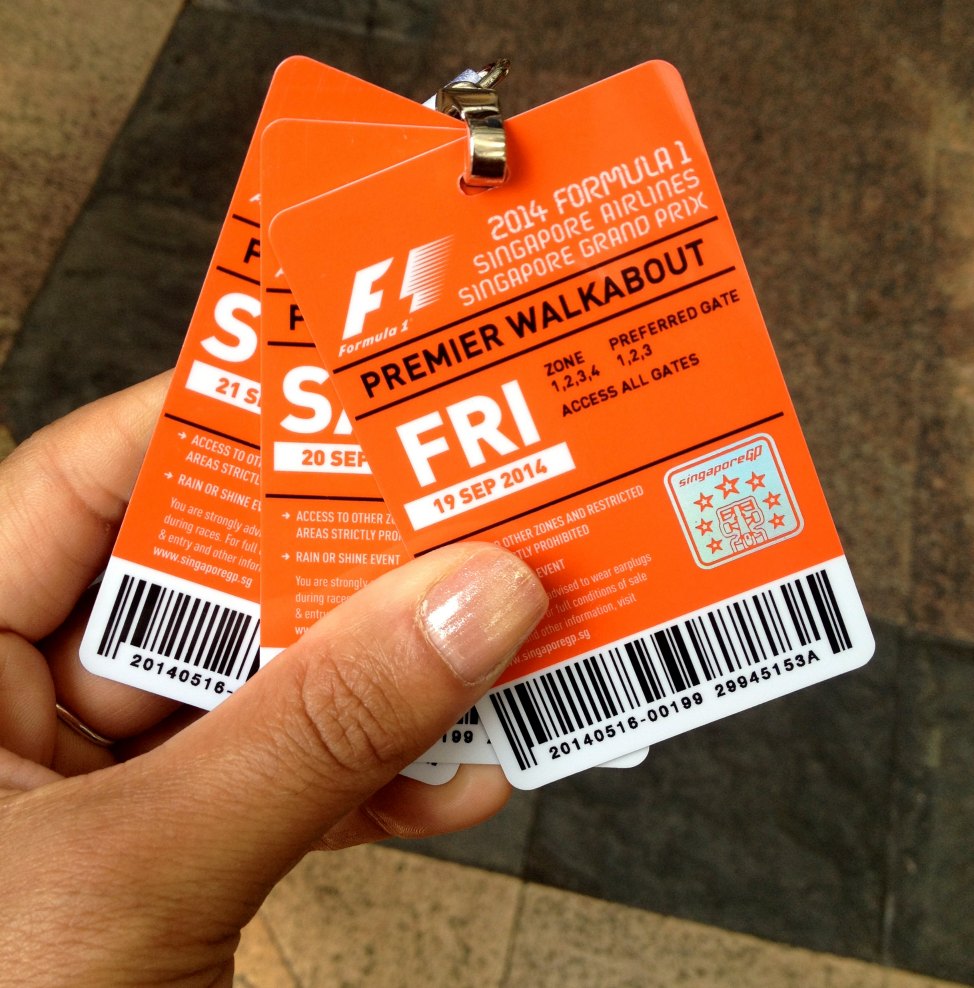 The race itself was an awesome experience and I am so glad I made this trip happen. But if I'm going to be 100% honest, it was also the luxury, the festive atmosphere, the passion of the fans and the adrenaline that really made it exciting and kept me coming back all 3 nights. The reality is, Singapore is hot, even after the sun goes down, so standing among crowds, in my comfortable shoes (so much for the cute heels I bought for the trip) and waving my $5.00 fan of survival (the only thing that partially kept me from being in a constant state of sweat) just to catch a quick glimpse of a car speed by – well, that part wasn't so glamorous. But the fun of just being there, watching the people who traveled from all over the world to attend (much like myself), and even getting completely caught off guard in a deluge of rain just after the second race ended – well that all was pretty kick ass.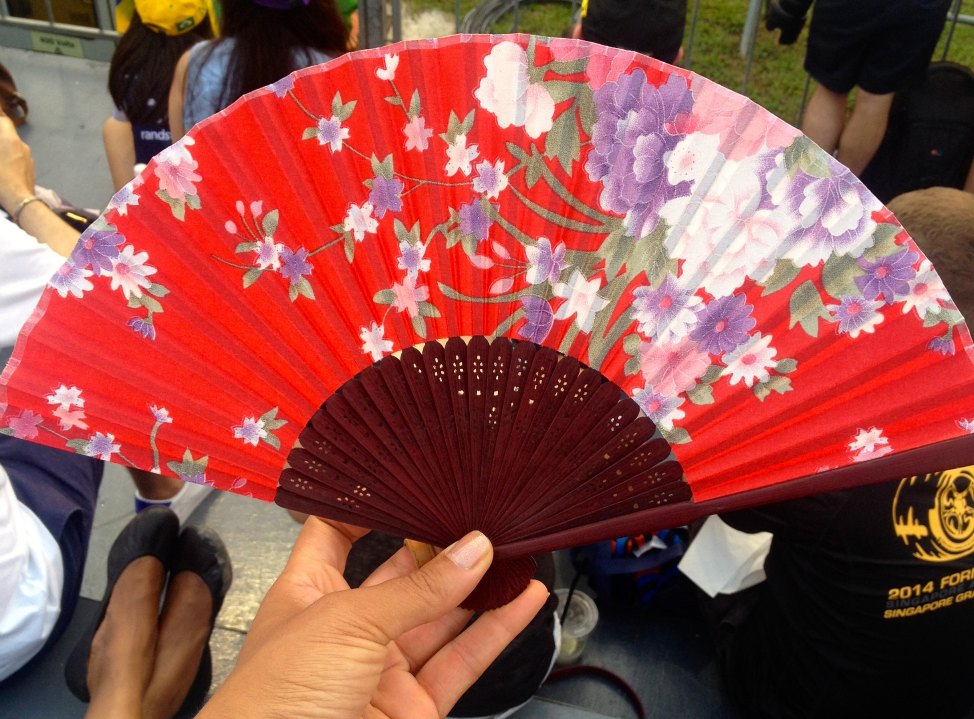 Much like a regular sporting event, most people have their favorite team. My friend supported Mercedes AMG Petronas so I happily cheered them on as well. It didn't hurt that the afore mentioned Lewis Hamilton was one of their primary drivers – at least I knew his name even before I got there. Clearly my friend has a keen eye and good taste because Hamilton and the Mercedes – Petronas team ended up taking the Grand Prix.  Well done!  And perhaps that team pride slightly rubbed off on me as the new car I got last month is, well…a Mercedes. I couldn't justify buying the super overpriced Mercedes gear at the race venue, but I did manage to get a good price on the actual car once back in LA. How's that for team spirit? Go Team!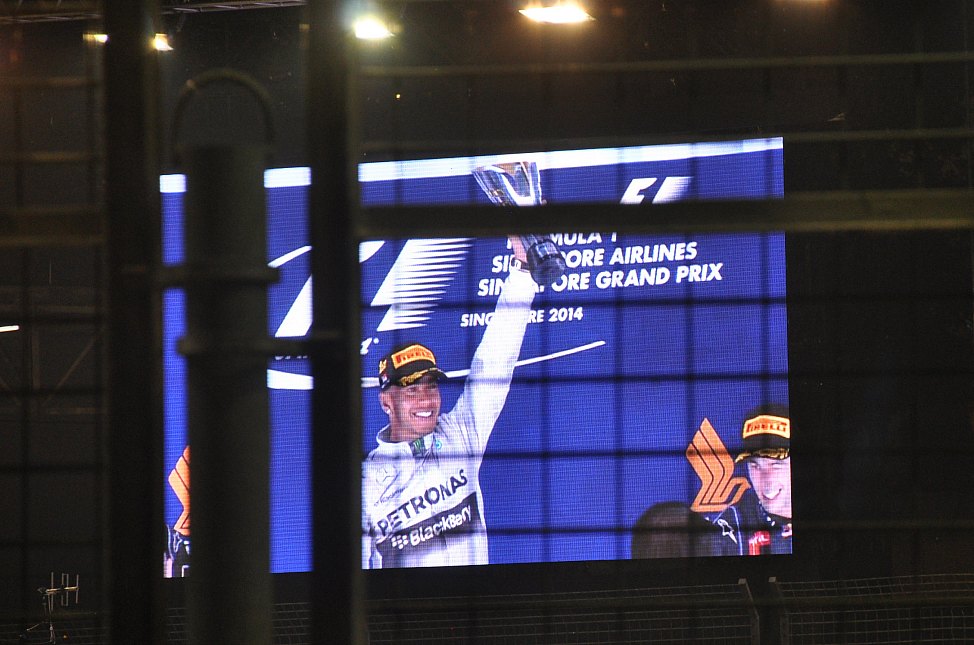 So all in all, I loved it and I'm already sizing up the options for next year. The little voice is already whispering a new city in my ear. I'll let you guess which one it is.  Huge thanks goes out to my friend who introduced me to this new sport and lifestyle and here's to the next one.