What a week and I can't believe I've already repacked my things to head back to the US. I will bid Armenia a farewell for now, but with hopes of heading back again soon. It was
such
a full week. The kind where it seems to have flown by, but at the same time the things I did 5 days ago seems like it was over a month ago. It may take me a little while to process all that I did, saw and felt…no to mention the time it will take to edit the close to 1000 photos I've taken.
This may be my last moments in Armenia, but this will certainly not be my last post. There's lots more to come on sightseeing, food, hotels, restaurants and what learned on the politics of the country, but for now, I have to catch my flight, so I will keep it short. First I will have to say a warm and sincere thank you to Suzy, Anna, Armand and Vahan from the National Competitiveness Foundation of Armenia for making this trip possible. And to my new Armenian family members Alla and Sergey who took me everywhere I needed to go and explained everything I needed to know and who kept a smile on their faces as I butchered their language with the four or five words I
thought
I knew. And to
Jonathan
my fellow blogger who shared this experience with me AND to the great group of Armenian bloggers who met us for dinner on our last night and shared their perspectives on Armenian life, politics and the future of their country and the region.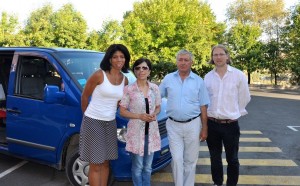 Our little Armenian family: Nailah, Alla, Sergey & Jonathan…and of course the blue van.
What a great experience! Can't wait to come back.