I couldn't have asked for a more beautiful day for my first day in Yerevan. Blue skies, warm temperatures but with a light breeze, the perfect day to visit some of the most well known sites not far from the capital city center. Jumping in our bright blue Mercedes van which will be our chariot for the week: myself, another blogger from London, Jonathan, our guide, Alla and Sergi, our driver.
First stop was Geghard Monastery. After reviewing the itinerary our Armenian hosts sent just before I left L.A., I quickly realized that this country is very proud of its status as the first Christian nation, and as a result, there are many monasteries and religious sites dotted throughout the country. Geghard is one of the most popular due to its proximity to Yerevan and its amazing architecture built out of the surrounding rocks. It is also said that this monastery housed the lance which pierced Christ's side while on the cross, though I found out that this is a claim that many monasteries and churches claim. While the monastery is said to have been founded in the 4th century, the two main churches on the property were built in the 13th century. Apparently there is a still active sacrificial site on the grounds used for ceremonies like baptisms and christenings, but I was blessed not to be there on one of those days. I may have begun eating meat again on this trip, but I am certainly not ready to see any of it slaughtered.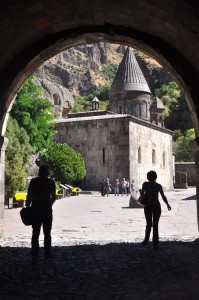 Through the arch to visit Geghard Monastery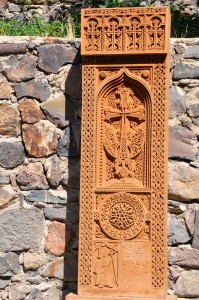 You can find these Khatchkars, stone cross carvings, throughout Armennia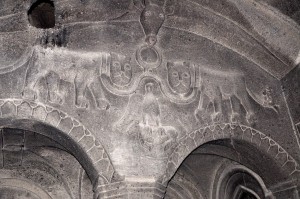 The lions dominate in the Coat of Arms of the Zakarian prince who built the church.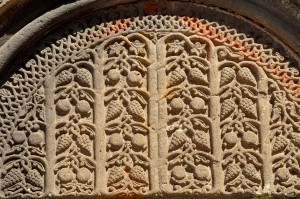 In this carving, Pomegranates = Wealth and Grapes = the Spread of Christianity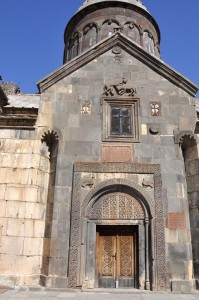 The Chapel entrance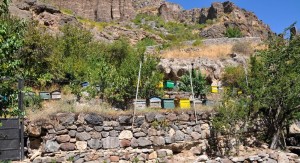 The monks keep honey bees in these wooden containers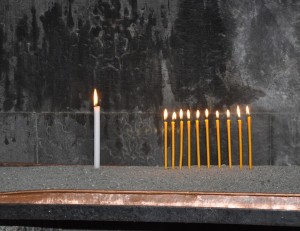 Prayer Candels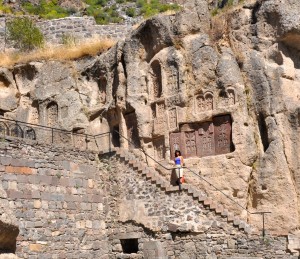 The stairs were extremely worn and slippery, but the view was worth the climb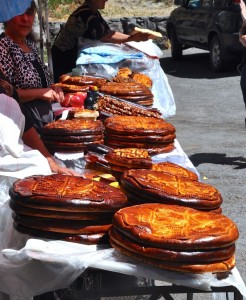 After strolling around the Monastery for a while, you will work up an appetite for one of these delicious Gata cakes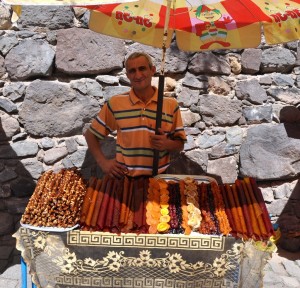 Or if you're trying to be a bit healthier, some dried fruit (I went for both!)
From the Geghard Monastery, on to Garni Temple. This tem
ple buit to honor the sun god, Mitra is said to resemble the Acropolis in Athens and is the only piece of Hellenic architecture in Armenia. What started out as a pagan building, eventually was turned into a Christian monument and residence for the king. It was only spared from destruction thanks to the sheer beauty of its architecture and its amazing view.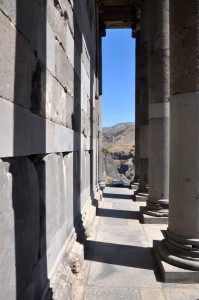 Tall columns overlooking the countryside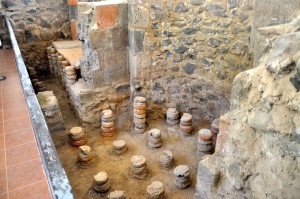 Remnants of the Royal Bathhouse also on the grounds of the Garni Temple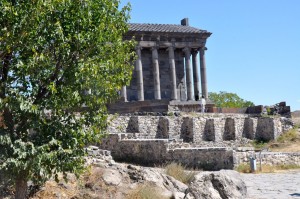 Side view of the Garni Temple.
Of course we had to finish up a good day of touring with lunch in one of the most relaxing spots I've ever experienced. At Sergi's place you are not seated inside a stuffy dining room. Instead you dine al fresco on Sergi's expansive lawn. He has set up long tables among the trees in his yard and guests come to enjoy fresh made lavash bread (made on the premises), salads, fish and barbecued meat. You could sit for hours enjoying a thick black coffee after you've stuffed yourself and just soak up the sunshine. A great end to my beautiful first day in Armenia.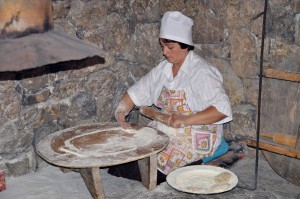 Watching fresh lavash being made at Sergi's place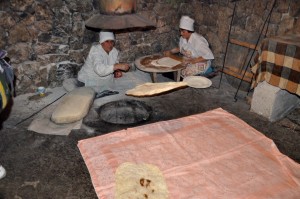 Watch out! Flying bread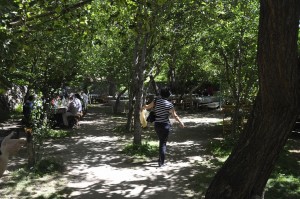 Grab a piece of lavash if you can and make your way through the garden to your table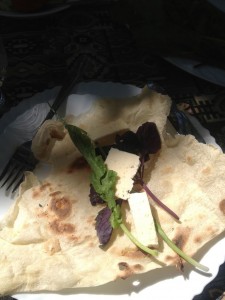 Purple basil, cheese and fresh lavash…I could eat that all day!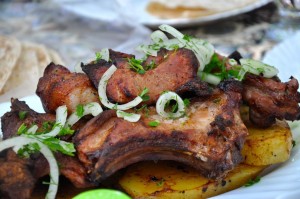 Plates of barbecued meats are on order along with fish veggies and more lavash bread.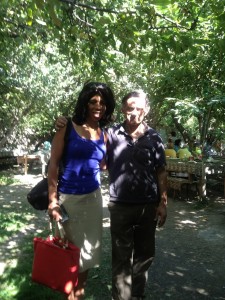 Not the best photo, but I managed to find Sergi and thank him for a wonderful meal.