"So do you want to meet for a walk? I found a great new place just a few minutes from here," my friend asks.
This will be a slight departure from our regular meet up at a local restaurant like Kay n' Dave's or Native Foods. Rather than putting on a few extra pounds, we're going to try and work them off instead.
Unlike many of the freeway-clogged neighborhoods of LA, my city, Culver City, has flat, tree-lined streets with wide sidewalks perfect for a pleasant stroll. And that is exactly the kind of walk I anticipate taking. A leisurely pace through the residential neighborhoods where occasionally you have to raise your voice over the sound of a lawn mower or spring out of the way of an errant sprinkler.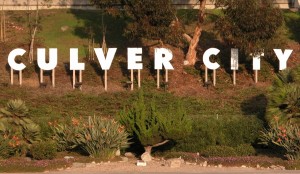 Who needs the Hollywood sign?
We start off, meandering through the back streets of our neighborhood passing yards full of trees heavy with lemons, oranges and avocados. But before long, we take a turn onto the busy and not so scenic Jefferson Boulevard where cars whiz by on their way to Target or In & Out Burger. Where are my tree-lined streets? Where is my wide sidewalk? I hug tightly to the edge of the road to avoid being side swiped by a reckless car.
Rounding the bend, I notice an entrance to a park I have never seen before. The sign reads, Baldwin Hills Scenic Overlook and beyond the gate, a dirt path rises gently through tall grasses and a few spring wildflowers. Being in good shape from my daily Capoeira training, this path doesn't look like much of a challenge. Before long I'll be enjoying a coffee and a stack of pancakes at the local S&W Country Diner.
Then, as I turn the corner on the dirt path, I see it. Is that a mountain? And why are people summiting it? I tilt my head back to see to the top of it and I fully expect to see a sage, robed guru sitting at the top waiting to bestow advice on the meaning of life.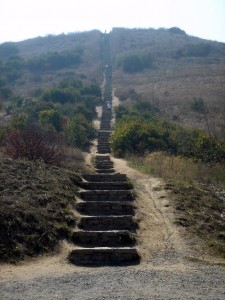 One step at a time…
"Why didn't you tell me about this mini-mountain?" I ask.
Apparently she enjoyed the element of surprise. Even though I have lived in Culver City for 5 years, I never noticed this park or its massive hill.
So up we go, one step at a time. The park planners had fashioned roughly cut stairs into the side of the hill and then added a rest area about half way up for people to catch their breath. But not me – I am going for it. I get myself into a rhythm, lock my eyes on the step just in front of me and keep climbing.
Even with my regular workout schedule, my legs are rubbery when I reach the top. I shuffle over to the concrete ledge at the top platform and just lay there catching my breath. Eventually I begin to notice what was going on around me. A nearly 360 degree view of Los Angeles. To my left, I see the Pacific Ocean, to my right downtown Los Angeles and in the middle, the Hollywood sign. Thanks to a recent storm, the LA skies are clear and fog free. Not only has this walk surprised me by turning into a full on work out, but I also get a new view of the hometown I think I know so well.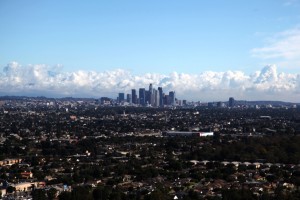 Photo Credit:Darryl Hardin