There are countless things that inspire people to travel, but for me, a primary one is the chance to experience the new. Even if I've been to a place fifty times before (I'm looking at you, London), I can still find 'new' in every trip.
Last weekend's trip to London provided me with the new experience of my first professional football game (yep, the soccer type). My friend's husband is a Chelsea Blues season ticket holder and he generously let my friend and I use his tickets the weekend I was in town. How cool is that?!?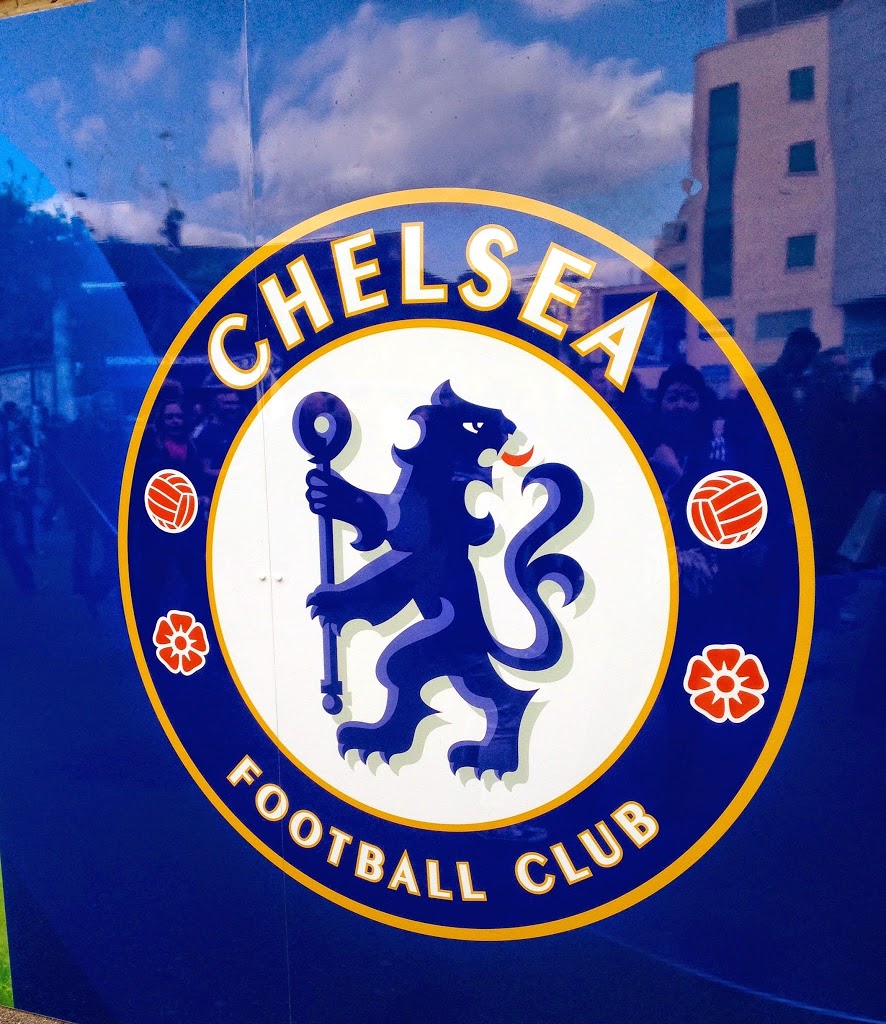 Like many sports (basketball, American Football, hockey), I may not follow them on a day to day basis, but I am always up for seeing a game or a match up close and personal.  And a football match in the UK where people's passions for their team know no limits?…well I knew this was going to be one hell of a time.
After a leisurely day of shopping and eating in the Notting Hill area, my friend and I readied ourselves for battle. Emerging from the Fulham Broadway tube station, we were easily swept in the direction of Stamford Bridge – the name of Chelsea's home stadium. We actually broke ranks for the crowd to find a nearby Starbucks for some caffeine support, then back into the masses as we headed towards the stadium.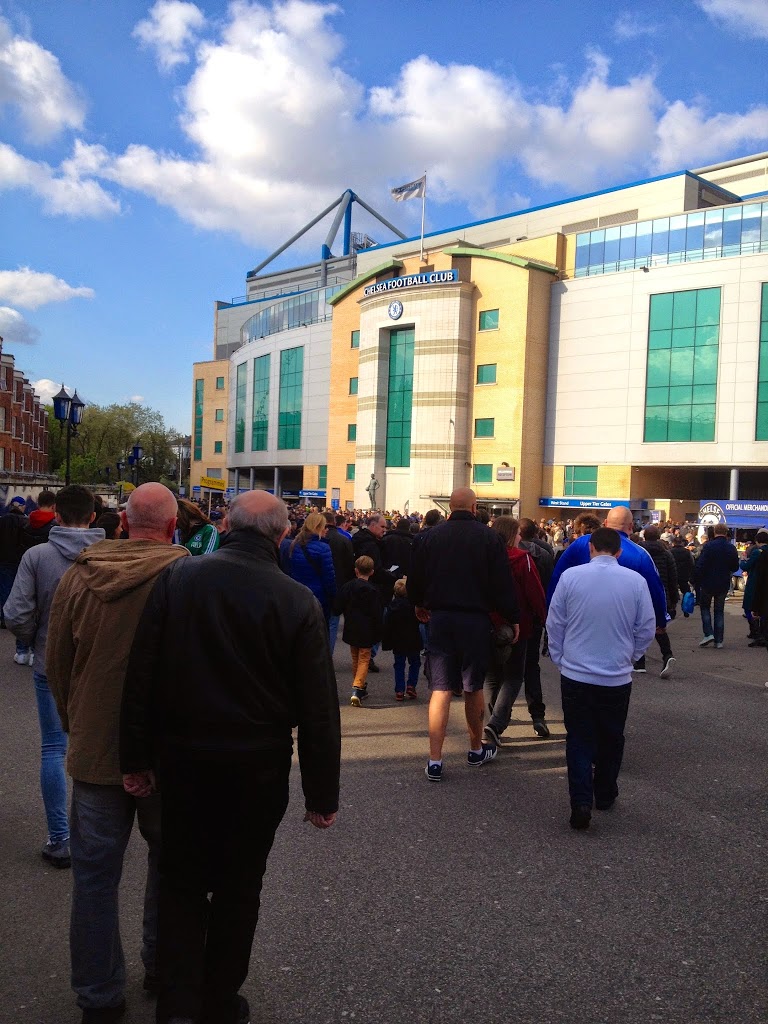 Now I'd been warned about the intensity of the Chelsea fandom, but heading into the stadium, everyone seemed fairly orderly and not out to cause any ruckus.  The concessions area was full with fans downing their last pints before the game started because unlike in America, there are rules against having any alcoholic drinks in the stands.  I imagine this was for good reason.
We made our way to our seats, which gave us a great view of the pitch.  While Chelsea was playing against a team that was not very highly rated, it still was a big game as any loss could knock them out of their high standing in their league. As I expected, the noise level in the stadium was high and there was quite a buzz in the air, but still everyone seemed fairly well behaved. No crazed fans by the time the teams took to the pitch.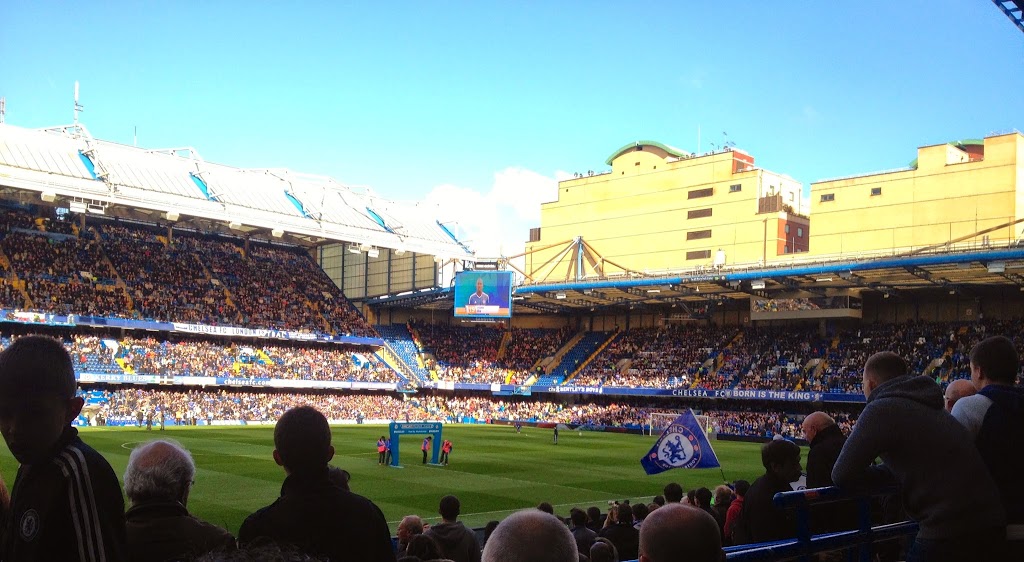 Then the chants started. A series of different songs that the whole stadium seemed to know by heart, but that I couldn't decipher to save my life. Every once in a while I'd catch the words "Chelsea" or "Come On" but that's about all I could sort out.  By the end, the only song I knew by heart was the one where you simply shouted "Chelsea" over and over again. Yep – I got that one!  For all of the other ones, I was going to need a hymnal.
Also like church, there were specific times to sit and to stand.  I'm used to American sports games where you can stand up and cheer whenever the mood hits you. At a British football match you must be seated at all times unless your team scores, then you can jump up, shout celebrate, but then make sure you're sitting again before too long otherwise (I suspect) you're sternly told to do so by security…or maybe the other fans.
Now unlike church, the quantity and creativity of cursing knew no bounds.  I don't think there was one curse word I didn't hear, at least twice, during the game. Apparently things were a bit tamer as it was Easter weekend and there appeared to be more kids in the crowd, but still, the two young girls sitting in front of me heard the same swearing I did – occasionally from their own fathers.  Its just the way it goes there in the stands.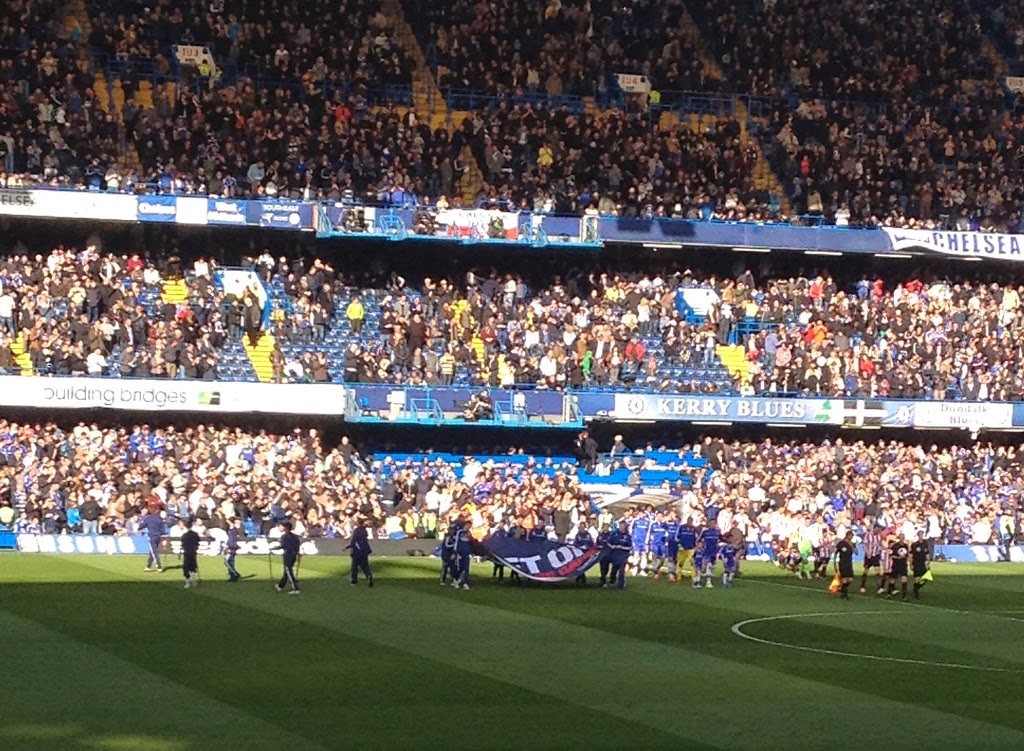 The game itself was great to watch, even though the 2 – 1 final score did not go in Chelsea's favor.  There were exciting plays, penalty shots, both good and bad ref calls and even a classic bicycle kick towards the goal that got everyone on their feet, at least for a few seconds.  If it wasn't for the home team loss, it would have been a perfect match.
The end of the match was met with stunned silence as a team at the top of their league lost to one near the very bottom. It's too bad that the fans and the players couldn't see into the future to know that one week later, they'd come back to win against the No. 1 team in their league.  Luckily the depression didn't have to last long!