With no international trips on the immediate horizon, I have to find cultural activities closer to home to keep me going. It may be as simple as going to see a foreign film or trying out a new restaurant serving a particular international cuisine, but those types of experiences rarely last much longer than the time I spent in the theater or at the dinner table.
Then there are other activities that truly take you away. Last night I finally got to take in an energy-filled performance by the dance company DanceBrazil. I say finally because I've wanted to see one of their shows for years … ever since I met the company's founder Jelon Vieira (aka Mestre Jelon) about 8 years ago. For someone who's won countless awards, worked with names like Alvin Ailey and developed generations of dancers and capoeiristas, Mestre Jelon is an amazingly personable man who will quickly pull up a chair next to anyone and start sharing stories and philosophies as if you've known him for years. If you can describe someone as easy-going and passionate at the same time, that's certainly Mestre Jelon.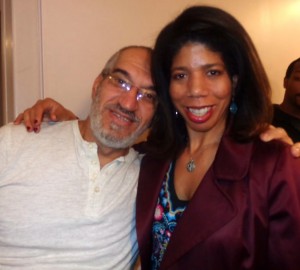 I snuck in a quick picture with Mestre Jelon, Artistic Director of DanceBrazil
When I first heard about Mestre Jelon's dance company, DanceBrazil, I thought it would be a nice little group that performed at local community events and neighborhood festivals. It wasn't until I came across a video of the group that I truly started to understand the level of talent this group of dancers, choreographers, and designers posesses. In existence since 1977, DanceBrazil is supported by dancers that have an amazing mix of strength, flexibility, grace and expression.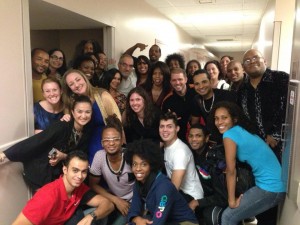 Post performance with the dancers and a whole lot of happy audience members
Last night's performance was made up of two halves. The first called Banguela utilized many capoeira movements demonstrating balance, strength and acrobatics and combines them with dance elements from African and Afro-Brazilian backgrounds. The second half of the show, Fe do Sertão, was especially moving as it highlights traditional music and movements from the dry rural areas of Northeast Brazil where hunger and drought are regular occurrences While this might sound depressing, it instead created a real appreciation for the people, their struggles and their resilience in difficult living conditions. The Brazilian music, the dancing, the atmosphere and hearing people speaking Portuguese all around made me start thinking of my next trip to Brasil. And while I love the big cities of Rio, São Paulo and Salvador, I am now very interested to visit the smaller towns and villages of Northeastern Brazil.

If you practice the Brazilian Martial Art of capoeira go see this show. If you've spent any time in Brazil and enjoy the music, the culture and expression of this country, go see this show. If you have a love for dance and enjoy a program that not only has amazing movements but also tells a story, go see this show. And even if you have no ties to dance, capoeira, Brazil, go see this show. You won't be disappointed.