Do as many things that scare you and take you out of your comfort zone as possible.
That's one New Year's resolution that I renew every year. While the actual "things that scare you" might change from one year to the next, the feeling of overcoming them never does. Its a surefire mental cocktail of excitement, relief, delight and an overall feeling of "Holy Crap, I just did _(insert accomplishment here) ."
This past weekend I had my first public speaking engagement as a travel blogger at the Travel and Adventure Show in Long Beach, CA. While I can't say that I'm petrified of public speaking, it's definitely not something I seek out…ever. However, I was selected as a member of a panel discussing the inescapable link between food and travel and that's just a chance I couldn't pass up.
While I don't claim to be much of a chef in my kitchen, I am for sure qualified as a travel eater. After a brief introduction, myself and the other panelists answered questions about our favorite travel destinations, trends in international cuisine, and secrets for hidden gems around the world (I voted for Lebanon as a hidden treasure destination and specifically for the delicious restaurant Tawlet in Beirut).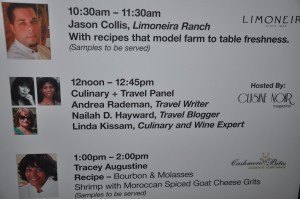 My 15 minutes of fame…well actually 45 minutes!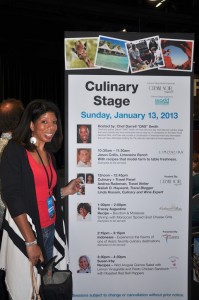 I was a little giddy when I saw this.
I have to say I got a kick out of seeing my name and photo on the event brochure and the schedule banners. Of course that didn't mean I wasn't a bit nervous as I grabbed my seat at the front of the stage area and settled in for the Question and Answer session to begin. There were some stomach butterflies, I'm not going to lie, but it was definitely a little easier being up on stage with a moderator and two other panelists. That means I only had the attention on me approximately 1/4 of the time we were speaking.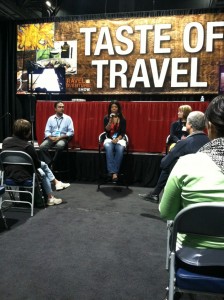 I'm sure I was providing some sage advice when this picture was taken.
Overall I think it went well. People in the audience were very supportive of me stepping out of the corporate cubicle to follow my passion and I think I may have converted a few people to consider Lebanon for future culinary travel. Also, I may have even gotten some interesting writing/blogging partnerships out of this event. Fingers crossed.
Thank you to V. Sheree of Cuisine Noir magazine for sponsoring the panel discussion and for allowing me this opportunity to share my love of travel. Not surprisingly, I am glad I pushed myself outside of my comfort zone once again, and hope to have more opportunities in the future.