This last month (Gasp!) of my travels I am doing a lot of quick stops. For my itinerary (which is still a bit in flux) I am usually maxing out at 3 days in a city. Suddenly I feel like I'm part of a concert tour and like I should have a t-shirt with tour dates printed across the back. The good thing about a schedule when I'm constantly moving is that I get to visit more cities that I am interested in and by not staying too long in one place, I'm not putting as much of a burden on friends who offer to let me stay in their homes. As the Benjamin Franklin saying goes, "Guests, like fish, begin to smell after three days".
The negative side of this type of travel? Well the obvious issue is I don't usually get enough time to truly know a city. I am only getting a chance to see a few of the top tourist sights and I usually have to end up choosing between meeting up with a friend or training capoeira in the evenings. There's rarely enough time to do both. And then if you factor in time to take care of business (laundry, emails, writing blog posts) the time goes by much too fast.
I have been in Berlin for two full days and I'm on my way to Amsterdam tomorrow. While that's barely enough time to scratch the surface of all there is to see and the history to learn, I was happy to find two activities that gave a great introduction to Berlin in a short amount of time. Here are my two great finds: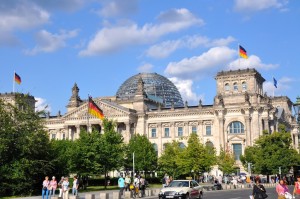 View of German's Reichstag Building – a great intro to Berlin

1. Visit the glass dome above the Reichstag parliament building. You normally need a reservation to get into the building, so make sure to visit their website to reserve a spot. I lucked out because while I was standing in a terribly long line to reserve a spot in person, they decided to take a group of us in right away so I didn't even have to wait until the next day. I consider this an apology for them closing the dome when I was last in Berlin and I missed out on seeing it.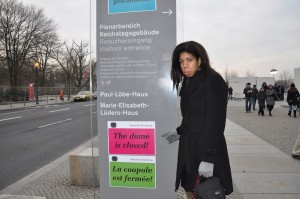 Sadly couldn't get into the Dome when I visited in 2012 due to a security concern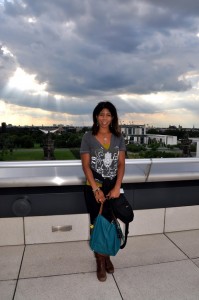 Happily I made it in to the Dome on this visit to Berlin
So why visit a government parliament building to get a great intro to Berlin? It is because of the tall glass dome that rises behind the façade of the classical stone front.
While you cannot go directly into where Parliament meets to watch them in session, you can wander the curved slopes of the dome above the building and get a look into it from above. This is Germany's attempt to show that their government is totally transparent; nothing to hide, nothing to cover up.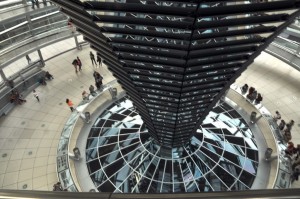 Looking down into where the German Parliament meets
Aside from getting a peak into the Parliament General Assembly, you will also get a well-narrated, 360-degree view of the city from above. With your
free
admission to the dome, you also have an audio guide that plays prerecorded information about the sights you are seeing from this birds-eye view. The audio is queued by where you are on the gently sloping path through the dome, so you always know where to look and what you're looking at.
On a clear day like I had, you can see for miles and can easily take in the key sights of the city.
2. Take a Fat Tire Bicycle Tour. While visiting the Reichstag gives you a beautiful view from above, check out the Fat Tire Bicycle Tour, which brings you in closer to the sights. Fat Tire offers a number of different tours throughout the city. The most popular tour, the All-In-One City Bike Tour, takes about 4.5 hours to complete and gives you a chance to get up close to a number of the key parts of the city: Museum Island, Brandenburg Tor, Holocaust Memorial, Tiergarten Park, a section of the remaining Berlin Wall and significant plazas throughout the city.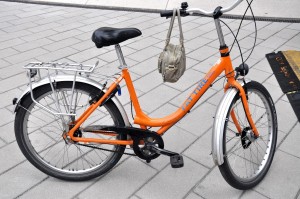 My Fat Tire Bicycle for the Day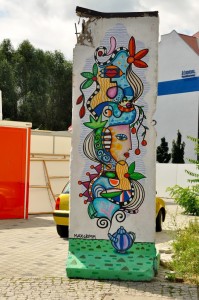 A painted piece of the Berlin Wall along the Tour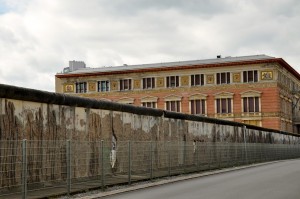 The 3rd largest section of the Berlin Wall still intact
For me it was a true pleasure to be on a bike for a few hours and cover a lot of ground while seeing sections of the city I may not have otherwise been able to fit in in two days.
Like any tour, the guide makes a difference. Neil from Manchester, England lead our group of about 20 cyclists and did a great job speaking about the history, culture and quirky facts of Berlin.
He knowledgeably answered all of our questions while making sure we all got back in one piece.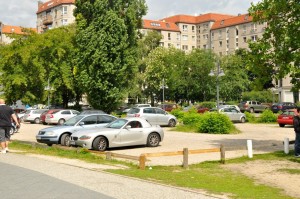 This nondescript car park covers where Hitler's Bunker used to lie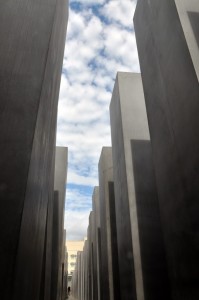 Wandering around the 2700+ columns of the Holocaust Memorial
Neither one of these activities will give you the time to access the sights, but they give a true overview of the city, a lay of the land and allows you to plan which sights you want to visit more in depth, whether it's the next day or on your next trip to Berlin.
If, like me, you only have a brief time in Berlin, definitely check out both of these options to take in as much as you can in a short amount of time.
While every city may not have a Reichstag Dome, most seem to have a bicycle tour that you can check out.
What about you? What other methods can you share with me that allow you to get the most out of a short time in a city?