It's my final day in Turkey. Well, for this trip. I have no doubt I'll be back. The original plan for my last day in Istanbul was to make it over to visit Topkapi Palace, a place I've had on my "Must Visit" list since my first day here. But instead I watched the day while away as I enjoyed a very leisurely lunch, with a cold glass of white wine on a shady outdoor patio. And I enjoyed every second of doing nothing.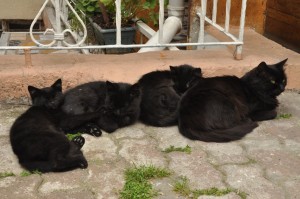 Heaps of Good Luck on the street in Istanbul
I just couldn't bring myself to brave the crowds today. Topkapi Palace is supposed to be a beautiful and significant stop on any traveler's agenda. The Blue Mosque, Aya Sofya and Topkapi Palace are the big three "Must Sees" in Istanbul. Skipping the palace is like going to Paris and not seeing the Eiffel Tower. [Confession: I spent months in Paris and STILL haven't made it to La Tour Eiffel, so I guess I'm staying true to form].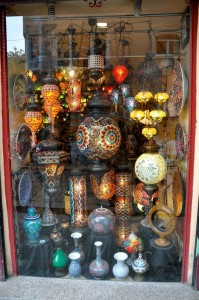 Shop window – all lit up
I did try to make it to the palace this past Sunday, but there were so many huge tour groups and shuffling lost tourists, that I just couldn't see adding myself to the mix. Instead I opted to sit in the grass of the palace grounds and soak up the gorgeous sunny day. My justification was that I would come back on my last day in Istanbul, in the middle of the week, when there were be less traffic. But the last day, today, has come and gone and instead of trying to squeeze in one last tourist site, I decided to take it easy…to take it slow. That's how I like to travel.
Busy day at the Spice Bazaar
I opted to make this a five month trip knowing that I like to have those days where I do little more than wander through new neighborhoods and enjoy a two hour coffee.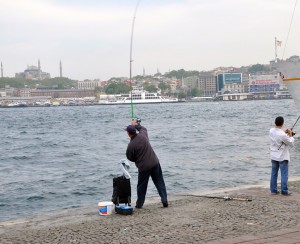 Getting the day's catch
Not that packing your day full of activities is the wrong way to travel…some days I'm running from place to place, jumping on subways and buses and crossing back and forth around a city in order to get in as much as I can. But those days usually happen when I'm traveling with other people and we of keep each other's momentum going from place to place. When I'm alone, which I will be for the majority of this trip, I like to take it a little easier, enjoy the slowness of travel. To stroll across a city and take in two sites, rather than jump on the train in order to get to five. All of the photos on today's post were found while strolling across the city. I tend to like those photos better than the ones of the major sites.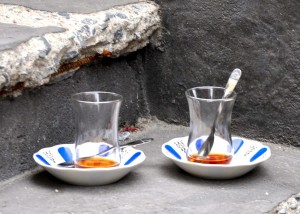 Its always tea time in Turkey
I know it's a little strange for me to be saying goodbye to a country on this blog before I've written much about it (and I have a lot to say), but sometimes I just have to capture what I'm feeling even if it doesn't make chronological sense. But there will be additional updates for Istanbul and Cappadocia. Stay posted.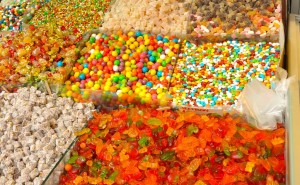 Sweet shoppe
In the meantime, how do you like to travel? What pace do you like to set? Does it differ depending on the location your visiting or who you're traveling with?
Romantic table for two