Unfortunately, I only had a few short days to wander around the streets of Seoul, S. Korea. Here are a few of my favorite photos from my days strolling through the city.
One of the necessary games when I get to a new city: "Figure out the Currency"
Traditional Korean home called a hanok found in the Bukchon Hanok Village
Photos from the Changdeokgung Palace (one of three palaces in Seoul) and its secret gardens.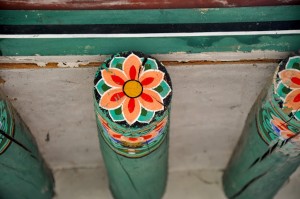 I love the colorful details found on the Korean palaces
Promotional Paper Lanters outside a Seoul store
Fresh orages for sale on the streets of Seoul
The true reason why I had to leave Seoul. I could not stop eating this glutenous rice bread from the Paris Baguette bakery.
I just thought this guy was adorable – window advertisement at Baskin Robbins
High Tech: at the local coffee shop, the beepers they give you to let you know your food is ready have video advertising on them to keep you entertained.
Traditional Korean drum for sale at a local souvenir shop
I saw racks of gas masks in every subway station in Seoul which I found a little disconcerting.
Yeah – I just couldn't bring myself to try the boiled silk worms… I understand its an acquired taste and with only 4 days in Seoul, I doubt that's something I would have acquired.
This shop name just made me smile…