I am just getting back from a 2-night stay at the Marriott Laguna Cliffs Resort & Spa in Dana Point, CA. Mom and I were originally thinking about heading to New York City for the holiday, but in the end decided that she'd come out to visit me in Los Angeles. Since I wouldn't be spending any money on a plane ticket, I figured I could use that cash towards a local get-away trip. When a Travelzoo coupon for Laguna Cliffs Resort came to my inbox, it was all the encouragement I needed. Let's go!
Overall, I'd have to give the Marriott 3.5 out of 5 stars.

Big wins were the genuinely friendly and helpful staff, the beautiful views, the room size/quality and the delicious breakfast buffet (direct contributor to any recent weight gain).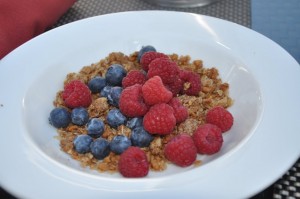 This hotel is quite large which means lots of great places to just wander and find a little corner to relax on your own or with a group. The Marriott sits atop a cliff overlooking the ocean and appears to be in the middle of a spacious, public park with rolling hills and full of beautiful plants and trees. A paved walking path leads down the cliff towards the beach so you can walk to the shore without too much difficulty. The words "well manicured" and "scenic" quickly came to mind when I got a good look at the place.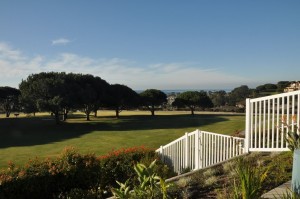 Our room on the first floor had a balcony with a lounger and two chairs; a great place to start relaxing with a good book. It appears that rooms on all floors except for the top floor (the fourth floor) have this same set up. I think the fourth floor may have better views of the water, but personally, I'd rather have the balcony.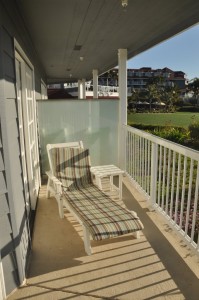 If you choose to be a little more social, there's the Vue for drinks/food that has both indoor and outdoor seating; a large pool/Jacuzzi area with plenty of lounge chairs and a few cabana options; and plenty of conference rooms for business meetings. The weather was beautiful and sunny (yes, it is 70 in December here, folks) and I'd say my favorite experience was just lying on the grass reading my travel magazine. While I'm passionate about having a live Christmas tree at my apartment at this time of year, I must say I'm a big fan of the fake grass that I was lying in. No wet spots from the dew or sprinklers, no bugs to swat away, no grass stains to soak in the laundry. Perfect for just lying around and soaking up some sun.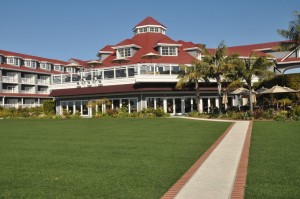 We stopped by the on-property spa but decided that after all the holiday shopping and travel expenses we probably didn't need to splurge on a massage that we could get for half the price back at home. Gotta save that money for next year's "Great Escape". There was also a fitness center on site that had a number of what appeared to be brand new cardio and weight machines. The room was large, airy and inviting and I nearly worked out there but instead I opted to just lie in the grass with my magazine. There's a definite lack of grass where I live in LA, so had to take the opportunity while I could.
Mom and I stayed in a room with 2 double beds on the first floor of the Capistrano wing of the hotel. The room was a very good size and had all the amenities we'd need including plenty of wall outlets for all of our electronic devices. Even the most luxurious hotel room will turn me off if there is a lack of cleanliness, but I have to say there were no problems here. According to mom, the mattresses were very comfortable and easy to sleep on. I'm not the best judge of that since I can sleep nearly anywhere, so I'll take her word on that one.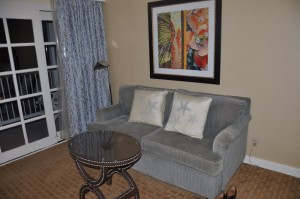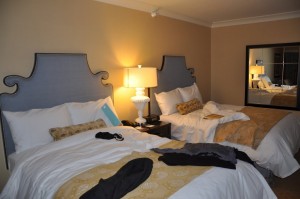 So how did the hotel lose 1.5 stars?
First of all the only option for your car was to use valet parking. I can't complain too much because the parking fees were included in the Travelzoo special, but if I'd had to cough of $30/day with no option for self park, I would have been annoyed. Also, it eventually became a bit of a challenge to find singles to tip the valet each time you wanted to leave the grounds. Luckily all of the valets were extremely polite (actually all of the staff at the hotel were extremely polite) so you didn't mind tipping them, but still when you realized you only had a $10.00 bill in your pocket, it was a bit annoying to have to find change.
Second, the fire alarms. I'm sure this was just a one off situation, but our second night there the fire alarms went off at around 1:00 am and continued to do so for about 30 minutes. There was no fire, just a glitch in the alarm system. This happened again from around 7:00 am – 8:00 am. The alarms were loud and jarring as they should be if there were actually a fire, but not so helpful when you're trying to sleep.
The final minor complaint was that there were not individual reading lights above the beds in the room. I like to read in bed, but not when I have to worry about keeping the other person in the room awake. This seems like an easy thing to set up. Or at least have a lamp that allows you to turn one side off while the other side stays illuminated.
Will I return to this hotel? For sure! The few minor issues I noticed were definitely not going to keep me from wanting to come back. Plus I'm interested to see what this hotel is like during a busier time of year – I'm guessing spring or summer. It was nice to have a relaxing, quiet stay after a bus
y holiday season, but I'm sure over the summer this hotel will have a whole different vibe.