One thing I can't travel without: my iPod. Its old school (circa 2006) but it hasn't failed me yet and it allows me to have my favorite music ready to go whenever I need a pick me up or to relax or to drown out the crying toddler sitting behind me. It also allows me to keep up with my ever growing list of "un-listened-to" podcasts (favorites being This American Life, Unfictional, Wait Wait…Don't Tell me and Slate.com).
Also, necessary (and ear related) are my trusty earplugs. I am a light sleeper and these little lifesavers have been on my must pack list since the trips to Berlin for Oktoberfest back in the late '90s. Not because of the raucous crowds of late night imbibers, but because of my two dear travel buddies who, although small in stature, can sure work up a good snore! (Yes, you two know who you are).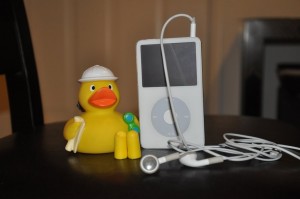 My newest travel item is the Good Luck Travel Duck given to me by a fellow traveler who stayed at the Hayward Hotel for a few nights this summer. So far G.L.T.D. has only been to Brasil, but his passport will hopefully start to fill up soon (right along side mine).