We planned our adventure to Oman to fall just after our trip to Djibouti. Jen and I had both travelled enough to know that the "unexpected" in Djibouti would probably make us appreciate our stay in a luxury hotel in Oman even more. We were so right.
Jen had been to Oman a number of years back and had such a good time that she recommended we check it out again. Never one to back down from a side trip (particularly when it involves adding a new country to my list) I quickly agreed. The drive between Dubai and Muscat (capital of Oman) looked to be fairly easy and being in a car rather than an airplane allowed us a closer look at the two countries. So we booked our rental car and headed out.
Of course, we couldn't start off our trip without a little extra headache. We wanted to get on the road by about 9:00 am, but when we arrived at the Europcar rental desk we were told that they do not allow their cars to be driven into Oman. What?? This was fairly shocking to the both of us since Europcar was recommended by other travelers as a good company to rent from for this trip and because there was no mention of this on their website. Of course we tried to argue this with the one man who was working at the office, but he wouldn't budge. Great – so now we had to find a way to the airport to hopefully find a rental car company that was a little more upfront about their policies. At this point the gods decided to show us a little mercy because just as we were looking for a taxi to the airport we spotted a Budget Rental car desk nearby and (YEAH!) they allowed their cars to be driven into Oman. Hallelujah! It took well over an hour to figure out the paperwork and insurance and billing but finally we were on our way. I took the first leg of the drive which included a rather hairy adventure to get out of central Dubai, but once we were on the highway, it was smoothing sailing.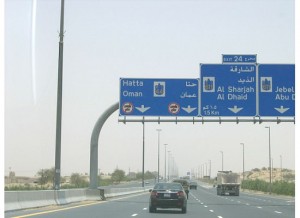 As we drove out of the city we saw tall buildings and ribbons of freeway give way to sand, sand and more sand. There were occasional rest stops spotted along the road that had a poor man's version of 7-11s. Other than that , it was mostly desert scenery, road side mosques and blue and white freeway signs pointing to Muscat. As we got closer to the Omani boarder, we started to notice more and more roundabouts which can be a bit intimidating in the middle of a freeway. Going from 70 MPH down to 30 and trying to merge onto multi-lane roundabouts and follow sings written in both Arabic and English – well it added a bit of stress to the trip. But by the time we went through our fifth or sixth one, Jen and I were feeling a bit more comfortable and able to enjoy the sculptures, flowers and monuments they built inside most of the roundabouts. Omani beautification.
But before we get too far into Oman, there was the stop at the border. First you had to stop at a mobile trailer type building on the Dubai side to have them review your passport. There was no real parking lot for this building so you had to keep an eye out for it and then pull off the road and jockey for a spot closest to the window. Close parking is highly advised because if you had to walk too far to the passport control, there was a better than average chance that you'd keel over in the 110+ degree heat. After clearing that post, it was on to the large mosque-like and fully air-conditioned passport control building on the Oman side. Aahh – this was much better. Inside we waited patiently in line behind 3 or 4 other travelers who were getting their passports stamped and paying their entry fee. After the entry fee situation in Djibouti (see Djibouti posting below) we were ready for anything…anything except the guy behind the counter taking our passports and then saying we didn't have to pay. Seriously? No entry fee? Of course we were skeptical about this considering all the people in front of us had to pay. Plus, where had he taken our passports? Did we not have to pay because we were about to be detained and thrown in an Omani prison? Was there some sort of extradition policy between Oman and Djibouti? We had to just smile nervously at the official for a little while and hope for the best. About 2 minutes later the official came back with our stamped passports and welcomed us to his country. A miracle! I have traveled to more than 40 countries and not once have I had a passport official waive any fee. Very cool! I'm liking this country already.
One more stop to show proof of insurance to drive between the two countries then we were on our way to Muscat with nothing but about 50 roundabouts in front of us. Along the way, I only made one wrong turn, which of course involved a misreading of a roundabout sign, we ended up in a small town where after a few turns the road just suddenly ended and we were at the beach. All in all a beautiful view and nice little detour that did not cause us too much trouble. Whew!
Figuring it was time for me to take a break, I turned the wheel over to Jen and took over the job of DJ and photographer. As DJ, I had the responsibility of switching between the 5 or so radio stations, all of which played different genres of Arabic music. It was fun bopping along to music that we couldn't understand in the slightest, though some songs were a little to "pop-y" and others a little too "over the top and dramatic". A couple of times we even caught the Call to Prayer (or Adhan) which happens 5 times a day and is beautiful to hear whether it is over the radio airwaves or being called from a mosque's minaret. As car photographer, I just thrust my camera out of the car window and tried to catch anything interesting or different. Basically, we got a lot of pictures of roundabouts and goats and mosques. May not sound too exciting, but it was a fun drive.
Getting into Muscat presented its own problems. Like any major city, there are lots of winding roads, and signs that were either way too small or with way too much information to process as you go by at 70 MPH. The sign which pointed us towards our hotel had arrows pointing in about 4 different directions and involved (surprise, surprise) a roundabout, so needless to say we got a little lost. After driving by the Grand Mosque and the National Hospital for the third time (Our version of Chevy Chase's "Look kids..Big Ben, Parliament") we had to admit we were a bit lost. So we did what you would do in any country, we pulled into a gas station and asked for help at the mini mart. Luckily the attendant and the customer both spoke English and were very helpful in putting us on the right path. After we got our hand drawn map and made a well deserved pit stop at the Dunkin Donuts next door (yum!) we got ourselves oriented and made it to The Chedi! Aaaah…relaxation. A far cry from the Djibouti Sheraton, this hotel was Zen luxury at its best. Infinity pools, spa treatments, pillow festooned lounges, a private beach and one of the best hotel breakfast buffets I've ever had. I was home!
Our first full day in Oman was a full one for sure. Jen's friend Zain, who is a professional tour guide, treated us to a day trip to see the highlights of Oman. He picked us up in at the hotel at 9:30 am and we didn't get back until after midnight. It was hot as hell that day (I think it might have gotten up to 120 F) so we did a nice mixture of driving in the air-conditioned 4-wheel drive SUV and then occasionally getting out to see the country up close (until we felt like we were about to burst into flames at which point…back to the AC).
First stop was the Grand Mosque – a magnificent structure built by the Sultan Qaboos and opened in 2001. During certain times they allow non-Musli
ms in to visit the grounds and marvel at the architecture…and that's exactly what I did. Jen and I donned our long sleeved shirts and our scarves to cover our heads and began to wander around the complex. Now, I've been to my fair share of churches as I've traveled around Europe, but this mosque was truly gorgeous. For one, it is only about 8 years old so everything is clean and brand spankin' new. The walls of sandstone and the paved ground shone white in the sun and the whole structure was just beautiful against the blue sky. The ceramic tiles along the walls were of deep rich blue, yellow and orange colors. The floor of the outdoor area was carved into sections so that when the indoor prayer areas were filled, the overflow of worshippers could still participate in prayers.
We first went in the women's prayer hall which was quite large and had intricately carved walls and chandeliers. We were very impressed with this area…that is until we arrived at the main (male) prayer area. The men definitely got the better end of the stick on this one. While the women's prayer area was impressive, the main area took my breath away. I had to leave Jen and Zain for a few minutes and just wander around the hall by myself soaking in its grandness. The chandelier alone was nearly 46 feet tall and was dripping with gleaming Swarovski crystals. The carpet covering the floor was enormous and took 4 years and 600 weavers to make – and it was all one piece. I don't even know why I tried to take pictures…there was just too much to take in and a camera wouldn't do it any justice. It is just one of those places you have to experience in person. And I'm so glad that I did.
We finally tore ourselves away from the Mosque and on to another highlight…the camel farm! When we arrived there wasn't anyone there so we just wandered around looking for camel photo ops (and there were a ton). Although it wasn't in season in June, camel racing is a big sport in Oman and camels can go for quite a bit of money. The female camels are typically the faster runners so they would fetch a higher price at the market than the males.
One of the highlights of the day was going "off-roading" in the sand dunes just outside Muscat. Zain would race the SUV up the side of a dune at top speed, get to the top and then slide/drive down the other side. It was crazy. Sand flying everywhere so that you couldn't see, holding on to the roll bar for dear life, not being sure if we were going to tip over and roll or not – way better than any Six Flags ride. It was so much fun that I didn't have the heart to tell Zain that I was getting seriously sea-sick. Yikes! Even though I was pretty much nauseous for the rest of the day, the adventure of plummeting backwards over the red sand dunes of Oman was well worth it.
A couple of times we got out of the SUV on the sand dunes to get some pictures and experience some of the most intense heat I'll probably ever feel. I only brought flip flops with me and I ended up burning my feet on the sand. I guess the fact that my shoes started to melt at one point should have been enough of a warning for me. Luckily, I was able to soothe them when a few minutes later we took a steep dune in the SUV and the ice cooler on the seat next to me toppled over and dumped ice all over the floor and my feet. Problem solved!
From the dunes we headed to the wadis which are riverbeds cutting through otherwise dry and rocky landscapes. Sometimes these wadis are completly dry, but we managed to find a few with some fresh water in them. Things seemed to cool down a bit in this area (probably to a balmy 110) and we even drove into an oasis or two with towering date palm trees. We came across small villages and farms during this part of the drive and even a few curious kids who came to talk to us and check out the odd foreigners.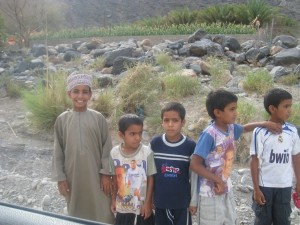 After a picnic dinner of roadside Indian food (not bad at all) on the top of a mountain, we drove to the town of Al Hamra. I'm not sure if there's anything too exciting about this small town. But watching it light up as dusk began to fall from a playground on a hill outside of town…well, it was just magical. Really gorgeous. We ended our day in the city of Nizwa where we treated Zain to a well earned beer or two at a local hotel bar. I couldn't have asked for a better tour of Muscat and the surrounding areas. A truly amazing day! Thank you and Shukran, Zain!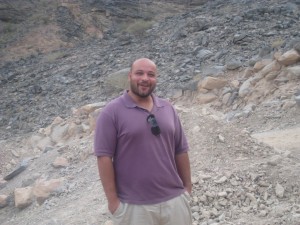 The next day was a day of rest. Spa treatments and lazy hours at the hotel pool and beach. Not terribly exciting commentary to write here, but I was happy and content. And at the end of the day…well, Zain wasn't done with us yet. He came back by the hotel to take us around the historic parts of Muscat as the sunset and then to the souk (traditional market) for a little shopping. We got a chance to glimpse the Sultan's yacht – the second largest in the world after the one belonging to his neighbor, Sheik Mo of the UAE. Guess he's just trying to keep up with the Joneses. Try as we might, we couldn't convince Zain to sneak us aboard, so instead…on to the souk.
I am fairly sure that I would still be wandering around the souk today, looking all disheveled and confused, if it wasn't for Zain leading us in the right direction. So many stalls and stores selling anything and everything. Silver jewelry, pashmina scarves, traditional clothes, gold chains, t-shirts, spices and the ubiquitous curved dagger that every Omani man owns. Near the entrance of the souk, the stores are definitely more tailored to souvenir shopping but as you get towards the back sections there are more common things to buy like household items and cleaning products. Just outside the souk was an alley were the stores sold nothing but frankincense (not sure about the myrrh, though). After a bit of shopping (for me, a few scarves and a silver necklace – I didn't go crazy) we got some delicious Lebanese food to end our evening.
This brings me to an interesting point. It seemed that almost everything in Oman came from somewhere else. I guess it is not so strange to have food from another culture (I eat Lebanese food almost once a week in LA) but it went further than that. The amazing Grand Mosque was built of sandstone from India and the tile and intricate carvings mimicked styles from India and other Middle Eastern countries. The silver necklace I bought was actually Nepalese. Other silver knick-knacks I picked up came from Yemen or Syria. The only items which seemed to be truly Omani were the daggers I mentioned earlier. This was a bit of a theme on our whole trip. In Djibouti, most everything (food, people, clothing, khat) seemed to be imported from Ethiopia. In Dubai, I am not sure I ever met an actual Emirati. Nearly everyone I saw was from India, the Philippines, Lebanon or from parts of Western Europe. The world is truly shrinking!
Our time in Oman complete, we got back in the car for the return trip home (well, home being Dubai for the moment). Navigating out of the city was a lot easier than getting in and once we hit the open highway, we were feeling pretty confident. That is until we noticed all of the speed sensor cameras along the highway's center divide. Oops! At the time of this posting we are still waiting to hear if we owe the Omani government several thousand Rial in speeding tickets. I mean the Sultan has to fund
that yacht somehow, right?