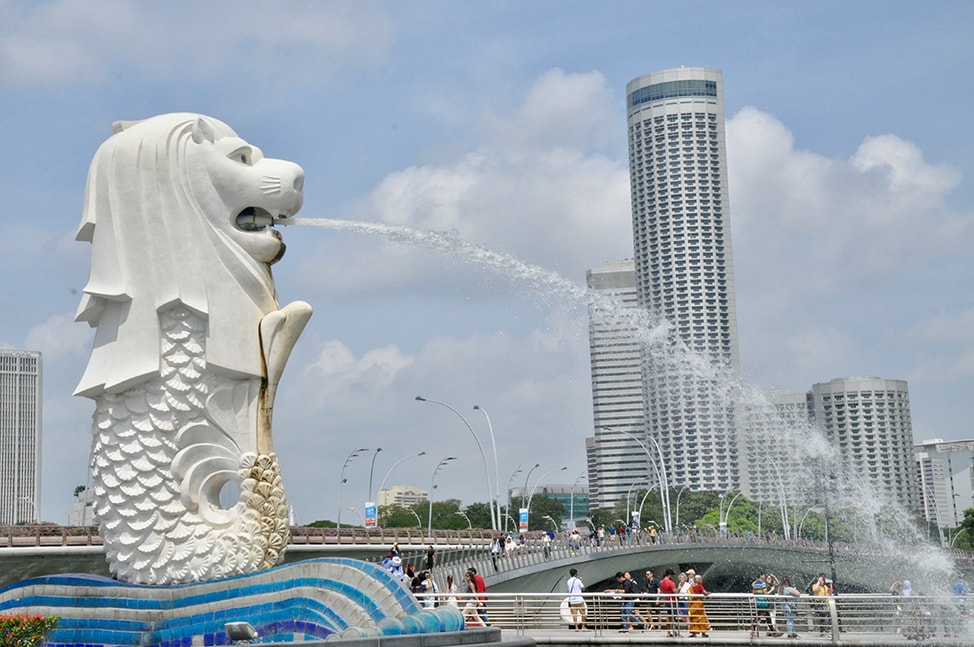 A chance to visit Singapore for the second time?? I'LL TAKE IT!
This past December, as part of my birthday trip, I decided to include Singapore in my itinerary.  The choice was partially made on convenience as Singapore was a good hub for other stops I planned in Asia.  But I was also excited to see Singapore again on its own accord. I had enjoyed it so much on my previous visit in 2014 during their Formula 1 races.
During that first trip I discovered the beautiful architecture, nonstop shopping, delicious foods that made my taste buds dance and a fascinating history that emerges when many different cultures come together to build a city.
So while it made sense for my flights to route through Singapore, I didn't hesitate for a second to book a couple of days in the city, rather than just catching an immediate flight out. And truth be told, I had another motive for spending a few days in Singapore…I wanted desperately to stay at the Marina Bay Sands hotel.  You know the one I'm talking about. The hotel you always see in photos of Singapore. The three towers topped with a deck that is longer than the Eiffel Tower is high.  Knowing that I am a hotel junkie, it shouldn't surprise anyone that I booked a trip around a hotel stay.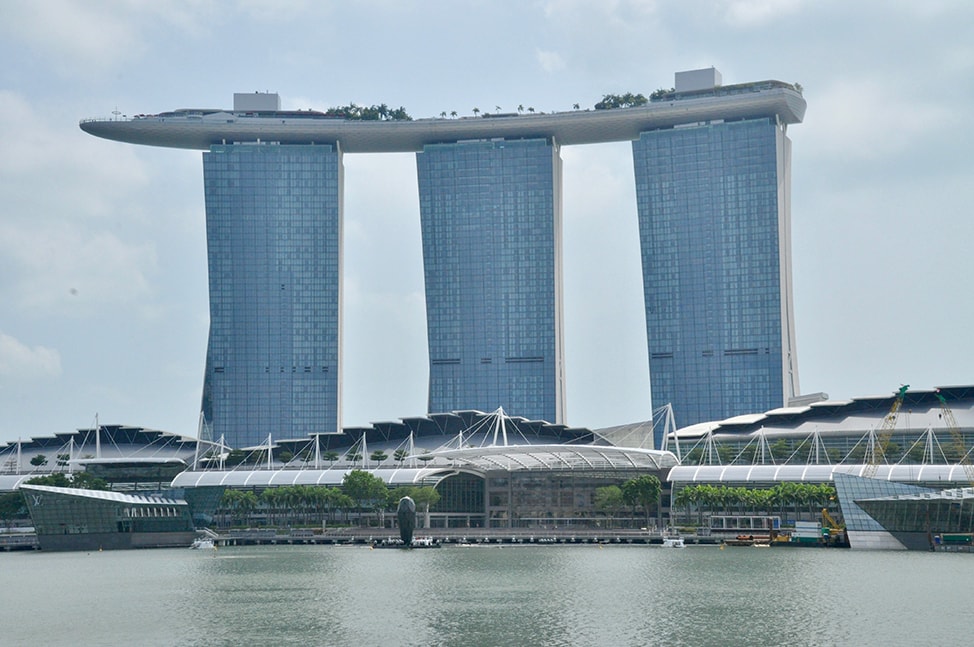 But while I was there I wanted to explore some new neighborhoods as well and check out places I had not had time to see before (or did not even know existed).  Using recommendations from helpful hotel staff and local residents plus some online research and a little bit of luck, I managed to fall in love with these 5 Singapore discoveries.
1. Amoy Hotel
Although I came to Singapore to stay at the Marina Bay Sands hotel, after 2 nights (and a dip in the famous guest-only rooftop infinity pool) I have to admit I was ready for a change. The hotel was huge and had enough restaurants and entertainment options to keep you busy for a week. Still, after two days I felt like I was in Las Vegas and that was not the vibe I was looking for.
So for my final night, I packed my bags and headed to what is now one of my favorite hotels; the Amoy Hotel. Look for a blog post and YouTube video shortly on the Amoy Hotel, but for now I will say that this place was everything that I love: intimate, well located, nicely designed with a staff that went above and beyond to make you feel welcome.
2. Books Actually
I love a good independent book store anywhere in the world, and Books Actually does not disappoint.  Unfortunately my timing  did disappoint as I arrived just 15 minutes before they closed for the evening.  But since it was my last day in Singapore, I had to take what I could get.
I did my best version of a "speed browse" around the store taking in all of the interesting book covers, art and trinkets that I could.  That is until I saw a store employee kindly, but purposively, standing by the front door with keys in hand ready to lock up for the night. She very sweetly thanked me for my visit and I promised to return on my next trip to Singapore.
If you are even more unlucky than I was and arrive after they have closed for the evening, you still have one option.  Check out the book vending machine just outside where you can pick something up to read over a latte at one of the many neighborhood cafes.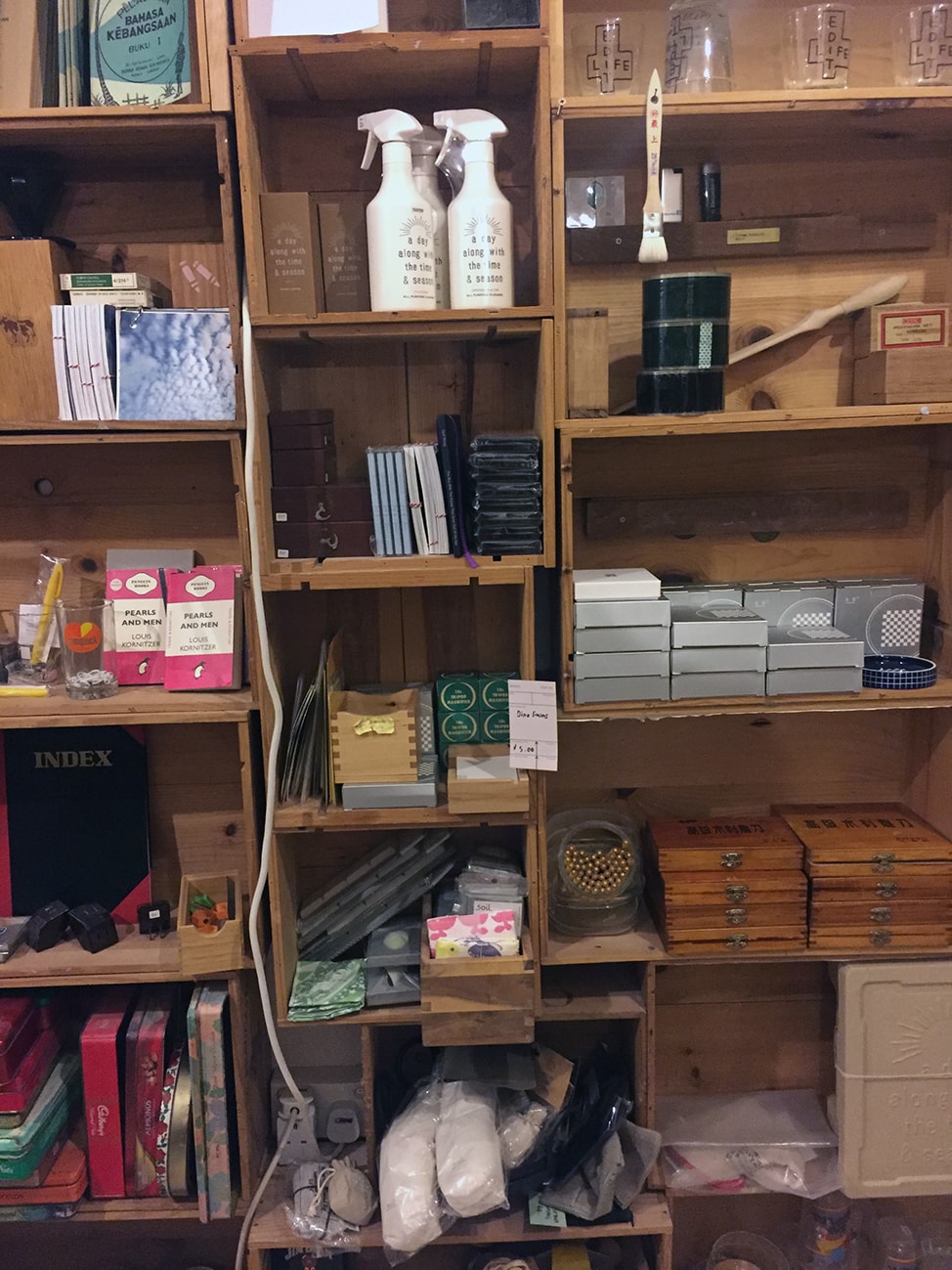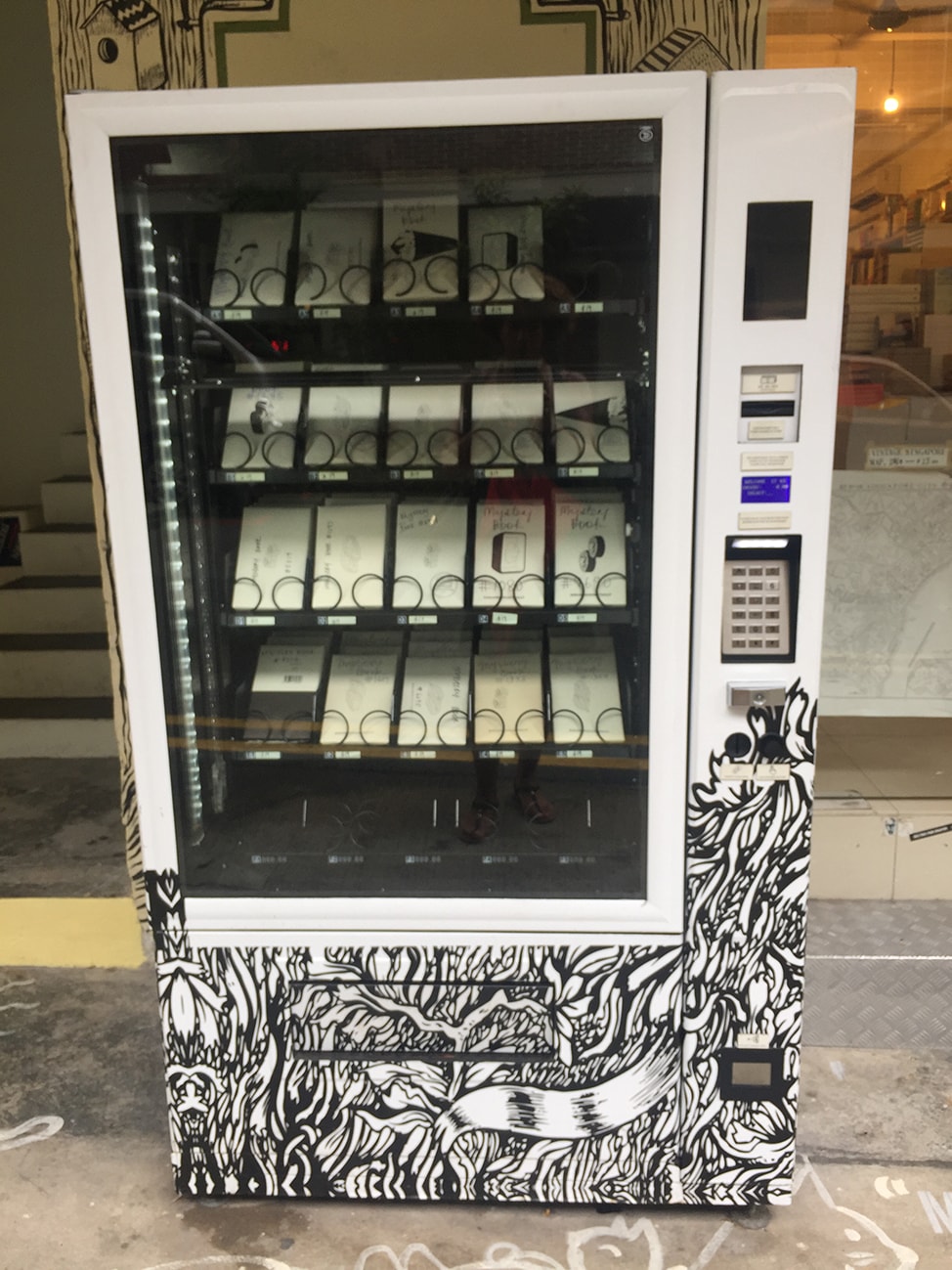 3. Butter Studio
Touring around the city and in need of a mid afternoon sugar or caffein rush? Then find your way over to the Jalan Besar neighborhood. Just a few minutes walk from the metro station, you will find a cute cafe called Butter Studio.  And as the name suggests, there will be butter…and sugar and deliciousness.
Butter Studio is known for their cakes and cupcakes, so of course I had to indulge.  I went for a slice of the Salted Caramel Red Velvet cake and ordered an ice tea.  While the cake was quite good, it was the iced tea that brought a smile to my face. See the picture below to find out why.  Part of me wondered "But, why??" and the other part thought "Who cares. I love it!".
4. The Fat Prince
On my last night in Singapore I wanted to end the trip with a delicious meal and some good atmosphere. After reading online reviews of restaurants within walking distance, I picked one that appeared to have good reviews and healthy menu selections.
About a block before I got to my intended destination, I passed a dark, but lively restaurant that had not been on my radar.  I peeked in and noticed interesting decor and what looked like a professional crowd out for food and drinks and fun.  Lots of smiles and passing of plates and an overall positive energy.  I made a mental note of the restaurant for next time and continued on to the restaurant I'd selected.
A few minutes later I made it to my destination and stood outside looking in. While I have no doubt that the food would have been good, the atmosphere was sterile, quiet and lacked character.  I put my hand on the door handle, then decided "Nope"! This was my last night and I'd much rather go somewhere fun.  So I back tracked and wandered into the place that initially caught my eye.  The Fat Prince.
I made the right choice.
Since I was dining alone (you get used to it as a solo traveler) and the restaurant was fairly crowded, I was given a seat at the bar where I ate delicious mezze, kababs and drank a glass of crisp, white wine. The food was delicious and even though I didn't meet anyone, it was nice just being in a jovial atmosphere on my last night in Singapore.
I was about to request the bill when the bartender asked if I wanted another drink.  While the wine was good, I had been eyeing the items on their cocktail list which looked very tempting. Then the bartender offered to make me a drink "off the menu" and well hell…it was my last night, so why not?
The bartender was actually very cool and we chatted while I finished my first and then second speciality cocktail.  He taught me about the Mezcalized Gin which was in my off-menu drink (if you like gin and tequila, you have to find some of this stuff) and told me about some of his favorite neighborhoods in Singapore.  If you make your way to The Fat Prince, definitely look for Sara behind the bar.  He was a gem!
I left the restaurant knowing I'd made the right decision to switch it up at the last second. I also knew that I found a favorite restaurant I will visit whenever I'm in Singapore again.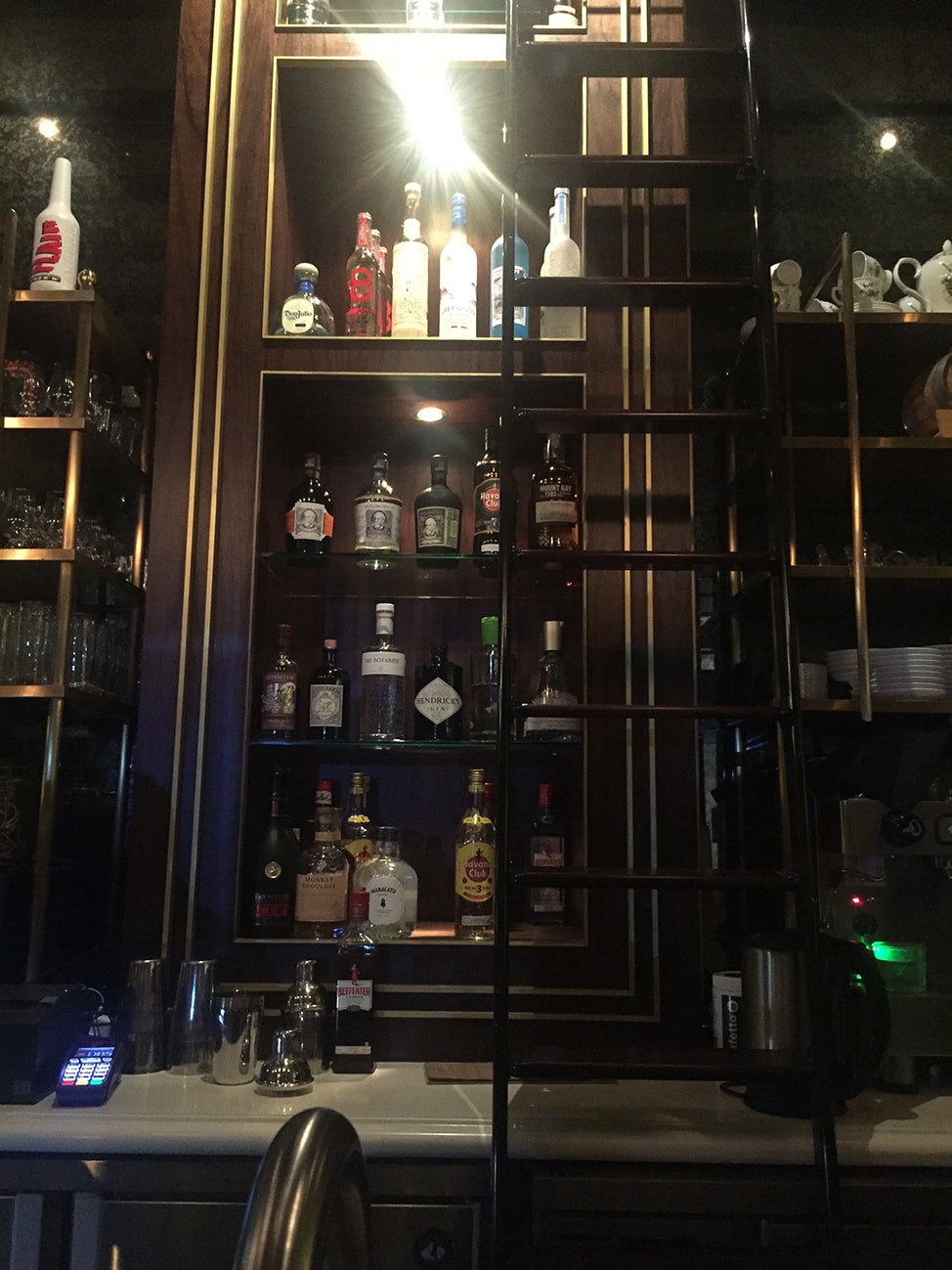 5. Kampong Glam Cafe
It's funny, but initially I thought a restaurant called "Kampong Glam" would be some sort of a disco or drag queen themed cafe. Turns out the name refers to a Singapore neighborhood and has nothing to do with "glam" as I know it.  Glam actually is a type of tree and Kampong means village. This area has strong ties to the Malaysian and Muslim communities in Singapore.
But back to the restaurant…
I trudged through a torrential downpour to find this cafe. Luckily the rain let up just before I arrived since much of the seating is outside.  This spot isn't fancy, so don't be surprised when you grab a plastic tray and get in a cafeteria style line.
Having no idea what half of the food was, I employed the point and shrug method with the lady behind the counter. I am not sure she understood most of my questions, but luckily she was very patient. By the end, I had a plate full of delicious food with veggies, rice, chicken and shrimp.  And the best part? I got it all for a grand total of $4.83.  Quite a bargain, especially in the luxury land of Singapore.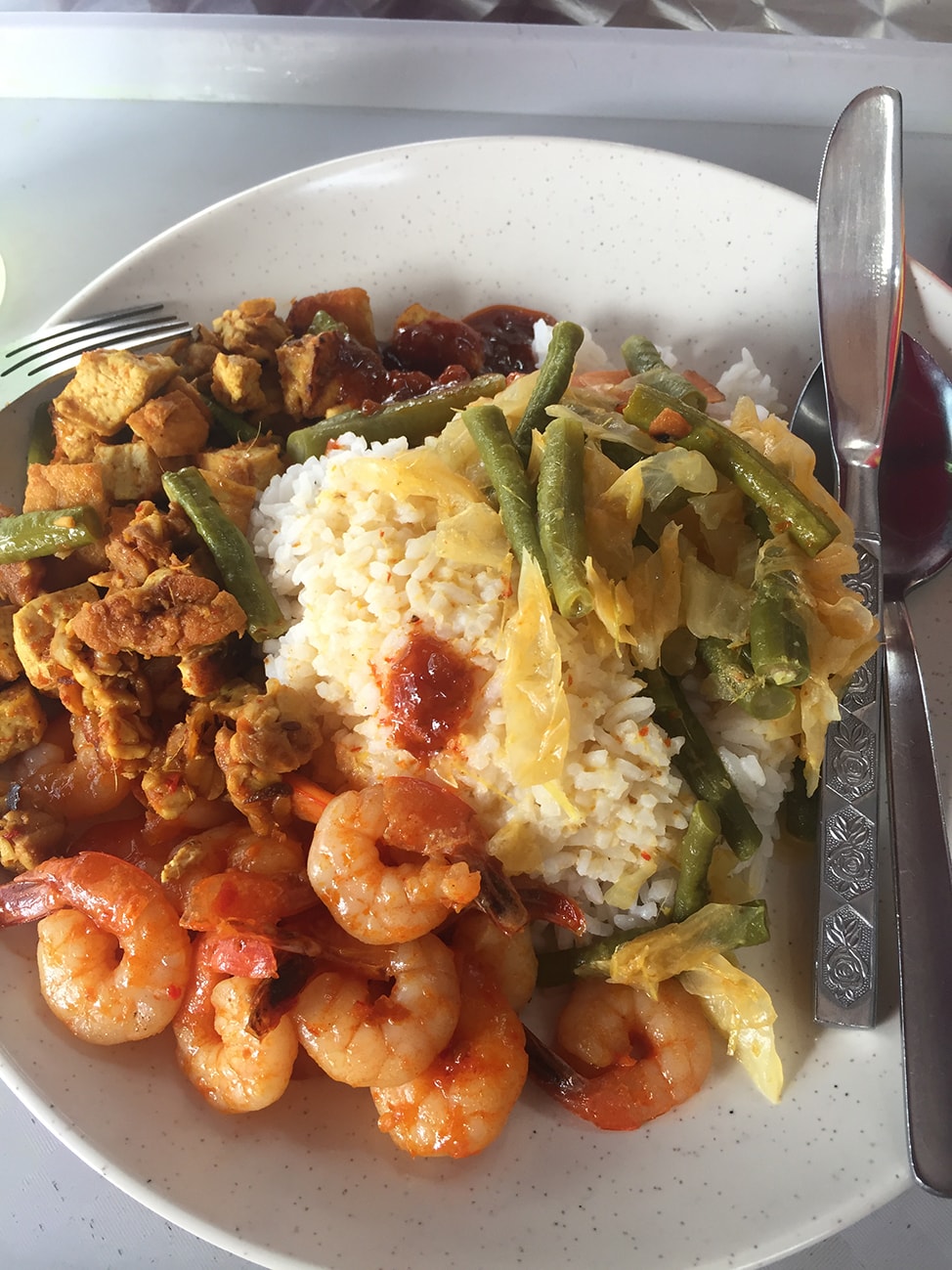 Though Singapore is a small island nation, it is packed with restaurants, cultural activities, hotels and places to spend your hard earned money. I know that after my second visit, I still have barely scrapped the surface. I will come back to Singapore again one day so if you have any Singapore Discoveries of your own that you can share, I would be so grateful. Please leave them in a comment below.
Enjoyed this Post? Use the image below to Pin it on Pinterest!