The night I arrived in Tel Aviv, I struck up a conversation with a local over a glass of wine and ended up asking him "What is your favorite neighborhood in Tel Aviv".  This guy was French by birth, but had spent many years visiting Tel Aviv and now called this city home, so I figured he might have an interesting perspective.  He didn't hesitate to provide me with an answer:  Neve Tzedek.  Being that we were in a noisy bar I had him write it down for me as I knew I would ever remember that name once I left. But as it turns out, this seems to be many people's favorite neighborhood.  A few other folks offered this name up as well, so I knew I had to make time for a visit.
That afternoon I followed my Google Map directions and strolled over to this area in about 20 minutes from my hostel.  As it was a Saturday, the streets along the way were all fairly empty since most people do not work on the Sabbath.  Walking down one larger street, then turning onto a slightly narrower street, my phone indicated that I had arrived. But I almost didn't need the map to tell me that. It was my sense of smell that let me know I was somewhere special. All of a sudden the scent of honeysuckle filled the air as if someone had lit a giant scented candle just on the block where my map pin dropped.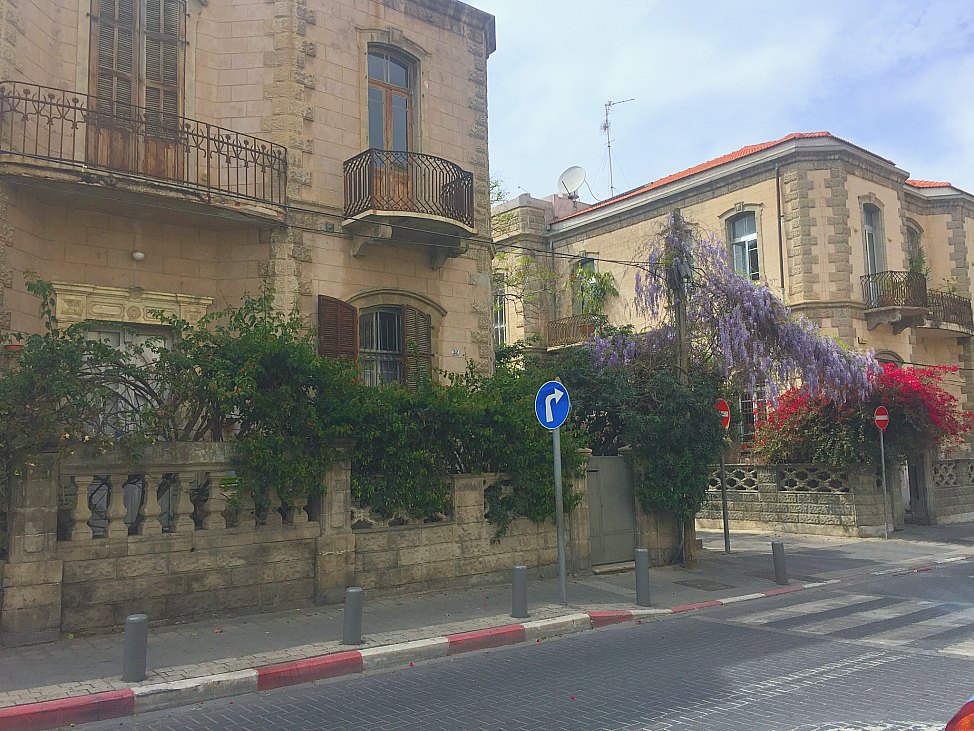 The neighborhood of Neve Tzedek, is the oldest neighborhood of Tel Aviv. Although the area had fallen on hard times and neglect over the years, in the 1980's it started to be built up again and now it is thriving with beautiful homes, small cafes and boutique shops.  One glance at the listings in the local real estate office window confirmed that this is no loner the wrong side of the tracks.
For anyone who's been to London, this area reminds me of a smaller Notting Hill, complete with tourists taking photos of doorway and overflowing flower boxes.  Give yourself a couple of hours to wander up and down the residential streets, pop into the galleries and shops and then enjoy a glass of wine and a leisurely lunch at one of the cafes with street side seating. Luckily for me and my bank account, I went on a Saturday when most (though not all) business are closed. Otherwise I may have splurged a bit too much. But I may not totally be out of harm's way as I plan to go back when I return to Tel Aviv next week. I better leave my wallet at the hotel!
One thing I've learned from this: I am always going to ask locals to recommend their favorite part of their city wherever I travel.
Here are a few more shots to enjoy from my wandering through this great neighborhood.