A trip to Louisiana that does not involve crayfish, bayous, voodoo, Mardi Gras beads and drinks in a hurricane glass? Yes, it is possible. But you may have to leave the good ole U.S. of A. to make that happen.
Earlier this summer I visited my friend Menna in her new home city of Copenhagen. I had been to Copenhagen once before, but it had been a number of years since my last visit, so I was looking forward to new discoveries and adventures.  But when Menna came home from work one day and asked if I'd like to visit a place called "Louisiana" I looked at her sideways.  Um, was she talking about planning a future trip to Mardi Gras? Or was her geographic awareness severely off the mark?
It turns out there is a museum of modern art about an hour outside of Copenhagen called Louisiana and you can in fact visit it in a day trip from the city center.  If you have the time to spare, it is well worth the trip.  Especially if its summer and the skies are blue and the sun is shining – but even if not, take the trip! It was definitely one of the highlights of my 3-week travels in Europe.
Menna and I decided to get an early start (OK, early-ish…I was on vacation, you know) and after a breakfast of Middle Eastern foods that reminded us of when we lived in Beirut, we were on our way. We biked to the station, loaded our bikes onto the train (tip: you have to buy a separate but affordable ticket for your bicycle) and in about the amount of time it took for us to figure out how to use the bike racks inside the train car, we had arrived. It is an easy 1 hour trip from the very central Kobenhavn train station to the Humlebaek Station (including a 15 minute walk from the station to the museum), making a day trip definitely doable.
Once you turn off the main road from the train station, you wind your way through a wooded parking lot to the main entrance and onto the expansive lawn that nearly carries you in the direction of the amazing view of the water.  Modern art sculptures are dotted throughout the park including some large enough to climb on to get a better view of your surroundings. My favorite museums all have a beautiful blend of indoor and outdoor exhibits (think the Getty Center in Los Angeles and The Rodin Museum in Paris) and the Louisiana fit this mold perfectly.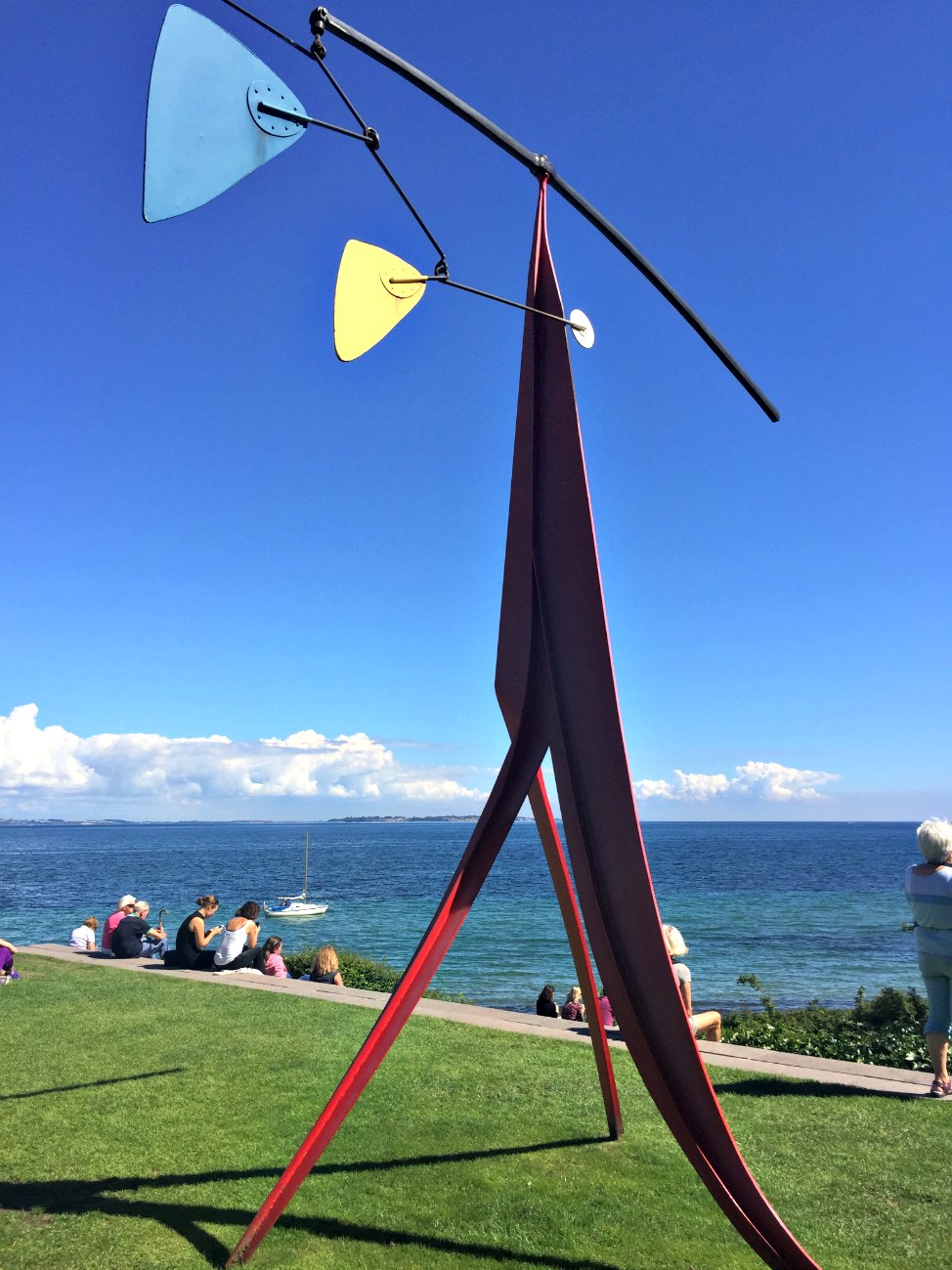 We picked the ideal day to visit the museum as the weather could not have been any more perfect. Sunny enough to warm your skin, but not so hot that you felt the need to run for shade. White fluffy clouds in the sky but none of the dark and foreboding ones that threaten rain. The only problem was that it made it difficult to drag yourself inside to wander around the art exhibits. Given the scenes outside, we decided to delay going directly inside and instead picked up two cups of coffee and a pastry and went to sit in the grass and just enjoying our surroundings.  From a grassy hill just outside the museum restaurant, you can watch visitors dive from a pier into the blue sea waters,  kids climbing on a wooden pyramid sculpture and pick out art sculptures placed around the parklike setting.
But eventually we did drag ourselves inside to see what the museum had on offer. While it was difficult to compete with what was going on outside, the museum did have impressive exhibits of artists including Dali and the Danish artist Poul Gernes that included paintings, sculptures, mobiles and videos. On a cold or rainy day, you could definitely spend hours wandering around the permanent and temporary exhibits, but after about an hour, we decided to go back outside for an afternoon glass of wine and a sky full of sunshine. Even with talented artists on display, it was hard to compete with a Danish summer day.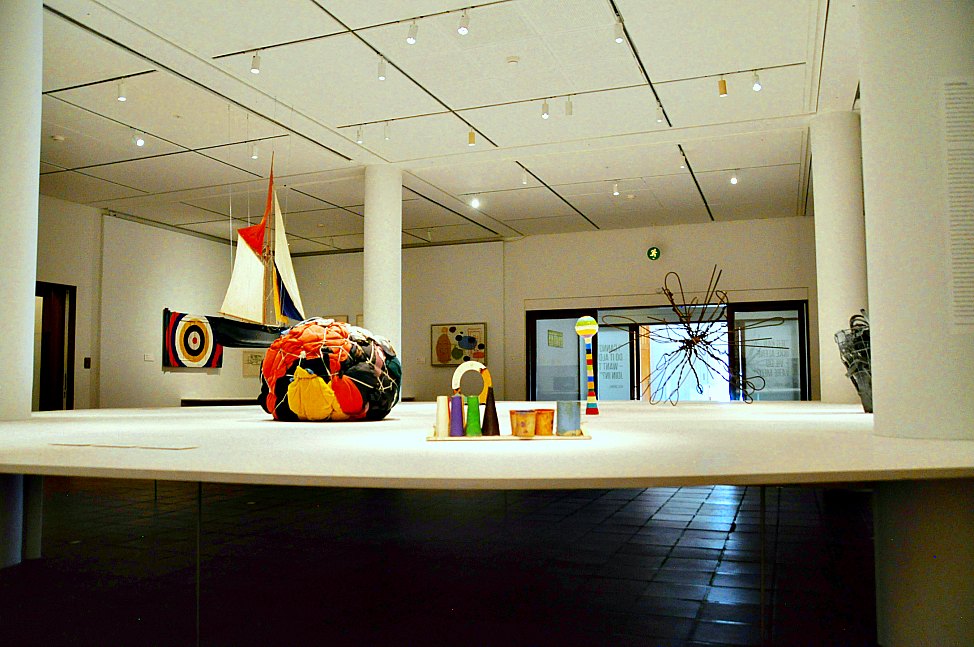 For information on visiting the Louisiana Modern Art museum when you're next in Denmark, make sure to check out their website. Oh – and how did a museum in Denmark end up with the name Louisiana? Turns out the original owner of the property that the museum is built on had three wives, all named Louise. How's that for consistency!?!