While I did not really know what to expect of my trip to Armenia last month, one thing I definitely did not plan on doing was looking down the barrel of a gun with my finger on the trigger. How in the hell did that happen? Midway through my week long visit to Armenia in September, our guide, Alla, mentioned that we'd be stopping for coffee at a Marriott Hotel in the mountain town of Tsaghkadzor. OK – I had become a fast fan of the strong coffee I drank in Armenia, and I was sure I could use a little afternoon pick me up.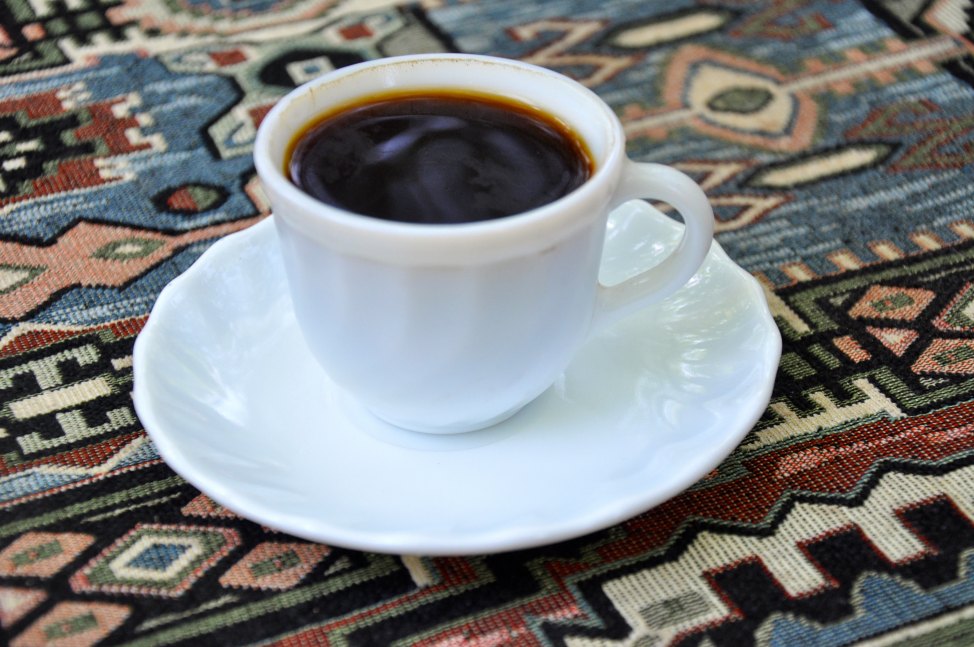 It was late afternoon, I'd just had a large lunch by Lake Sevan and then toured another beautiful, ancient church, so I was feeling a little lethargic when we pulled up to the Marriott Hotel* for our coffee break.  But instead of just stopping by the lobby restaurant, we were met by Mr. Voskan Kokanyan, the hotel's Director of Sales & Marketing. He was dressed in a smart suit and well groomed. I looked like I'd been by the sea all day and riding in a blue van.  Oops! Clearly this was not going to be a simple cup of coffee.
Instead it turned out to be a tour of the Marriott property; its grounds, rooms, recreational areas and lounges.  Now I love hotels and any time I get a personal tour, I'm usually pretty happy, but I have to admit, although it was a very nice Marriott, it was still a Marriott. Like many I've see in the US, Brazil, the UK…a comfortable, well-appointed 4-5 start hotel.  Now, about that coffee.
In all honesty, the hotel which was taken over and completely redone less than one year ago, was quite nice and is one of the top places to stay in the area.  The rooms, while not terribly exciting, were all a decent size, clean and had all the conveniences you'd expect. The lobby area was spacious, the halls wide and airy and there were plenty of amenities including a beautifully redone indoor pool, a casino, an arcade and children's play area and a large ball room. While there was not any snow on the ground during our visit, a main draw to the city of Tsaghkadzor is its skiing and I had no doubt this hotel would be packed in another 2 months.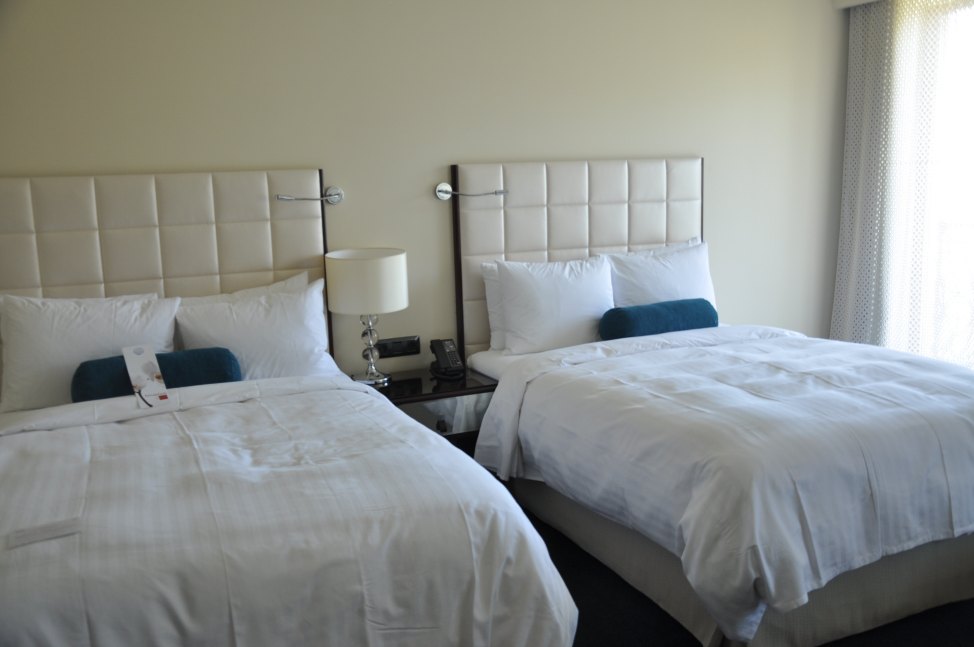 We were about to wrap up the tour and head to the patio for that coffee when we were shown own last lounge area, a bar they called
Revolver
. Hidden out of site on the lowest level of the hotel, with expensive bottles of liquor, wine and fine cigars in display cases, I could picture myself coming back in a slinky cocktail dress (instead of the wrinkled t-shirt and capris I had on). As we were about to leave, Mr. Kokanyan said, do you know why we call this bar the Revolver? It is because we have a shooting range right in the  next room.
A what? Did I just hear him correctly? A hotel with a shooting range just off of the bar?
Mr. Kokanyan had a look on his face that made me think my reaction was exactly what he expected to see.  He asked if we had a moment to see the shooting range and though we all hesitated for about 2 seconds, we all said "Yes"! So as promised, just to our left was a door that lead down a hallway to another thick door which opened to an indoor gun range**. Holy crap, he was not kidding!Now if you know me at all, you know I hate guns, shooting, loud noises, violence, killing and everything you'd associate with weapons.  But somehow I was intrigued.  I fully expected to go through my entire life without ever firing a gun. Instead I found myself listening as two men who could have played Retired Russian Hit Man #1 and Retired Russian Hit Man #2 in the next
Bourne
movie explained about the different weapons and computerized targets they had on offer.  I could feel my heart racing just listening to them. THIS was way better than the high octane coffee I'd been waiting for.
My number one question was "Is it safe to have a fully-functioning shooting range just next to a fully-functioning bar?". The response was, well we have a sign on the door saying that no one who is drunk can shoot a weapon.  Yeaaaah…because that's what drunk people are known for: reading and rule abiding. My only comfort came from the fact that I was fairly sure the two Russian hit men (who I think were actually Armenian) would have quickly put down any drunk hotel guest before they even thought about doing anything stupid.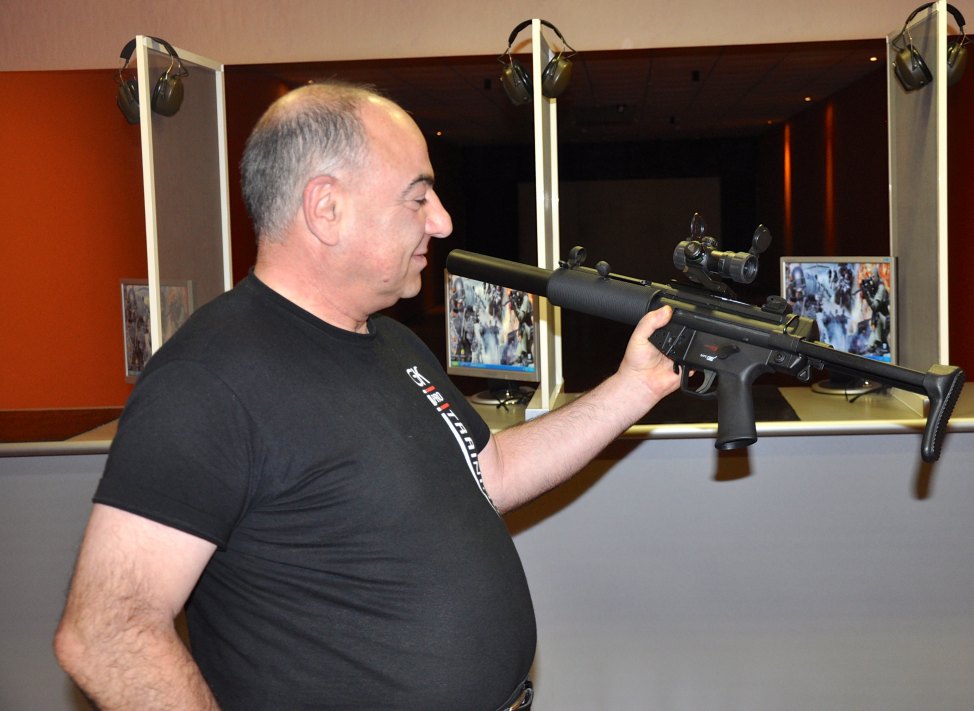 Well, this was exciting and totally unexpected, but it looked like it was time for us to go. Just as I grabbed my purse I heard the question I should have known was coming: "Would you like to give it a try?". What? Me? The girl who has never gone anywhere near a gun in her life?
"Hell no! Definitely not! I couldn't possibly. I appreciate the offer, but… Well, maybe. Um…Yeah! Let's do it."
And this is usually how things go when I'm asked to do something outside my comfort zone while I'm traveling. My first instinct is to say "No" but then within seconds the thought "But isn't this why you travel? To have new experiences you normally wouldn't have at home".
So next thing I know I'm putting on a pair of protective, plastic glasses, stepping up to a waist high counter, picking up a large gun (I am not even going to pretend to know what kind of gun it was) and trying very hard to pay attention to what Hit Man #2 was telling me.  Something about where to look, how to pull the trigger and how to position the butt of the gun.  So I was ready to go. Finger on the trigger, eyes on the target, mind trying to stay focused as it was shouting in my head "OMG, you are holding a GUN!
That's when Hit Man #2 standing next to me said authoritatively "Five"!  OK, I thought. He's going to count down for me. Five, four, three, two, one then Let 'er rip.  But he didn't count. Instead he said "Five" again. Um…huh?  OH! He said "FIRE".  So I gently pulled the trigger and suddenly I could never again say I've never fired a weapon.
I've seen enough movies where a completely unprepared person fires a gun and they are caught off guard by the kick back, so I was ready for that.  It wasn't so bad. What I was surprised about was how far back the bullet shell ricocheted. I was shooting down what appeared to be the length of a bowling alley but the bullet casing came back over the counter and laded behind me. But still they showed me the target and were really surprised by how well I had done.  There was talk of hiring me as security detail. Ha!
After a few requisite pictures of me and the gun, it was time to head out to get that coffee I definitely no longer need. I actually felt more like I wanted a slug of whiskey, but well, it was still afternoon.  I have to say a huge thank you for to the Marriott Tsaghkadzor for this super cool, life memory.  Of course the hotel in and of itself is a very nice property and there's no doubt you'd enjoy a stay there, but if you do go, make sure you head down to the gun range… definitely one of the most unique hotel experiences you'll ever have!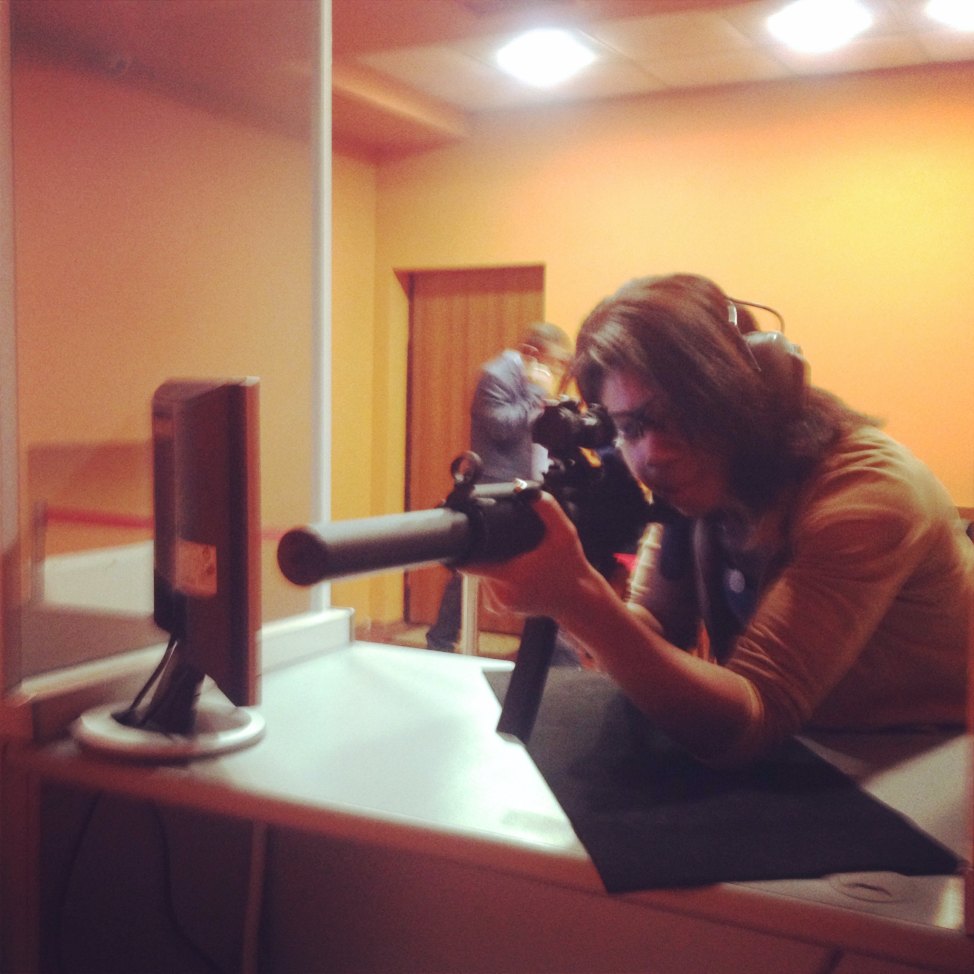 * Please note that all opinions are my own and I did not receive any financial compensation to provide this review.  This post contains an affiliate link. If you make a purchase using these links, I make a small commission at no extra cost to you. 
** Though the Marriott Hotel rented space to the gun range, it was owned and operated by an entity separate from the Marriott.