About 4 or 5 years ago I decided to buy a bicycle – the first one I owned since I was a little girl riding around my cul-de-sac in Pittsburgh, PA. At the time gas prices were high, I was between jobs so finances were low and after a trip to Holland, I started to realize the benefits of using two wheels to get around in the city.
With my new bike all ready to go, I decided to make my first excursion out to the beach. Though the trip was only about 5 miles each way, I freaked out a bit and begged a friend who was a regular biker to go with me. I was a bit nervous about biking beside Los Angeles traffic and knowing which rules I had to follow, but by the time I made it to the beach I felt so free. Wind in my hair, sun on my back, and no need to spend hours looking for parking. This was great! I was going to bike everywhere. I had the very best of intentions. And then I had to lug groceries one day…so I needed the car. I had to go somewhere and NOT show up a sweaty mess…so I needed the car. Then the ultimate killer, I got a job on the other side of town…so I needed the car. Not to mention cold and rainy weather and getting home late after work. My bike began to see a lot more of my storage room than it did of the roads in my neighborhood. There was even a year or two when the bike didn't get ridden at all. Sad to say. But the truth is, the few times I did take it out, dust it off and put air in the tires, I felt so much better about my day. I only wish I could make it more a part of my daily life.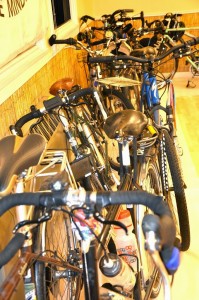 B2B bikes lined up and ready to go.
Well, there are about 10 – 20 people who will be making biking their life for the next year as they take on an epic journey by bicycle. Led not by a professional biker, or an endurance athlete, but by a 70 year old man, Mestre Acordeon, who has the desire, vision and guts to organize a bike ride from Berkeley, CA, USA to Salvador, Bahia, Brazil. The Project B2B – Joga Capoeira (B2B stands for Berkeley to Bahia) bike ride kicked off in September 2013 and in approximately one year the group will arrive in Brazil having covered 14,000 miles, passing through 11 countries and while developing 4 major initiatives.
1. A documentary film,
2. A CD of Capoeira Music recorded by musicians met along the bike route,
3. A web/TV series about the journey, and
4. Shared reflections from the project creator, Mestre Acordeon.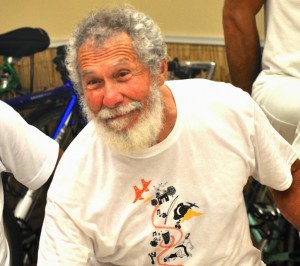 Mestre Acordeon
From these initiatives, Mestre Acordeon plans to raise enough money to sustain Projeto
Kirimurês, a non-profit organization working with at risk youth and their families in Bahia, Brazil to develop opportunities for their future and the future of their community.
Projeto

Kirimurês

:
offers an alternative perspective on life for at-risk youth between the ages of four and sixteen from the neighborhood of Itapuã, Bahia, Brazil. The

"Kirimurês"

are offered free Capoeira and music classes, storytelling, literacy training, psychological support, and family counseling.
If you are a capoeirista, you have no doubt heard of Mestre Acordeon. But since not all of the blog followers are familiar with the Capoeira, Mestre Acordeon is an influential member of the worldwide capoeira community. He has been practicing and teaching capoeira for over 50 years, has recorded multiple CDs, taught workshops around the globe, and is one of the people credited with bringing Capoeira to North America, in the 1970's. Mestre Acordeon is also riding along with his wife, Mestra Suelly, a film crew and other dedicated capoeiristas who have made it their goal to bike along on this journey, whether it is just for a few days or to complete the trip from start to finish.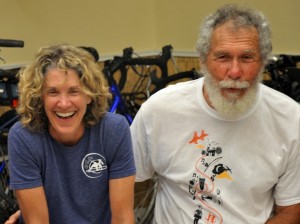 Mestre Acordeon and his wife, Mestra Suelly
Over the past week I have had a chance to catch up with Mestre Acordeon and his fellow bike riders on two occasions as they passed through Los Angeles and San Diego and headed to their first destination outside of the U.S.: Mexico.
While in San Diego I was lucky enough to sit down with some of the bikers who are joining Mestre Acordeon for the journey. Huge thanks to Keith aka "Balao", Peter aka "Pirata" and Diego aka "Tarantula" for indulging my questions and fascination for what they have embarked upon. Their joy and excitement for this Berkeley to Bahia trip shone through even though they were no doubt exhausted.
They spoke about the freedom of biking, the joy of seeing parts of their own state of California that they never would have seen from a car or a plane and the simple zen inducing state of the rhythmic pedaling. They shared stories of quitting their 9 to 5 jobs or scrimping and saving to make this trip a reality for them, for Mestre Acordeon and for

Projeto

Kirimurês

.

Amazingly it wasn't until the end of our conversation that they mentioned that by the first night, two of the team members were robbed. One rider lost all of his belongings, including his bike. But instead of focusing on the loss, they quickly spoke about how it allowed them to meet amazing people who went out of their way to help them continue on their journey. That is the kind of resilient spirit that is going to allow them to get past sore muscles, sleepless nights, inclement weather and whatever else a 14,000 mile bike ride may throw at you.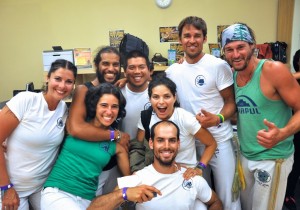 Big smiles and good spirits from some of the bikers. Thanks to Diego, Keith and Peter (in the center, back row) for sitting and sharing your experiences with me.
I am so excited about this project and all it will do for the riders, the art of capoeira, the youth in Bahia, Brazil and all the people this trip will bring together. And who knows…I may just get inspired enough to throw my 5 year old bike into the hull of a plane and meet them somewhere along the way. What a true adventure that would be!