For anyone who has read my blog regularly, it is no secret that I credit my mother with developing my love of travel. From since I can remember, she always filled the house with music from Brazil, children's stories from France and tales of the many nationalities that filled the projects in the Bronx, New York where she grew up. But while she gave me the foundation for travel, I do have to thank a different person for kicking my passion for travel into high gear. And I was lucky enough to reconnect with her this past Labor Day weekend when she came out to Southern California for a little R&R.
If it wasn't for Kristen, I may have been content with visiting one foreign country every year…or every two years. For better or worse (I believe "for better") she got me out of the mindset that climbing the corporate ladder was the ultimate goal in a young college graduate's life.
It first started when Kristen, a fluent French speaker, got assigned to a consulting project in Paris. We worked for the same consulting firm and knew each other casually, but were not terribly close friends. Still she knew me well enough to know that I did want to get some experience working abroad. So after a few months, when her project needed to bring in another consultant from the US, she recommended me. Luckily they trusted her suggestion, and although I had nothing more than a few years of high school French, they had me come to Paris for a four month work assignment.
The assignment was difficult with long hours and huge language barriers. If I had visions of 2-hour long lunches with wine and gourmet foods, they were quickly forgotten as I rushed to buy a fast food sandwich during my 30 minute lunch break. Even though we worked from sun up to sun down, Kristen and I still had the weekends to explore and soak up the Paris nightlife. And to become very good friends.
After that assignment was over, I lucked up with another assignment, but this time in London. While the work was even more intense and stressful than the Paris job, I still had time to fall in love with London and I knew that's where I wanted to make my new home. Who needed San Francisco where I was living at the time…London had everything (AND the company was footing the bill to live there). But as all good consulting assignments, my job was coming to an end after 11 months. Even though I hated the work, I wanted to stay on just so I could continue to live in London. But my time was up, my project complete, and with the economy tanking in 2001, new positions were scarce. In fact, just to avoid having to do massive layoffs, our company was offering very robust leave of absence deals. You could volunteer to take off from 6 months to 1 year, keep your health benefits, your laptop and 60% of your salary and would be guaranteed to get your job back when your leave was up. It sounded like a great deal, but not one I was interested in. I was still climbing the corporate ladder, still hoping to get another London based assignment, the thought of taking a leave of absence was so foreign to me. It is something I never would have done…that is until I got the phone call from Kristen.
She excitedly asked if I had heard about the leave of absence offer and wanted to know if I was going to apply for it. I right away said No. I was planning to continue working. That's what responsible employees do, especially when you're trying to advance in your career. She laughed at me and basically said this is a once in a life time chance to take off and do whatever you want to do for a period of time before going back to exactly where you left off. You could go to a graduate program, start a side business, take time off to be a stay at home parent…or you could travel the world.
The idea seemed crazy to me at the time, but Kristen knew I had a strong interest in travel and she eventually wore me down. How could I pass up the opportunity to travel the world, while also keeping my company sponsored benefits and 60% of my already above average salary? Hell, in some of the countries I visited, 25% of my salary would have been sufficient. So after a few more phone calls, emails and very honest discussions, we decided to join a third friend, Mike and begin planning our Round the World trip that would eventually take me through 8 months and 13 countries in Asia and Africa. We each submitted our leave of absence paperwork, and we were officially "on leave" as of September 2001.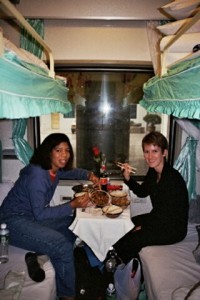 Our adventure begins…on the train from Beijing to Hong Kong (2001)
Well, you know what else happened in September of 2001…the crash of the World Trade Center towers. After that absolutely shocking and tragic event, the United States was in a bit of a tail spin. What countries were allies? Which ones were unsafe to travel in? Was it safer to be in the US or outside of it? All questions that we had running through our minds, but none that made us want to cancel our plans. So about 3 weeks later, we found ourselves on a plane heading to Beijing, China, the first leg of our Round the World journey. A journey that opened my mind to travel, cultures, interactions, cuisine and relationships that I could never have gotten during a one or two week vacation.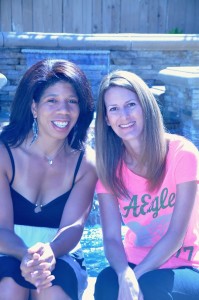 A little older, but a lot wiser and much more travel under our belts.
So I owe a huge thanks to Kristen for convincing me that corporate jobs can wait, but following your dreams should be acted on as soon as possible. It was great getting to see her again yesterday, even if it was just for a short visit. We've been good about keeping in touch electronically, but with work, travels, the birth of her now 4-year old daughter, and the distance of a few states, we do not get to see each other as often as we'd like. But after you've traveled the world with someone, shared laughs while scuba diving in Thailand, tears while sitting on a beach in South Africa and near death experiences on the roads of Laos…well, those friendships last a lifetime. Thank you for that, Kristen. Here's to the next adventure, wherever it may be.