For a traveler who really enjoys a good hotel, the place where you end up laying your head at night can really make or break a trip. A dull business trip to a run of the mill city can become a luxurious excursion if you end up in plush accommodations with a kind staff. On the other hand, paradise can turn into hell if you're stuck in a dirty or unsafe room that you wouldn't wish on your worst enemy. In my travels, I've experienced both.
Since my trip to Armenia earlier this month was the first press trip I've ever participated in, I had no idea what kind of accommodations I would be staying in for my 6-night visit. Would they have me in their country's finest locations, or would their budget only allow for a bare bones room in a shady part of town? Up until the moment we arrived at our hotel in Yerevan, I was a bit nervous. Then when we pulled up out front of the Tufenkian Heritage Hotel, I breathed a sigh of relief. I was going to sleep well that night!
The Tufenkian Heritage Hotels are a chain of unique, boutique hotels dotted throughout Armenia. The company was started by James Tufenkian, an American of Armenia descent who first became successful with a line of high-end, hand-woven carpets. During my visit to Armenia, I had the pleasure of staying in two very different Tufenkian Heritage Hotel properties.
The Tufenkian Hotel in Yerevan was brand new and had only been open for a few months. The hotel did a great job of mixing clean lines, bright colors and modern fixtures with a hint of the old in traditionally woven carpets wall hangings and beautiful black and white photos of turn of the century life in Armenia. The kind of photos that make you think that time has stopped as you stare into the eyes of workers, housewives and children from years past.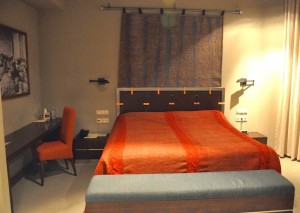 The bedroom suite a the Tufenkian Heritage Hotel in Yerevan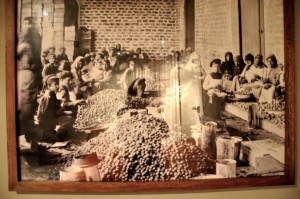 One of the many B&W photos I could have stared at for hours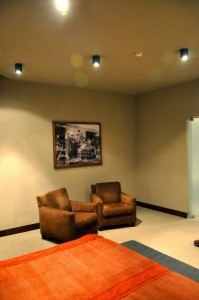 Large sitting area in the corner suite
While I only had time for breakfast in the hotel's restaurant, I happily got out of bed to stuff myself with fresh fruits, cheeses, pastries and hot dishes. And in the evening, I sat out on their patio with a cold glass of wine from their lobby bar and I couldn't have been happier.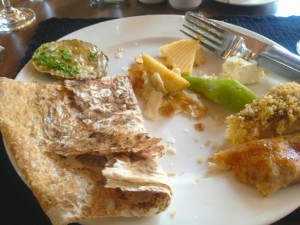 Pears, cheeses, lavash bread and pastries for breakfast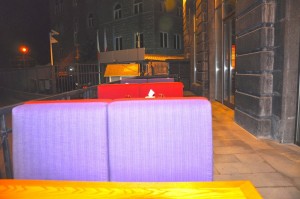 Bright purple and red seats at the bar's patio lounge
A few days later we arrived in the quiet mountain town of Dilijan and found ourselves checking into another Tufenkain property. While the hotel in Yerevan city was very modern, sleek and new, this next property made you feel as if you were in a Swiss mountain village. Lots of rustic wood, heavy antique furniture and even a row of craft shops where you can watch artisans creating wood carvings or delicate ceramic pottery. It was the perfect setting for to get away from the city and just do nothing but enjoy the fresh mountain air.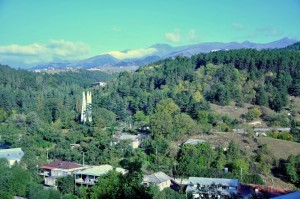 View of the tree covered hills of Dilijan, Armenia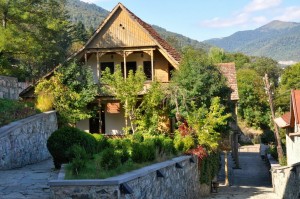 One of the main buildings that housed the restaurant on the Tufenkian property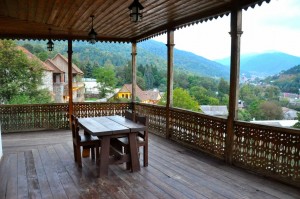 Just one section of my room's huge wrap-around porch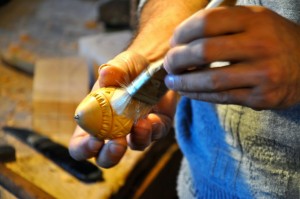 On-site raftsman carving and finishing wooden ornaments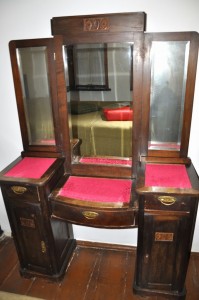 Heavy antique wooden furinture decorate the rustic and comfortable rooms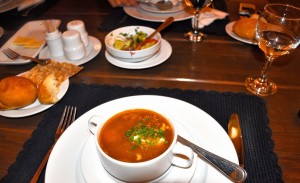 Sitting down for dinner. First course, mushroom and apricot soup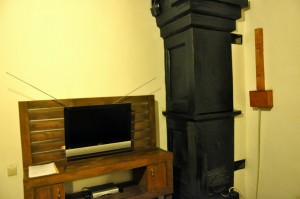 Loved the mix of old and new: Flat screen TV with old rabbit ears and even older heating unit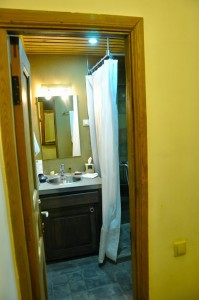 Among the old fashioned feel of the room, a modern, warm shower awaits.
The best part of the 2-room suite I stayed in was the huge, wooden, wrap around porch that could have easily fit 40 to 50 people. Had it been a bit warmer the night I was there, I may have just dragged my blankets out there and slept under the stars. While there was definitely a rustic, cabin feel to the hotel complex, they did not skimp on modern conveniences. The free Wi-Fi in the rooms and gourmet wine and food in their warm, welcoming restaurant were much appreciated.
There are two other Tufenkian properties in their collection and with any luck I'll be able to visit them on my next trip to Armenia. Thank you to Tufenkian Hotels for the welcoming, top-notch places to stay while I was traveling around Armenia.
Disclaimer: My stay at both of the Tufenkian Heritage Hotels was paid for by the National Competitiveness Foundation of Armenia, but all opinions expressed here are my own.