As promised in
last Thursday's blog post
, here are some findings from my recent, highly un-scientific study of Duty Free shopping vs. department store shopping and whether or not there are truly savings to be had. For my study I chose one item, Christian Dior's J'Adore Eau de Parfum (100 ml), as the item of study. In the future I'm going to continue the study with electronics and liquor, but for now perfume will do.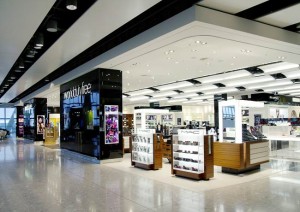 1. Does Duty Free differ from airport to airport?


Yes. When I checked 2 different airports within the same city (London Gatwick and London Heathrow) the prices for the perfume were the same, but from city to city, they varied widely. I found the best bargain at Vancouver airport ($98.40) and highest prices at Barcelona's airport ($138.39)
2. Are prices better at duty free than in the department stores?

Mmm…maybe. As mentioned above, it depends on where you're shopping. On average it seems like you save a few bucks shopping in duty free, but not enough to risk being late for a flight and not getting the item you truly wanted. If you are desperate to get your favorite perfume, go ahead and buy it at a mall or department store when you know you'll have time to make the purchase. I've been stuck in enough customs and security lines to know that a leisurely shopping stint is not always possible. Of course you can always buy from the plane, but just make sure ahead of time they will have the item you want on board.
3. What's the worst place to try and find a bargain?

From my limited research it is in Beirut department stores. The J'Adore 100ml Eau de Parfum that was around $125 in U.S. stores, and an average of $115 in Duty Free was $177 in Beirut. Yikes!
4. What else is worth considering?

*One benefit from buying from duty free is that you can take your purchases on board with you without having to worry about your items (e.g. perfume, liquor) breaking in your checked luggage. The Duty Free bought at the airport can be carried on the plane with you even if it is larger than the 3 oz. the check for at airport security.
*If the prices are significantly lower than in other locations, particularly with perfume, consider how good the product is. Has it been sitting on a shelf for too long or are they about to discontinue an item?
*In an airport you're a captive audience – don't get sucked in. You may be stuck in an airport waiting area for hours and I think the air may be a little bit thinner in there (again, citing highly un-scientific methods of research). All the stores beckon you with bright, shiny displays and you will easily find yourself cruising through the aisles looking for that perfect souvenir or gift-for-self that you never would have bought on the outside. Be careful and plan ahead with an idea of what you truly want to buy. Don't let the idea of duty free suck you in.