After a long day sitting at the computer and the prospect of two red eye flights and a day working from the airport club lounge ahead of me, I knew there was something I just had to do. Something I haven't been doing much of since I broke my leg last year…I had to go for a run. I need to get out and stretch my legs, work up a sweat and hopefully preempt all of the tasty food I plan to eat in Europe over the next few days.
It wasn't a long run, just 3 or 4 miles, but by the time I was rounding for home I already felt better. About half a mile from the end of my route, I ran past a local community center where a high school graduation ceremony was letting out. Huge smiles on kids faces, beaming looks of pride from parents and grandparents, bunches of flowers and mylar balloons and maroon colored caps and gowns.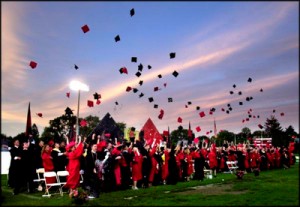 So much to look forward to…
Maybe it was the endorphines kicking in from the run, but it made me really inspired to see those kids and their families. I couldn't help but remember my own high school graduation day. Not that I hated my time in high school, but that was honestly the happiest day of my years at North Hills High School. I was going off to my first choice of university, getting a chance to study international business and Japanese (see, I've long had a love for travel and world cultures) leaving a small suburb for a big city and getting a chance to meet new friends. Like so many high school graduates, I was ready to take on the world. The road ahead may not have been clearly marked, but I had full access and couldn't wait to get started.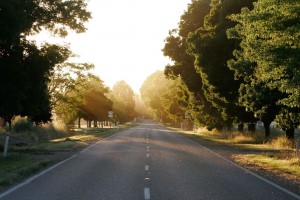 The road ahead
But what seemed exciting and new at 17 years old, seems a bit scarier and uncomfortable quite a few years later. That road ahead of me is still there, but now there are more responsibilities and expectations along the way. I look around at many of my peers who are now high level executives in their jobs and who have a clear idea of where they want to go next. I realize that doesn't necessarily mean they are any happier than I am, but there is definitely something to be said for having a plan and working towards it.
When I look down the road in front of me I definitely see a road that needs a passport. Travel is my passion but what will I do with it? How will I take it beyond a trip here and a passport stamp there? In a just over a month I'll have some big decisions to make regarding career, home, income and family. Those are decisions I've been putting off for a while now and time is running out. Will the enticing freedom of travel and the open road take priority? Or will the security and familiarity of home and a steady income win out? I'm a girl who loves harmony so of course I am determined to find out a way to have both. Now I just have to look at life much like I did as a graduating high schooler – with a limitless outlook and excitement of what's to come.