Sometimes, even with all the planning and best intentions in the world, the blog posts just don't quite come together before the deadline strikes.
Tonight, spending time with a good who is in the hospital then enjoying a late-night sushi dinner with another friend won out over a timely, well thought out blog post.
I'm blessed to have good friends surrounding me and the distraction from a blog post every once in a while, is certainly worth it. Thank you, Bo, for suggesting a delicious trip to Sake House (Sushi? Sake? Now this post is officially international.) And here's to my dear friend's quick recovery! Love you, Festinha!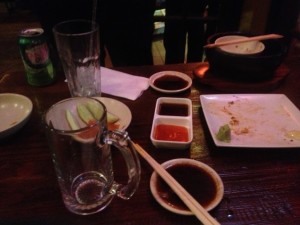 Member of the Clean Plate Club at Sake House, Los Angeles