What do you do when you crave an overseas trip, but there's little chance of your passport seeing any action in the foreseeable future? Well, if you're like me you look for ways to
feel
like you're traveling while you're still in your home town. I make a point of finding local restaurants, businesses, services and museumes that allow me to fantasize that I'm far far away, even though I'm actually just around the corner.
Lucky for me, I've found one store that feeds both my passion for travel and my passion for good books and that's the Traveler's Bookcase located near Beverly Hills in the City of Angels. Whether or not I have a trip planned, I like to drop by this store from time to time just to be surrounded by travel guides, spinning globes, travel accessories and a comfy pillow-strewn couch that's right in the middle of the store.
It is from that very couch that I interviewed one of the store's owners, Natalie Compagno just last week. I wanted to find out more about the Traveler's Bookcase, her extensive travels and how she's able to successfully run a location specific business while exploring the globe. Below you'll find Part I of my interview which focuses more on the Traveler's Bookcase store. Next week I'll publish Part II of the interview that focuses on Natalie's personal travels and how she successfully combines work and travel.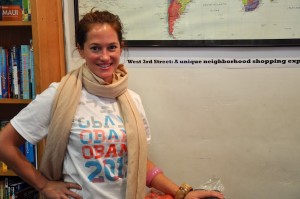 Store owner and world traveler, Natalie Compagno.
Nailah [NH]: So tell me, how did you and Greg (Natalie's business partner and husband) meet and decide to go into business together?

Natalie [NC]: I have known Greg since college as friends. When I moved back here (to Los Angeles) from New York, I was trying to organize a trip to El Salvador. At first, nobody wanted to go, but then everybody wanted to go so I planned this trip for the group. Then at the last minute everyone backed out except for Greg, so it was Greg and I off to El Salvador together…and that's how our relationship started.
As for the store, I have been a business owner on this street before. I used to own a dress shop across the street. I also lived in this neighborhood for 10+ years which is how I heard this store was closing because the woman who owned it was retiring. The store was 21 years old and I didn't want it to close, so 5 years ago I decided to buy it and save it and make sure it stayed open.
NH: I am very grateful that you did! I have noticed that independent book stores are few and far between in Los Angeles. What is it about this store that has allowed it to survive all of these years?
NC: Actually, I do think that independent bookstores are making a comeback in Los Angeles. There are probably about 10 of them in this city which is not too bad. I think the little ones are sticking around.
I think the reason why this store continues to do well is that when people travel, they like to share the experience and they like to go somewhere where they can physically handle the books and compare them and see which books have the best restaurants or which picture book is going to be the perfect gift for their friend. I think the reason we've been able to stick around is (a) our amazing customers and (b) because we're a specialty travel store.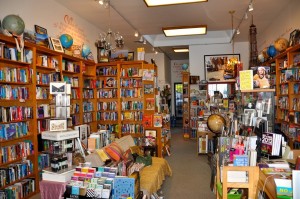 The store may be small, but it has just about everything you need and more
NH: Who is your typical customer?
NC: Local neighbors, people giving gifts, people traveling, researching for scripts, or going abroad for work. We have all kinds of customers.
NH: Is there a certain type of customer you're trying to bring in?
NC: I would love to have more people who just come in for a great novel and people who always think of us first for great gifts. We do have things [other than guide books] like stationery, china plates, novelty items, passport covers and travel accessories.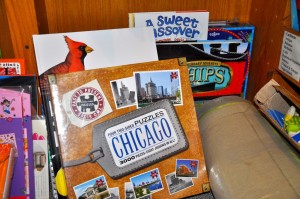 Traveler's Bookcase even has travel related items for the kids.
NH: Is there a particular region of the world that seems to be hot right now for Los Angeles travelers?
NC: Scandinavia, Barcelona and Bali are big. New Orleans has really picked up. Brasil and Prague also. France, Italy and London are always, always, always popular. And a lot of people are coming in asking about Cuba right now.
Los Angeles is a great city because people are really adventurous and they are devoted to travel. I mean, I have sold a book on almost every country in the world at some point. Even North Korea…more than once!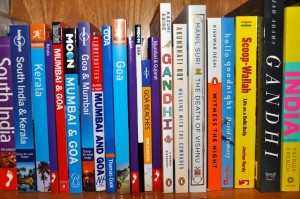 Heading to India? They've got a book or two for you.
NH: Aside from just coming in to buy a book or a gift, do many people just come in to chat or get advice on travel?
NC: Always! And I love to give advice. People come in and say "I have 7 days off, where should I go?".
NH: Does the Travelers Bookcase do any special events for their customers?
NC: Yes! We have a mailing list on our website where people can sign up to get updates on store events. For example this [past] Sunday we're having a Haunted Pub Crawl. In November we are going to do a Small Museumes of the World ev
ent and also a Nepal night.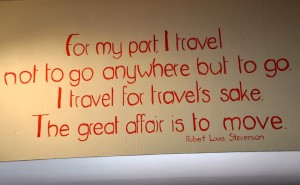 This wraps up Part I of the interview. Please stop back next week for the continuation.
I would like to say a huge thanks to Natalie for taking the time to sit with me and to let me photograph her store. If you're in Los Angeles and you have a love for travel, please stop by the Traveler's Bookcase located at 8375 West Third Street, Los Angeles, CA 90048. If you're not in L.A. you can find them online at www.travelbooks.com.