While I definitely wouldn't call myself a shop-a-holic, I do appreciate finding interesting, creative, artistic and sometimes just plain weird things when I travel. Whether its something for myself or for friends and family, if I see the perfect gift, I often find myself digging for my wallet even if I've just made a solemn promise to not spend another dime.
The perfect souvenir has 3 main traits:
1. Easy to Carry in my luggage or to ship home
2. Unique (aka hard to find once you leave whatever country you're shopping in)
3. Meaningful to the person you're buying it for (even if that person is yourself)
In my most recent around the world trip, I visited 17 different countries and did plenty of shopping in each of them. Here are some of my favorite finds from that trip:
1. Penhaligons Solid Perfume
One of my favorite scents is Malabah by the British perfume maker, Penhaligons. I once received a sample in a London department store and then went on a hunt to find it in the US. It is not always easy to come by, so when I accidentally stumbled upon one of the Penhaligon stores in London, I knew I had to pick up a little something. I found an engraved silver compact with a solid perfume inside which is perfect for traveling. I'll admit the solid scent does not last as long as the liquid form, but the convenience of not worrying about broken glass and spilled perfume in your luggage makes up for it. Plus when you're done with the solid perfume, you have a beautiful mirrored compact to carry around.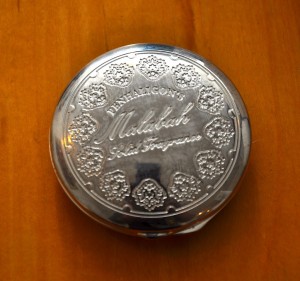 My favorite perfume in a no-spill version
2. Arabic Mug from Tawlet Restaurant in Beirut
A ceramic mug may not pass the "easy to carry" test, but when it has one of your favorite Arabic phrases written on it and it was purchased at your favorite restaurant in Beirut, Tawlet, you can make an exception. The mug reads "shoo fi ma fi" which translates to What's Up in Lebanese Arabic.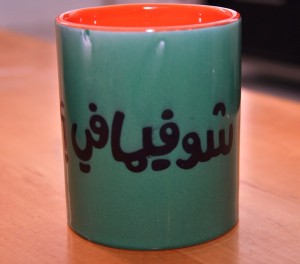 3. [I Heart] Korean socks
I had two major regrets upon leaving South Korea. 1. Not getting to visit the border crossing into North Korea and 2. Not buying more socks like this.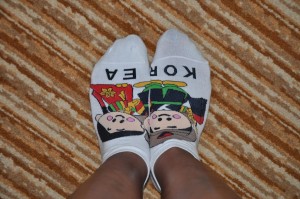 Socks that make me smile
I didn't try these on until after I left Korea, but if I had, I'm sure I would have bought about 10 pairs. Just looking at them makes me smile, plus they are easy to carry and you can always use an extra pair of socks either when you're on the road or back at home. I was a little nervous that my "American" sized feet would not fit into the Asian socks, but clearly they made them with the tourist in mind.
4. Furoshiki (Japanese wrapping cloth)
I love the idea of the Japanese Furoshiki as a souvenir for friends and family. Essentially it is a square cloth printed with a traditional, and sometimes not so traditional, design. The furoshiki is traditionally used to wrap gifts and items to carry, but it can also make a great wall hanging, scarf or table covering. While I was in Tokyo my friend took me to an official Furoshiki shop that was stocked floor to ceiling with all types of materials, colors, designs and sizes. I stocked up on a bunch of these to send home as gifts. The only problem?…the package I mailed home with the Furoshikis never arrived. Somewhere, someone is enjoying many of my friends' gifts.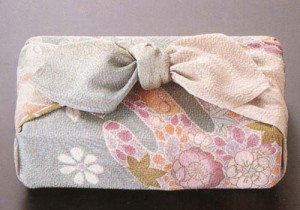 Japanese Furoshiki wrapping cloth. Photo Credit: www.centrodaiwa.com.ar
5. Earrings from Barcelona
Jewelry is always a great idea for a souvenir. They are light and easy to pack and come in a range of prices for every budget. I especially liked the colorful earrings that nearly every street vendor sold in Barcelona. They were inexpensive, colorful and reminicent of the city as the designs mimicked those of the city's great artist, Antoni Gaudi.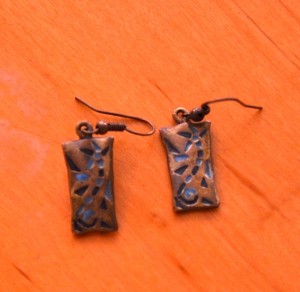 6. Green Tea Kit-Kats
I'm not a big chocolate fan, so I just bought one bag of these Green Tea Kit-Kats as a novelty to pass out to friends I met along the way on my journey. Of course I had to try just one…then two…then three. The only thing that kept me from consuming the whole bag was that the chocolate melted (luckily none leaked) rendering about half the bag inedible. I can't decide if its a good or bad thing that you can't buy those in the U.S. Good for the waist line, bad for the taste buds.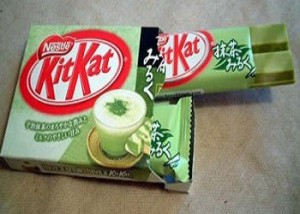 I'm sure adding Green Tea makes them healthier! Photo: www.thefatlossauthority.com
What are some of your favorite souvenirs for you to either buy or receive. I'm always looking for great shopping ideas so leave me some of your ideas in the comment section below.