Hopefully you've had a chance to read through Part 1 of my
List of Random Travel Tips
coming out of my most recent Round the World trip. Here we go with number 26 – 50.
26. If you're using your credit card and the vendor asks if you want to charge with your home currency or the local currency, select the local currency? Why?…check out this article.
27. Invest in a good adaptor for your electrical appliances. And often the 'all-in-one' versions are too heavy to stay in the wall sockets securely.
28. Complain/Compliment over Twitter. If you reach out to a business via their twitter accounts (tell a restaurant that you loved the service or an airline that your luggage was damaged), you will often get a quicker response than sitting on hold on their customer service line.
You may get a faster response complaining over twitter than via a customer support line.
29. When in doubt, try new things. You didn't travel to a foreign country just to do the same old routine.
30. Avoid train station food. There are exceptions, but usually the food is not good.
31. When a restaurant only serves sangria in a pitcher size, get the pitcher…even if you're alone.
32. Smile at the neighborhood locals and greet them with a simple phrase in their language. Even if they don't respond, they will remember the friendly foreigner.
33. Pick one large and one unknown museum to visit in each city.
34. Need medication overseas and don't have a prescription from your doctor? Try explaining your situation to a local pharmacist – they can normally help you even if you don't have written permission AND it will likely be cheaper.
35. Pegasus Airlines has THE best inflight safety video…hands down! Check it out here.
36. It may not be environmentally friendly, but…when in a room that requires you to leave the key card in a holder to activate the electricity and air conditioning, any piece of cardboard will do. That way you can keep the room cool and appliances charging even when you're out.
37. Keep your pajamas under the pillow on the bed so you don't have to fumble in your suitcase for them when you're tired.
38. If traveling by train, know your assigned seat and board at the appropriate car. It is a pain in the ass to drag a big suitcase through the narrow aisles and you won't make nice with the other passengers either.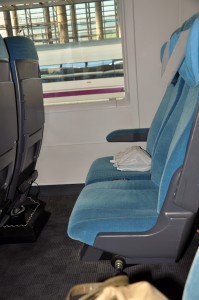 If you have an assigned seat on a train, make sure you get on at the right car.
39. If you see someone struggling with a bag, stroller, heavy load, etc., help them. It is just good travel karma.
40. In Europe especially, avoid eating at restaurants on the central plaza. Its not that they are necessarily bad, its just that other restaurants a few blocks away are often much better. Save the ones on the plaza for a cocktail or snack.
41. In the Netherlands, it is difficult to buy a train ticket with a regular credit card. The machines only take coins or cards that have a chip. The ticket agent will take credit cards without a chip, but will charge a service fee.
42. Just say 'no' to the pants that zip off into shorts. Not cute.
43. And also 'no' to fanny packs.
44. In many casual to mid-priced European restaurants, they tend to look at you funny if you ask to be seated. Just sit down if you see an open table and someone will serve you.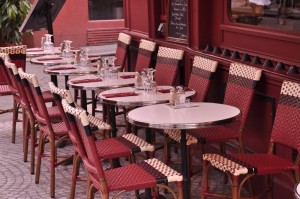 See an open seat?…just grab it.
45. Don't be afraid to ask for help. It is nice to be self-sufficient, but trying to struggle through it alone will often cost you time and in some instances, money.
46. Learn to cook a few good and easy dishes. Both for when you stay at someone's home and when they come to stay with you.
47. If you're spending an extended time in a place, sign up for local on line coupon sites like Groupon or Living Social.
48. Pack lots of Ziploc bags. Even if you're a newer traveler and are not sure how they will come in handy, pack them…you'll soon find a need for them.
49. If you're in a country where English is not the native language, avoid restaurants that write all of their specials only in English. You will be in for a very touristy experience.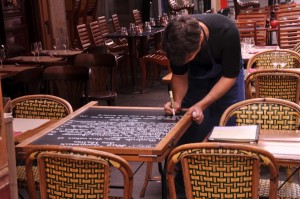 I hope he's not writing the day's specials in English.
50. Finish packing your bags, wait for an hour or two and then pull out 3 to 5 things you don't need. Chances are you won't miss them, and if you do, you can probably find a place along the way to buy a replacement.