Tokyo, Seoul, Sydney, Istanbul, Beirut, Madrid, Barcelona…I have certainly not had a shortage of big cities on this Round the World trip. Luckily I feel quite at home when I'm surrounded by metros, buses, nightlife, tall buildings and diverse people. Even though I did grow up in the 'burbs (North Hills, PA…whoop whoop), I find I have gravitated more towards city life.
Still, that doesn't mean I don't enjoy getting away from it all every once in a while. I can trade the late night bars for a quiet dinner and early night in. Waking up to birds rather than car horns. Local cafes rather than a local Starbucks. A small Bed and Breakfast rather than a big chain hotel.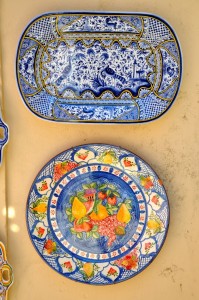 Local artwork – Sintra, PT
This past Friday I decided to get out of the city life for a bit and headed to the small mountain town of Sintra, Portugal. I flew into Lisbon to meet up with my dear friend Pam who flew in from London then we caught a bus to the central Rossio train station and then 40 minutes later we were dropped off in the center of Sintra. I was a bit wary to see a Pizza Hut just outside the train station (sigh…has small village life come to this??) but I have to say that was the last chain anything I saw for the remainder of my time there.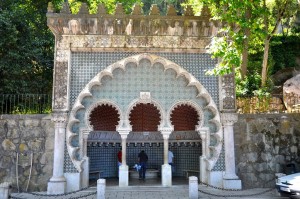 Beautiful and functional – the local watering hole
The first thing you notice about Sintra is that much of it is up. You are surrounded by hills and mountains so you will be in for a good leg work out wherever you go. We had booked a room at the lovely Villa Branca Jacinta but accidentally took a wrong turn in getting there so ended up scaling an alpine slope with a suitcase the size of a SmartCar, rather than taking the gently sloping hill we should have taken. The first of many times we were to get turned around in Sintra.
Bright buildings in central Sintra
Given its proximity to Lisbon, Sintra is a popular get away for Portuguese and foreigners alike. Some do it as a day trip, but to really get a feel for the area, it helps to spend at least 2 days there. That gives you time to ease into things and fully unwind and taken in much of what Sintra has to offer: beautiful old buildings, parks filled with meandering paths and caves, quaint shops and a castle or two. Bring your walking shoes and a light jacket for the cooler evenings. While we were there the weather was absolutely perfect, constantly sunny, but with a breeze so you didn't feel too hot. Evenings were ideal for sleeping with the windows cracked to let in the cool fresh air.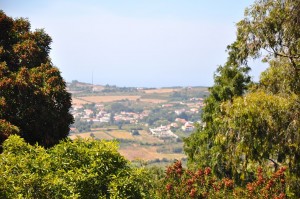 View of the Sintra countryside
In the center of the city you can find many tourist class restaurants, with menus that don't differ too terribly from one place to the next. You'll do fine at any of these, but for a step up, look for:
* Taverna Dos Travador for a great mix of meats and seafoods for dinner. They are also known for having great music in the evenings. You won't find too many tourists here as it is a little off the beaten path (but only about a 15 minute walk outside of the city center).
*Soul Food for delicious vegetarian food in a colorful relaxed setting. There's one main menu per day but even if you arrive late like we did and they have run out, they will pull together an amazingly delicious second option with a smile. They are located just near the Sintra train station.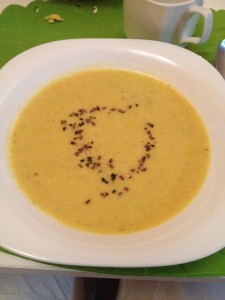 Mmm Mmm Good – Broccoli Soup at Soul Food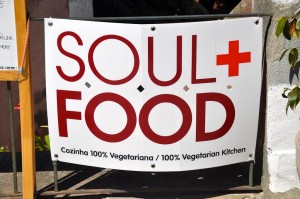 * Saudade for a light bite, dessert or a glass of sangria also just by the train station.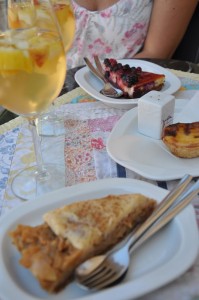 Did I say dessert OR a glass of sangria?? Silly me.
Speaking of Sangraia, the Sangria in Portugal…or at least in Sintra… is some of the best I've found. they definitely have Madrid and Barcelona beat.
OK – after eating and relaxing (two things I've become very good at) what else do you do? Get out, stretch your legs, explore the city center for a bit then venture into the hills and climb up to see the Moorish Castle and Pena Palace. From the center of town these two sights look like they'd take a sherpa and an overnight pack to reach, but the distance is deceiving. Grab a map to find the entrance to the trail, then follow the signs and in 20 minutes or less, you'll find yourself at the entrance gate. Buy the combined ticket (16 Euros) for both the Castle and the Palace as it will save you a few bucks. &nb
sp;The Moorish Castle is mostly a restored protective wall, so there are amazing views of the surrounding countryside. The Pena Palace is an actual restored palace so the amazing views are both inside the palace walls and outside.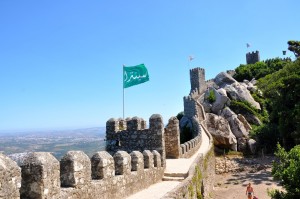 View of the wall around the Moorish Castle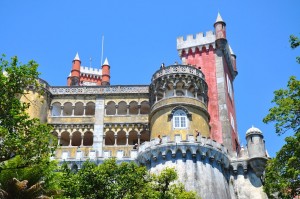 Beautiful and Colorful Pena Palace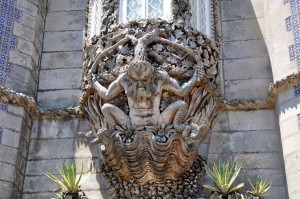 Best Gargoyle Ever! – Pena Palace
Closer into the center of town is the Quintal da Regaleira, a beautiful green park that you can explore for a few hours that also has a gorgeous manor house you can stroll through for a little history on the house and its inhabitants. They will give you a map at the entrance, but trust me…just put it in your pocket and wander in which ever direction your feet take you. The map is fairly confusing and not always accurate, so its easier just to keep your eyes ahead of you, occasionally read a posted sign and just follow whatever looks interesting.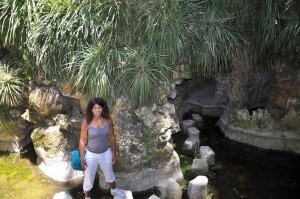 Winding my way through Quintal da Regaleira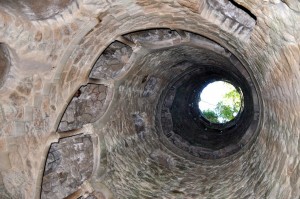 Take a series of tunnels to the bottom of a well in Quintal da Regaleira
These are just a few of the sights you can take in while visiting Sintra. You can also just stroll around the city, checking out the public art work, scenic outlooks, souvenir shops (there's hundreds of them though they mostly sell the same stuff – seen one rooster tea towel, you've seen them all) and enjoying a cold glass of sangria (did I mention how good the sangria is there??).
After a few days, I have to admit I was getting a bit itchy for some city life, but I definitely could have hung out for another day or two enjoying the relaxed pace and Maria's hospitality at the Bed and Breakfast. I may have found a bit of love for the slow pace of mountain life as well. In case I decide it truly is for me in the long run, here's a photo of a building that's for sale that I would love to have to open my own BnB. Feel free to send donations via PayPal!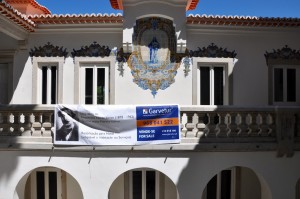 This little number is for sale… future Hayward Hotel??