Don't let the name fool you. Le Gray Hotel in Beirut pops with color at every turn. I spent a sunny afternoon at the hotel enjoying a delicious lunch with the hotel's Public Relations manager and getting a peek at what the hotel has to offer. Truly a lovely afternoon!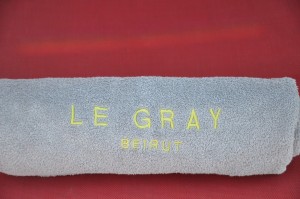 Towels await on the pool's lounge chairs
Often when I think of 5-star hotels I picture subdued luxury and muted tones. When I saw all of the fun colors and interesting artwork expertly placed in the lobby, hallways, restaurants and guest rooms of Le Gray, it caught me a bit by surprise.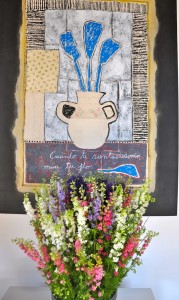 Bright flowers and artwork at Le Gray Hotel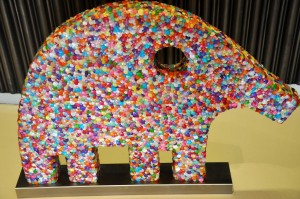 Multi-colored statue in the main lobby….why do I suddenly want a jellybean?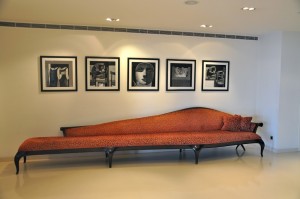 Loved this great fainting couch in the main lobby.
You couldn't have picked a prettier day; sunny and bright with a bit of a breeze so that it wasn't too hot to grab a seat outdoors. We began with lunch at the hotel's restaurant, Indigo on the Roof. I'm a big seafood fan so I ordered the scallop starter and then the Mediterranean Grouper Filet for my main dish. The scallops were cooked perfectly and sat on top of three different purees (Pea, Cauliflower and Pumpkin) which I enjoyed fully. I don't often order grouper, but I am going to have to start doing so more often if it always tastes as good as it did at Le Gray. And the grilled artichokes that accompanied the fish? Well, I could have eaten another plate full of those alone.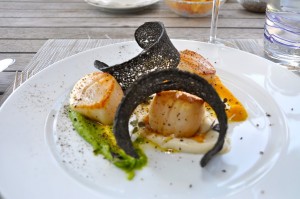 Perfectly prepared scallop starter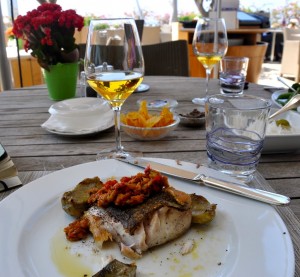 Grouper Fillet, grilled artichokes and a crisp white wine…a perfect meal.
Of course we couldn't pass up a dessert…or two. I had to try the rosemary-flavored ice cream because it sounded so unique, but my true favorite was the peach and hazelnut dessert with vanilla bean ice cream. Such a perfect summer weather dessert!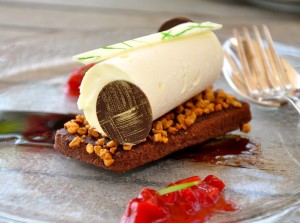 Had to try the Rosemary ice cream – creamy and not too sweet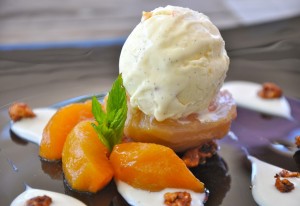 Peach, hazelnut and vanilla ice cream mix for a perfect dessert
With a full belly, it was time to push back from the table and stretch our legs with a little walk around the property. During the afternoon, I asked Rita, the PR Manager, how she would describe Le Gray. She thought for a moment and responded with "Glamourous but not intimidating". I have to say she was pretty spot on with that description. While I found the atmosphere in the reception area to be formal and a little less than friendly, I felt very welcomed and at ease as I wandered around the other areas of the hotel.
During the tour, I had a chance to check out two of the Hotel's five types of guest rooms: the Executive Suite and the Corner Suite. Both were comfortable, well appointed and relaxing. At one point I felt as if I were in someone's home rather than a hotel room. It wasn't until I noticed the standard emergency evacuation sign on the wall, that I remembered I was in a hotel.
The Corner Suite is the larger of the two rooms I saw that afternoon and it had separate living and sleeping areas.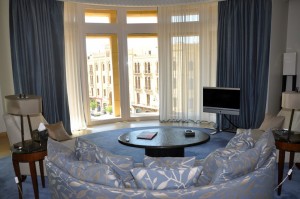 The living room area in the Corner Suite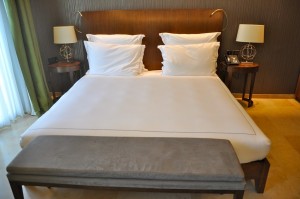 Bedroom in the Corner Suite
All rooms are fairly modern in their design and furnishings, though the one design element that reflects the Arabic culture is the Mousharabieh built into ever room's ceiling. The Mousharabieh is the lattice screen work placed over windows to shield women from view in traditional Arabic homes.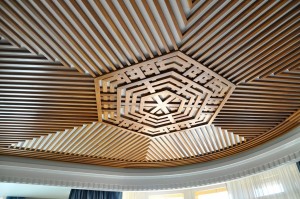 A nod to Arabic traditions found on every guest room ceiling
Regular readers of the blog know that I am not a big fan of hotel bathtubs, but this one at the Gray with a flat screen TV at the end could easily tempt me to run a bubble bath.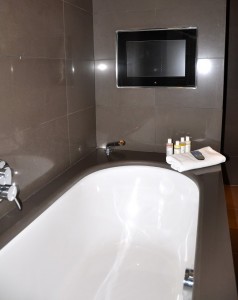 Just add bubbles!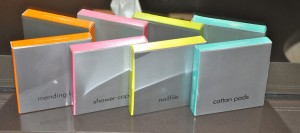 Even the bathroom amenities add bits of color in the guest rooms
The rooms are well set up for business with complimentary wifi and plenty of outlets that accomodate plugs from different countries. But without a doubt, one of my favorite amenities is the coffee/espresso machine that goes above and beyond any coffee machine I've ever seen in a hotel room. I just wonder if I'd actually be able to work it!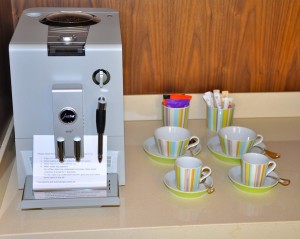 Hands down, the best coffee machine I've seen in a hotel room…and the cutest coffee cups!
In addition to the guest rooms, I was also able to take a peek at the Spa, their pool deck and Bar ThreeSixty which has a view to match its name. I could easily see myself spending an afternoon on the pool deck enjoying the infinity pool six stories up, followed by a treatment in their holistic spa.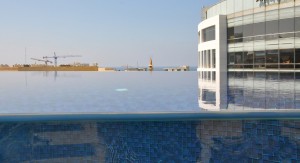 View from the Le Gray's infinity pool
The spa boasts a full gym, 6 massage treatment rooms, a dry sauna and a beauty salon.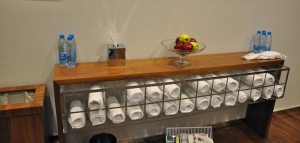 Towels, fresh fruit and water await guests after a workout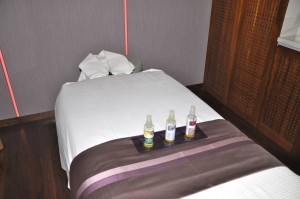 One of six massage treatment rooms
Now I am not a big fan of cigars, the smell especially, and cigar lounges always seem dark and uninviting if you're not "in the know" but the Cigar Lounge at Le Gray is a whole 'nother story! While there is definitely a masculine vibe to the space and you can smoke cigars and drink Scotch until your heart's content, there's something actually welcoming about this area. I love the library corner and the outdoor area is bright and airy. I'd easily come here and relax with a friend over a cocktail (hold the cigar, please).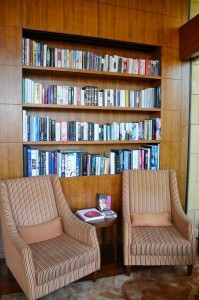 Library corner in the Cigar Lounge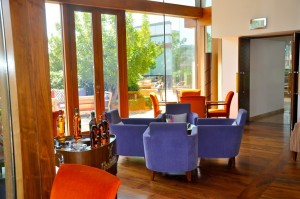 Definitely not the typical dark and smokey cigar lounge I'm used to seeing.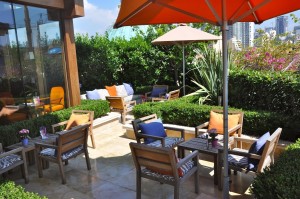 Sunny outdoor patio of the Cigar Lounge
We wrapped up the tour with a swing through Gordon's Cafe, the street side bistro where fashionable locals were taking a late afternoon coffee break. Also I got a peek at the area that will eventually include an in-house cinema, a larger lounge/lobby area and conference rooms. Once these areas are completed, there will be very
little that you could want for in a hotel. I'm definitely a big fan of Le Gray and hope to be back again before I leave Beirut.
While the lunch at the Indigo Restaurant was provided compliments of Le Gray Hotel, all opinions offered here are my own.