Just back from a quick business trip to Atlanta. I was only in town for about 48 hours and much of the daytime hours I spent in a windowless office or a dimly lit conference room, but I still enjoyed Atlanta enough to come up with a list of 5 highlights from my trip.
1. The Atlanta Hartsfield-Jackson Int'l airport. Sometimes getting a little turned around is a good thing. I ended up walking to baggage claim in the Atlanta airport instead of taking the airport tram. I walked through 3 or 4 terminals finding some amazing art I would have otherwise missed. Crisp photos from Antarctica, historic B&W pictures taken in Atlanta over the years and amazing art pieces from Zimbabwe like this one.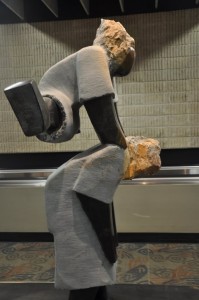 2. Family Time. My cousin, his wife and three kids moved from LA to Atlanta about 3 ½ years ago. I miss having them so close by, so it was a special treat to hang out with them for the evening. I got a home cooked meal and stimulating conversation. I marveled over how much the kids have grown, played with the new pet gerbils and on this visit I even got my astrological chart read. Thanks, cuz!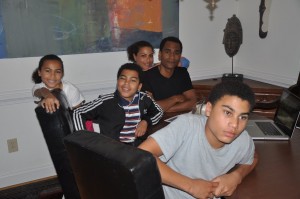 3. Traffic (or lack thereof). I'm sure there are occasional traffic jams in Atlanta, but the operative word here is occasional. I've only been a few times over the past 5 years, but to date the worst traffic I've seen was when mom and I tried to get to the Lennox Mall on Christmas Eve. Heading to the airport at 6:00pm and in the rain in LA would have been a nightmare, but in Atlanta, it was a simple 25 minute cab ride. Aaaahhh!
4. Hotel Indigo. I wasn't familiar with this chain of boutique hotels even though they are part of the Intercontinental hotel chain. I can't say the hotel is perfect, but I can say they seemed to make a true effort, and that goes far in my book. The rooms had hardwood floors, which I liked because really how clean are those room carpets after the first 100 guests? Free internet, a nice bar/restaurant/socializing area and they even had a mascot dog. Good job, guys. I signed up for the Intercontinental loyalty program as I'm sure I'll stay at one of their properties again.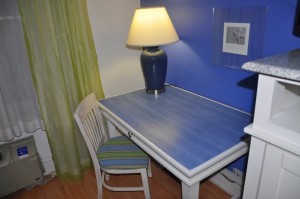 5. Rainy days. I like sun as much as the next Los Angelino, but sometimes a rainy fall day is in order. And Atlanta did it quite well. The weather wasn't too cold so you didn't mind being outside for awhile and all the streets and front yards were covered by shiny, colorful fall leaves. Aside from the damage it did to my freshly flat ironed hair, I really enjoyed the feeling of fall that you don't often get on the west coast.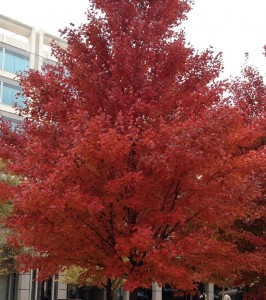 There wasn't much time to take in anything else on such a short trip. I am disappointed that I didn't get time to meet up with my new circle of travel friends living in Atlanta (you know who you are, Tribe) and that I didn't get to try a margarita at the new Mexican spot that opened right by the office (just doing research for the soon to launch margarita blog, folks), but I'll make sure to fit those in on the next ATL trip.