With just under 48 hours to enjoy a new city, you kind of have to stick to the highlights. Luckily a friend had lived in Vancouver for a number of months and had fallen in love with the city. he gave me an extensive list of must see areas of the city (thanks, David!).
But before I get into how I spent my get away weekend, I need to follow up on my post from the day before I left for my trip. At the time of writing I had no idea where I was going to be sleeping and was wondering if I'd end up in a hotel, on a stranger's couch or on a park bench somewhere. One of my original goals for this trip was to indoctrinate myself into the Couch Surfing community. Unfortunately, I think I waited a little too late to request a couch and without any prior references or recommendations, it was a little ambitious to think I'd score something at the last second. So, when I realized I'd have to give up on the Couch Surfing approach, I decided to turn to TripAdvisor I ended up booking a hotel in the West End area of the city. Another goal for the trip was to make it as affordable as possible, but instead of staying at a youth hostel to save some money, I ended up in a boutique hotel which I have to admit is more my style. Its funny that as much as I try to change my travel style, I still seem to end up following the same path. But, at least I had an online coupon for the room so I did give some thought to budgeting.
One thing I can say about Vancouver is that you're never more than a few feet from a really good Asian food. My first night, as I was wandering the streets to find a good place for dinner, I realized that every other restaurant I passed was either Japanese, Korean, Malaysian, Thai or Chinese. I ended up that first night at great izakaya restaurant called Kingyo. I'm not going to say that they served the best Japanese food I've ever had, but the staff was so lively and welcoming that I could overlook what may have been lacking in the food. Last weekend happened to be their 5th anniversary so the mood of all the guests and the staff was very celebratory. The place was packed, many people were taking advantage of the $5 carafes of sake and at one point I witnessed one of the best bow-offs that I've seen since I left Japan. The restaurant manager and a distinguished guest went back and forth trying to out bow each other until I thought that someone would for sure bounce their head off of the table. Fortunately both parties left unharmed.
My only full day in Vancouver, I spent most of it outdoors. First stop was Granville island (technically not an island, but Granville Peninsula doesn't roll of the tongue as easily) which is well known for its food market and different artist galleries. I wandered around the area popping into the market to try some delicious looking food, into galleries to check out the local art work and into a sake distillery to, well, do a sake tasting.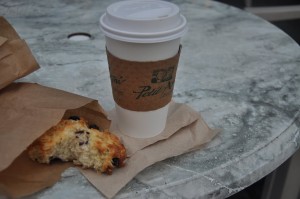 Breakfast on Granville Island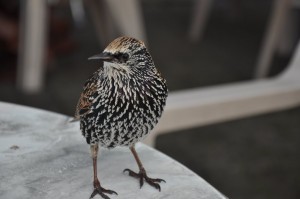 And the bird that tried to steal my Breakfast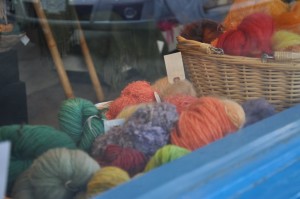 Shop window on Granville Island
One essential stop in Vancouver is Stanley Park and I knew I couldn't skip seeing it. The park is one of the largest urban parks in North America, and the views from the park overlooking the waters of the English Bay are postcard-worthy. I walked around the perimeter of the park on the sea wall for quite a ways until I turned in and took to the many hiking trails. There were not too many other people out on the trails that day so I could go for 10 or 15 minutes without seeing another person – a welcome rarity in a large city. I loved being in the park and kept taking trail after trail even though I knew I should probably be heading back to the main part of the city in case nightfall came to quickly. Luckily I made it back just in time to get to the water's edge and watch the sun set with all the other tourists and locals that came to do the same thing.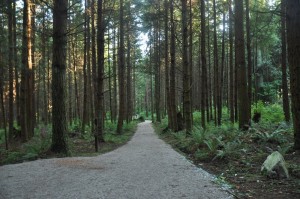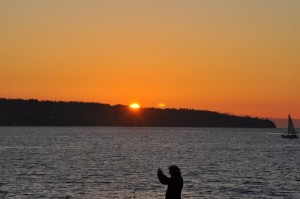 On the way home I stopped at the Original Cupcake shop to pick up two cupcakes (because it is perfectly acceptable to eat two cupcakes when you're on vacation) and then on to Ayoub's – a store that had the most inviting display of dried fruits and nuts that I just had to stop in and get a little bag of something. Thankfully I didn't sample any of the sour almonds or the dried veggie mix that I got until I was safely back in my hotel room, because I'm sure that if I had known how good those things were while I was still in the store, I probably would have spent a small fortune loading up my bags. I may go back to Vancouver just to visit that store again. Delicious! That actually ended up being my dinner because after a full day walking the city and the park trails, I got back to my hotel, crawled into bed for a quick nap and didn't end up getting up until the next morning.
Sunday was my last day in the city and I tried to fit in time to wander around a few other neighborhoods of Vancouver before I met up with Sandi, a career coach and blogger who I'd met at the World Domination Summit back in June. Even though I'd only met her once before, she was sweet enough to come meet me for a cup of coffee and welcome me to her city. Thank you, Sandi! Last top before heading to the airport was a visit to the Axe Capoeira academy to join their Sunday afternoon roda. Getting out and visiting new groups is always a great experience – not only for the chance to train with new people, but also because you are constantly reminded of how the capoeira community is really just one big family. Professor Barraozinho and his students were very welcoming and made me feel right at home in their academy.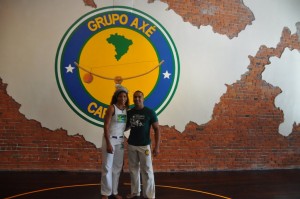 With the roda finished and my good-byes said, I was back on the train heading for the airport. Vancouver is the perfect sized city to see in a weekend. You can take in just enough of the city to feel like you got a good taste for what it has to offer, but there's still enough left unseen to warrant another trip …or two.